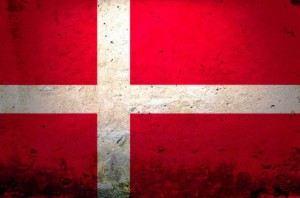 I have a unique cultural tie to Denmark, not only because I was born there, but because of the great accomplishments of many of my predecessors.  I want to share some reasons of which Denmark found itself defenseless, and some stories passed down from my Oldefar (great grandfather).  The Danish underground had been very well established and functioned via specialty cells in loose opperational confederations.  My Oldefar was particularly involved in the smuggling of Jews out of Denmark and eventually had to flee to Sweden with the gestapo closely on his heels; my Mormor (grandmother or mother's mother) still recalls, as a little girl, the sound of German boots in unison as they came up the stairs to search her family's apartment; but her father had already fled.
German forces crossed the border into neutral Denmark as the sun was rising on the morning of April 9, 1940; this stood in direct violation of the German–Danish treaty of non-aggression signed the previous year.  In a coordinated push German troops simultaneously pushed through South Denmark, disembarked at the docks in Copenhagen, and dropped in by air.  The Danish Royal Guard and units in South Jutland fought hard but they were poorly equipped for the Blitzkrieg tactics of the Germans; as most nations were at the outset of the war.  It was later discovered that there were select political leaders who had been informed of the impending invasion by Colonel Lunding of the Danish army's intelligence as well as the Danish ambassador to Germany, Herluf Zahle; but those are politicians for you.  some political leaders seeking power and growth under the German victors had even provided information concerning locations and equipment of Danish troops to the German intelligence.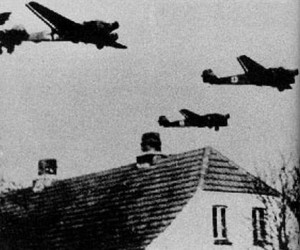 German Junkers Ju 52 transport aircraft over Denmark, 9 Apr 1940
The push was so fast that the small country did not even have time to officially declare war on Germany.  Had they the means to wage a substantial fight they were still grossly outnumbered and the flat countryside offered none of the mountains which could run a drawn out resistance.  Danish weapons manufacturer DISA ('Danish Industrial Syndicate') did produce a 22 mm cannon that so impressed the Germans in its ability to knock out several armored cars and vehicles that the Germans forced continued manufacture of the cannon and export to Germany.  Official numbers have never been released, but in convincing the higher command of the weapons effectiveness it was stated that 203 soldiers had been killed or wounded by the guns in Jutland.  Apart from this a handful of aircraft were shot down or crashed, and one ship was sunk after striking coastal mine in the Great Belt.
This is where I pick up the story's lesson.  The highly socialized government had very good control over the firearms of the nation.  Weapons were only used for sporting activates and were typically locked away in gun clubs and such.  Some of my family that had lived during the war told me that all the Germans had to do was go down to the local police stations and draw the records; and they had a complete list of every firearm in the country.  So thorough were the records that in one three hour coordinated sweep the civilian populace was left entirely defenseless.
As an underground resistance began to emerge the first weapons were anything that could be stolen or salvaged from the Germans; as well as home made or improvised weapons.  It would be several years before Denmark would receive aid from the allied nations; and only the well-organized efficiency of the underground would hold massive allied bombing raids at bay.  In later years many of the secret warriors would be huge advocates of armed civilian populaces due to there war time experiences; to the extent that some even advocated having hidden weapons not tracked by the local governments.  Please don't think I'm telling you to break the law, I'm only sharing the opinion of some with experience.
As I visited with knowledgeable persons I was quite astounded at the youth of the Danish Underground members, some as young as the early teens and few older than their late 20s; stories of stealing weapons, sabotaging anything possible to hinder the German war machine, intelligence gathering, trafficking human lives to safety, and harrowing escapes.
As the war drug on into 1943 the masses began staging widespread strikes and civil disturbances.  Inevitably this led to the Danish government being essentially disbanded, total martial law being declared, a ban on people assembling in public, outlawing strikes, the introduction of a curfew, censorship should be conducted with German assistance, special (German military) courts should be introduced, and the death penalty should be introduced in cases of sabotage.
In October following the fall of the Danish government and the implementation of Nazi control and terror, the Germans determined it was time to move the Jews from Denmark.  The people had caused fewer problems overall compared with other European nations and as such the exportation had taken a back burner as opposed to other occupied countries.  Thanks to an information leak from German diplomat Georg Ferdinand Duckwitz, Danish civilians were able to take quick preemptive action.  Utilizing fishing boats and motor boats the vast majority of Danish Jews were transported to neutral Sweden over a two month period.  Of the 8,000 Jews that lived in Denmark only 477 were deported; and of those only 70 lost their lives.  My father told me that most of those who died were elderly or sick prior to deportation.  The evacuation had been a near complete success.  I would also ask my dad why they succeeded in hiding and transporting so many Jews when other nations often turned them over or closed their eyes to what was happening.  He told me the difference was that while other countries viewed them as Jews living within their country, in Denmark they saw them as Danes practicing the Jewish faith.  They were fellow citizens and countrymen first and foremost.
While the numbers of people involved make what happened in my birth country relatively insignificant when compare to the overall war effort, they none the less are a great learning example of what human beings are capable of for good and ill.  The darker side of this is an illustration of what happens when governments remove the populaces means of self-defense; unfortunately often done with the best of intentions.  with the exception of corrupt power hungry political leaders, strict laws are often meant to protect people, as they were in Denmark; but they resulted in the youth having to resort to looting any and all equipment required to defend their nation; once the stand up military have fallen.
We will likely never be invaded; but the second amendment has little to do with hunting privileges and gun clubs.  In a government masterfully set up with a system of checks and balances, it was one more check and balance.  How can a despotic political leader use a military or police force to subdue the people to his will if they have the means of physically apposing him and protecting themselves?  Whether a person is pro or anti guns, or somewhere in-between, I hope you take the time to research crime rates between nations with armed vs. unarmed citizens.  As you explore this information realize that there are countries that defy the norm, usually due to cultural tendencies; and both sides of the argument love to use extreme examples to prove their point; so learn for yourself.  Learn from what happened to Denmark and consider what tools you have if a tyrannical leader, foreign or domestic, where to attempt to suppress the people.
Jon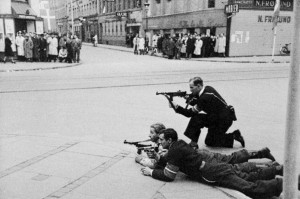 Members of the Danish Resistance take aim at remaining German troops during the last few days of the German occupation before British forces liberate the city. Copenhagen would be fully liberated on 5 May 1945. Copenhagen, Demark. 3 May 1945.