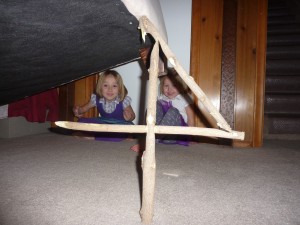 My daughters opted to give me a hand setting this trap under the couch.  The size here is quite exaggerated as this trip is typically used for rabbit size and under.  I've used this in the woods with mixed results; here are the lessons I've learned:
The bait has to be firmly attached to the bait stick, preferably impaled.  I watched chipmunks and squirrels swat nuts off without even touching the stick when I had once carved it out as a spoon; peanut butter did work well for them when smeared over the end of the bait stick.
Make sure you have a wide flat rock (preferable over a log) and a hard landing surface.  If it lands on pine needles you won't even phase your target.  with squirrels I've found it can almost be worthwhile staying in the area so that when it falls you can run over and jump on the rock, ensuring a kill; i've had too many dig right out from under the trap
If you are not around and small animals trigger the trap, they will typically return without much fear after you've re-baited the trap.
Setting the trap alone can be tricky if you've never done it before.
Occasionally I've even lined a ring of stones around the dead fall so creatures can't scurry out the sides when they sense movement.  if you start getting over excessive to catch the critters running around your camp site then odds are you need a different trap approach.
Anyway, try this at home and I think you'll be surprised with how much wait these sticks can handle and how little pressure it takes to set them off.  I got the original idea straight out of the Army Ranger Handbook; which can be purchased or downloaded in PDF.
Jon