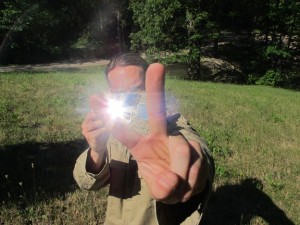 There are different methods of accomplishing this; but this is what I learned back in wilderness survival in scouts. Any mirror works and it is nice to have one designated specifically for this purpose.
My emergency mirror is a small pocket mirror. In the center of this I scratched a small hole in the reflective coating on the back side of the glass as shown in the diagram above. This does not require I mirror larger than a few inches square and in an emergency can be made by everything from a makeup compact mirror to the rear view mirror.
To signal extend one arm making a "V" shape with two of your fingers like an aiming point. With the other hand hold the mirror up to your eye and peep through the hole in the middle.
Through the peephole reflect the light of the son onto and between your extended aiming fingers. All you have to do is take the aiming hand with the light hitting it and sight it on a plane or other location you are trying to signal. If the peephole, your fingers and the light line up on target then they can see you.
Jon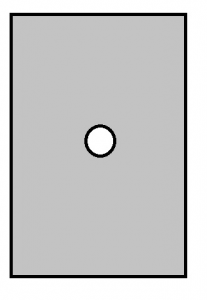 the picture came from http://www.artofmanliness.com/2012/06/14/survival-cell-phone/; they have some good additional ideas.