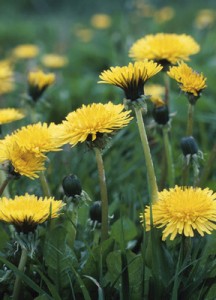 A Brief History of Dandelions
Believe it or not, this plant was not always thought of as a weed. It used to be referred to as a "common herb" and was used for both medicinal properties, a welcome food supplement in the spring, and among the wealthy in later years it was regarded as a delicacy.  Those familiar with history will quickly realize that spring was one of the most starvation prone times of the year; winter stores had run slim, seeds were sown, and there was an obvious lack of ripe forigeable foods.  Thus this little spring weed could be a life saver for many cultures subject top colder winter weather.
Edibility
Dandelions are found on all continents and have been gathered for food since prehistory, but the varieties cultivated for consumption are mainly native to Eurasia. A perennial plant, its leaves will grow back if the taproot is left intact. To make leaves more palatable, they are often blanched to remove bitterness.  Young dandelion greens can be tossed in salads and young leaves can be cooked like spinach. Leaves should be gathered before the plant blooms as they will become increasingly bitter and tough.  Dandelions were once delicacies eaten by the Victorian gentry, mostly in salads and sandwiches.
The flower petals, along with other ingredients, are used to make dandelion wine, jelly and snacks. The ground, roasted roots can be used as a caffeine-free dandelion coffee.   Dandelion was also traditionally used to make the traditional British soft drink dandelion and burdock, and is one of the ingredients of root beer.
Dandelion leaves contain abundant vitamins and minerals, especially vitamins A, C and K, and are good sources of calcium, potassium, iron and manganese.
From How to Eat Dandelion Root By Michelle Brunet, eHow Contributor "Parboil the dandelion roots to remove their bitter taste. Roots can be used as an ingredient in a vegetarian or non-vegetarian soup or a stir fry. Dandelion root is best used in combination with sweeter-tasting vegetables."
I haven't found any real good used for the dandelion seeds other than an entertainer of children.  But I know many seeds are edible; so if you know a use for these, other than spreading the plant, please post below in a comment, thanks.
Medicinal uses
Historically, dandelion was prized for a variety of medicinal properties, and it contains a wide number of pharmacologically active compounds. Dandelion is used as a herbal remedy in Europe, North America and China. It has been used in herbal medicine to treat infections, bile and liver problems, and as a diuretic. Also, dandelions are good for digestion and may ease rheumatism or liver problems.
From dandeliontea.org I pulled this recipe for, you guessed it, dandelion tea:
"Harvest dandelions from ground not treated chemical fertilizers, herbicides, or pesticides for the past few years. The whole plant can be picked or pulled; wash well to remove any dirt. Boil a quart of water on the stove. Reduce heat; add two tablespoons of cleaned and chopped fresh dandelion roots to the water; cover and let simmer a minute. Remove the pot from the burner. Add two tablespoons of freshly picked and chopped dandelion leaves and – hopefully – flowers; let steep forty minutes. Strain and 'serve'.  You can drink 2 cups of this herbal dandelion tea a day – especially if using the flowers. Dandelion flowers are good for your heart. Dandelion flower tea can help relieve pain from headaches, menstrual cramps, backaches, stomachaches, and depression."
From healthyeating.sfgate.com:

The dandelion plant (Taraxacum officinale) is a hardy perennial that grows wild in temperate regions worldwide. It has a thick, long taproot that has been used for centuries as a medicinal aid. Native Americans boiled the dandelion plant and used it to treat kidney disease, skin disorders and upset stomach. In traditional Chinese medicine, it is commonly recommended for digestive problems and to improve milk production in breast-feeding women, and European herbalists use dandelion for fever, diarrhea and diabetes, according to the University of Maryland Medical Center. Dandelion contains several biologically active constituents that make it potentially beneficial for your health.
Clinical research suggests that dandelion is an effective diuretic that increases urine output by the kidneys. In a study published in the "Journal of Complementary and Alternative Medicine" in 2009, human subjects consumed dandelion extract for one day while their urine production was monitored every few hours. Researchers found that dandelion caused a significant increase in urine output compared to the amount measured on the previous two days. According to the University of Maryland Medical Center, increasing urine production dandelion could help rid your body of excess fluid, reduce high blood pressure and improve liver problems.
Some laboratory research also suggests that compounds in dandelion root might have anti-cancer properties. For example, in a study published in "Biological and Pharmaceutical Bulletin" of the compound lupeol from dandelion root, researchers found that the compound blocked growth of cultured melanoma cells and caused them to develop into non-cancerous, normal cells. Another study published in the same journal in 2002 found similar anti-cancer effects of taraxinic acid, another dandelion root compound, on cultured leukemia cells. While these are promising results from laboratory research, they need confirmation in large clinical trials with human subjects.
Benefits to gardeners
The dandelion plant is a beneficial weed, with a wide range of uses, and is even a good companion plant for gardening. Its taproot will bring up nutrients for shallower-rooting plants, and add minerals and nitrogen to soil. It is also known to attract pollinating insects and release ethylene gas which helps fruit to ripen.
Dandelions are an important plants for northern hemisphere bees, providing an important source of nectar and pollen early in the season.
Dangers
Dandelion pollen may cause allergic reactions when eaten, or adverse skin reactions in sensitive individuals. Contact dermatitis after handling has also been reported, probably from the latex in the stems and leaves. Due to its high potassium level, dandelion can also increase the risk of hyperkalemia when taken with potassium-sparing diuretics. The consumption of dandelion leaves has also been implicated in occurrences of fasciolosis.
I'm not going to waste your time, but there are literally hundreds of recipes online.  Growing up we occasionally used the spring greens in salads.  This is an amazing plant that can be a great spring supplement to any diet.
Jon