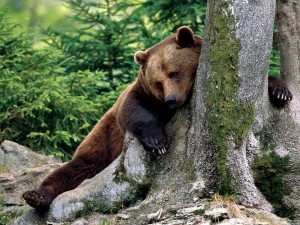 There I was on a scout camping trip, we were far in the back country and at high elevation as I watched the stars and nibbled on a granola bar.  It was at that moment that I heard the rustle in the bushes and soft growling sound.  One of the leaders hissed that it was a bear and to lie still and don't run.  I couldn't lie still I was shaking too badly.  I was young and had never seen a bear in the wild, now the bushes 20 yards away were about to erupt in a devouring frenzy of claws and teeth.  Well to make a long story short is was another set of scouts who had started off late and our leaders knew all about it.  A simple coffee can with a hole poked in it and a string they could pull through the hole had been enough to scare our socks off.  Especially myself, who had been a young cub scout years before and was still uneasy about a story he had heard about the fable bear Old Ephraim.  The main lesson I took is avoid the trail mix and granola bars in your sleeping area if you are in possible bear country.
Now bear in mind that what I am about to divulge is a crude generalization of half a dozen different bear types.  Bears are thought to have one of the best senses of smell in the animal kingdom; for example, the average dog's sense of smell is roughly 100 times that of humans and a blood hound's is about 300 times better; a bear's sense of smell is 7 times better than the blood hound.  What that means is the bear can smell about 2,100 times better than you the reader.
Where this applies is to camping.  I have a little experience hunting bear, and friends of mine have quite a bit more; and typically bears are quite illusive and will take off once they catch the scent of human.  One old time hunter told me that when a bear and a human accidently meat in the woods 99% of the time they simply turn around and go their separate ways.  If you were curious how far some bears can smell the answer is roughly 20 miles; when the wind is blowing in the right direction of course.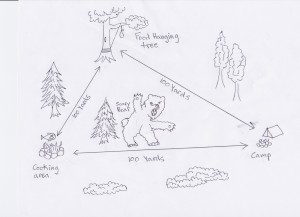 (not to boast but i drew this triangle example myself)
The application of this general rule of the 100 yard bear triangle is in regards to food while camping or backpacking in bear country.  A bear will often forgo the unpleasant smells of humans when the over dominating smell of food; especially in the spring and fall when they are hungry and plumping up respectively.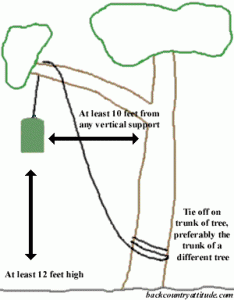 A tree for hanging your food is the bare minimum and make sure it is at least 50 yards from you camp.  Do not sleep with garbage and food around your camping area as this can draw bear in.  use a stone to throw the chord over a branch at least 15 feet of the ground so that the food, when pulled up and taught, is well over ten feet off the ground.  Parachute chord, or 550 chord (same thing), is a favorite of mine and I never go camping without a length of it.  Tie the other end of the string to a tree trunk or other sturdy anchor.
Jon