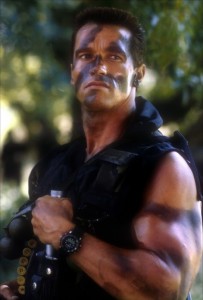 Here are a few notes if you are new to the world of camo face paint pulled from personal experience, the Army Study Guide, and the FM 21-76: US ARMY SURVIVAL MANUAL.
Here is the skinny taught to me at basic; the human face, like the human form, has distinct shapes that are recognizable and not naturally occurring in the wild.  Camo face paint is used to break up those features and enable your face to become indistinct and featureless in the wild.  While terrain will dictate the patterns of use, the typical rule is to apply dark paint to the ridges and high points on your face like the cheek bones nose and eye brows, while applying a lighter shade to the lower parts of your face like around the eyes and that wicked manly cleft in your chin.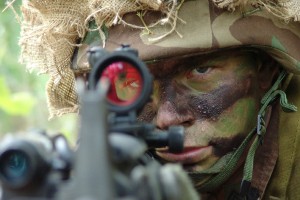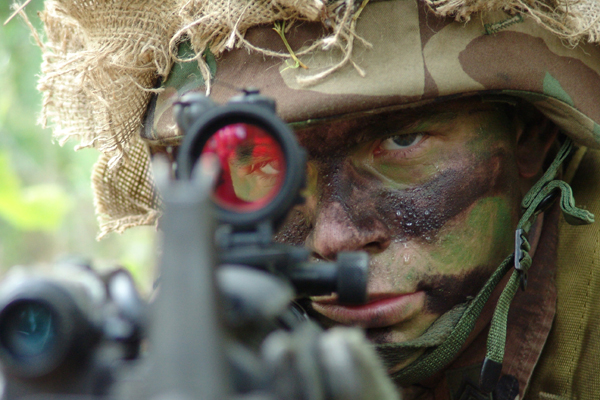 If not to be found year-round, you can always count on stores carrying outdoors and hunting equipment to have a stock during hunting season; it is especially popular among bow hunters and a variety of fowl hunters like seeking animals like duck and turkey.
I'm not aware of a life span on camo paint.  I've found both tubes of soft paint and camo compacts a decade old that still apply perfectly fine.  I prefer the H.S. Camo Cream because it is soft and easy to apply but compacts will typically offer a wider variety of colors and a mirror for field application.
Of note; do not apply the paint horizontal stripes, even if it looks cool, unless there is a hurricane blowing trees and scrub plants sideways.  Also, if you don't have a mirror but you do have a friend, make sure he isn't going to turn your face into a camo clown; I've seen it happen.  If there are lots of grasses or cattails do some vertical striping, if you are in a forest keep it blotchy; but typically I follow the guide in the FM 21-76.
Figure 21-1 gives a general idea of how to apply camouflage for various areas and climates. Use appropriate colors for your surroundings. The blotches or slashes will help to simulate texture.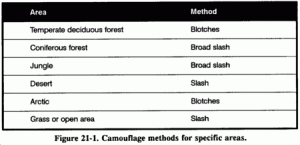 Whenever possible, wash oily skin and reapply camouflage. Skin oil will wash off camouflage, so reapply it frequently.
Jon