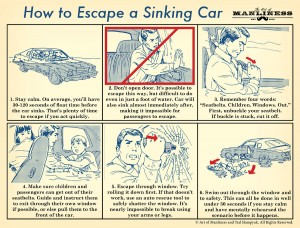 From the online site the art of manliness my sister sent me this link.  I've never been in a sinking vehicle and I cannot comprehend how terrifying it can be.  Most drivers that end up in water end up skidding off curves and going over guard rails.  According to this website over 10,000 cars end up immersed in water.
Mythbusters has two great episodes about escaping a sinking car; in the first episode the car was dropped straight down and proved relatively easy to escape so long as you stay calm either breaking the window and scrambling out or waiting for the car to fill and the pressure to equalize so that the car door can be opened.  Many companies sell special hammers for keeping in the car and specifically designed to break windows; you can also buy seatbelt cutters for quick extraction.  Make sure that these are both kept within easy reach so that you can reflectively retrieve them and you don't have to think while in an emergency.
The problem pointed out with the first Mythbusters was that cars will typically flip upside down before or as they start to sink.  Even with rescue divers on hand and a knowledge of what was going to happen this became a scary situation for the host as he attempted to exit the vehicle and get to the surface.  If the car goes upside down the rules for equalizing the pressure still apply and this can become more complicated as you find your head plunged upside down into the water.  This left the host with no air and trying to orient himself both in and out of the car before he could make his way to the surface.  This can be greatly compounded if it is after dark or murky waters without light for an upward direction marker.
From popular mechanics "According to the National Highway and Transportation Administration, about 400 people die every year in the U.S. from drowning in their vehicles. So prepare yourself now." I'd like to summarize the 5 rules they recommend for escaping a water logged vehicle.
Rule 1. "Don't Call 911 until you're out of the car. You're going to need every second to get out of that vehicle." This seems obvious and rational, but when in a panic we don't always make the rational decision.
Rule 2. "Unbuckle." Don't full with the buckles if you can help it and use your seat belt cutter; seatbelts can be replaced lives can't.  always plan for fumbling fingers and panic.
Rule 3. "Don't open the door! Roll down the windows instead." I think we hit this above, remember the pressure factor and try to get your head out of the water and breath.  I still recommend breaking the window because it's hard to judge how far you might sink during the time it takes to roll down the windows or for your car to fill up and equalize the pressure.  If you have electric windows you will not likely have the option of rolling down your windows and if you want a quick escape breaking it is the only way out.
"You'll have 30 seconds to a minute until the water rises to the bottom of the passenger windows. This is what Geisbrecht calls the floating period. After that, the water pressure will force the window against the doorframe, making it essentially impossible to roll down. "
Rule 4. "Children first. Everybody should go out their own window if possible, but the kids are going to have a harder time fighting through the rush of water, so push them out if you have to. Greisbeck suggests starting with the oldest kids and taking the youngest out in your arms." I have three children aged five, three, and eight months; the notion of being trapped underwater with my children is far more terrifying than the idea of just myself and some buddies.  Remember that if your car flips and ends up not fully submerged in just a few feet of water your children will be at greatest risk.
Rule 5. Get out. Swim through the broken window as fast as possible.
We cannot mitigate every accident, but we can prepare and increase our odds of survival.  One of the most touching stories is that of a family car on US 89 in Logan Canyon Utah January 2012, when it went off the road in slushy conditions and ended up in the river.  This story give me hope in humanity because of the response of all those on the road who jumped into the freezing waters with the dad to pull the kids out of the car.  One winder was shot out with a gun, a seatbelt had to be cut with a knife, and CPR saved the life of a four year old boy.  Look it up, it's an amazing miracle.
FYI, most window breakers have a combined belt cutter function.
Jon