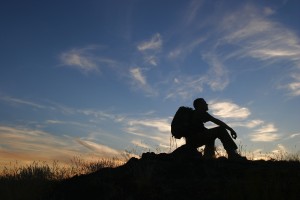 Another good article from my brother. I love this photo, found it on the Tourism Intelligence Agency website while doing a little reading. Enjoy the read.
Jon
This is a vague list of items, or categories of items, that you should want to put in your B.o.B. (bug out bag), your car, retreat, or anywhere they could make the difference between life and death. Your brain is always the most important tool when it comes to any situation. Having a calm manner and being able to assess your situation is crucial. You have to decide to survive. Having prior knowledge on such topics that will aid you in a survival situation can only go so far. This is where simple tools used with your brain will make the difference between living and dying. Whether you throw these items in a B.o.B or just simply in your truck of your car, these are some very crucial items that will make a difference in any situation. Survival is a mindset, situation will just dictate the level of difficulty and what tools will aid you the best.
1-Water: Water should always be at the top of your list, we simply cannot live without water. The more energy you exert in just trying to survive the more water your body is going to need. Having means to purify water in survival situation will keep you hydrated and alive. Being dehydrated not only affects you physically, it affects you mentally. In a B.o.B. You are going to want to carry three days worth of water (for most people three days of water in a situation will you exert an ample amount of energy would be at least three gallons of water) unless you have access to water that is clean or you have means of purifying it yourself. As important as it is to have a B.o.B. it is important to keep a survival kit in your vehicle as well. One thing that I have always done when I get a new vehicle is throw a case of bottled water in it. Never be caught in a situation without having means to have access to clean drinking water.
2-Fire Starter: In a survival scenario a fire can provide many things. Not only will if provide warmth from the cold, heat to cook food, purify water, potential rescue signal, it can also gives you security and light at night. Having a fire can do great things to your motivation in a survival situation. You should always have a fire starter of some sort with you where ever you go. This can be anything from lighters to matches and everything in between. A lot of people expect building a fire to be easy as just rubbing some sticks together. In reality there are many factors involved in building a successful fire. You can have a lighter and matches, but they will not do you any good in a wet environment. This is where thinking outside the box can help. You have a wide variety of off the shelf and homemade fire starters. The thing they all have in common is that they light and burn until your fuel will catch on fire and support its own flame independently. When I was a kid I went on a weeklong canoeing trip. The first day while we were canoeing to our first camp location it drizzled on us. When we set up camp us young boys were tasked to make a fire. After a long period of little success my friend's dad informed us that we just did not have the proper kind of matches. This is when he presented us with a road flare, which lit the damp kindling very quickly.  Another simple thing like a road flare that will work is sparklers. They will put out a good amount of heat and fire for an extended amount of time.  Regardless of what you have available with practice and patience you can start a fire. I would suggest whenever you get the chance build your skill level at starting a fire, especially in poor weather and with limited luxuries. Get out of that habit of always using gasoline or paper to start your fire. If you become efficient with a light use flint and steel to start a fire as a challenge. I am a person who curries multiple types of fire starters whenever I am out in the wilderness. With all things I always like to have more than less. Whether it is a B.o.B or just your day hike pack you can always discard items that are not holding their weight in value.
3-First Aid: First aid kits are important in any type of survival or outdoor activity pack. For example I went shooting with my brother the other weekend and ended up getting a cut on my forehead. My brother being the prepared type of guy he is was able to retrieve his first aid kit from his vehicle. Even though when he grabbed his kit and was looking for something to dress the wound with he found out that he had overlooked packing small gauze that could be used for smaller cuts that would not be life treating. When it comes to a First aid kit or even a B.o.B. it is important to keep a running knowledge of what's in it and what you could add. First aid kits should fit the person who has it. Do not by a trauma kit if you have no clue how to use it. You can buy small backpacking first aid kits at any sporting goods store that will have everything you could need for minor injuries. When it comes to first aid kits like many things I stick to threes; one in my car, one in my B.o.B., and one in my extended B.o.B..
4-Food: Food is always important. Buy what fits you and your needs. Get food that you can prepare or eat the way it is. Stick to food with high protein and carbohydrates. When I was in hunter education my instructor told me how he always keeps jelly beans and snickers in his hunting bag. Jelly beans have great value, they have sugar that is preserve in two different ways. When you eat them the inner soft jelly is digested very quickly giving you sugar as soon as you eat them while the hard outer shell takes longer to digest giving you sugar at a later time. The other being snickers; snickers have a wide variety of sugar and protein. I would not suggest living off of these two items alone. The thing when packing food is to pack a well balanced diet and refrain from just buying a bunch of freeze dried backpacking meals. These have great nutritional value, but I like to mix it up with some food items that will change things up from time to time.
5-Compass and Map: A compass and map is important anytime you are out in the wilderness. GPS's are great but like all electronics they can fail, sometimes your just have to go old school. Just like with many tools, learn how to use them. A compass and map will not do jack if you can't use them. Finding good maps are hard. A good place to go for accurate maps with terrain features is the Forrest Service, or even hiking and camping maps if they cover the area you might be in. If you are using something like a road map, this is not the best, but in a bug out situation can be great. Before you just throw your map in your bag take the time to look it over and mark the hell out of it. I take my road maps and highlight alternate routes as well as adding train tracks. Most highway maps will not show train tracks, but in most cases they are the more direct than roads; which can be a great advantage if you are walking. Going back to number 1, if it is a driving route or a walking route mark key points (to avoid or steer towards, like land marks and magnetic bearing), and available water.
6-Machete: A machete, as opposed to an ax is more diverse. It is really an all purpose tool that can do anything from building a shelter to clearing a path. They are cheap and lightweight, definitely a tool that should never be overlooked for its value.
7-Rope: Just like a machete rope is something that the sky is the limit in its uses. If you cannot think of anything that a rope or para cord (known in the military as 550 cord) is good for grab your B.o.B. and go spend the week end out somewhere you have never been. You can go to YouTube and find endless videos that will give you uses of para cord and rope in a survival situation.
8-Survival Blanket: A thermal survival blanket is great for keeping you warm with not only taking up very little weight and room it also very cheap. You can get the cheap ones for a dollar or two. I would recommend going with one a little bit more heavy duty or even getting a thermal sleeping bag. These tend to be a tin foil looking materiel which can be great for signaling. If you are more conscious about being seen, many companies make them with a flat green lining on the outside. The high end thermal blankets or sleeping bags are made to be used over and over again. You will not get this with a pocket size one you buy for a dollar.
9-Light Source: You can have anything from flashlights, headlamps or kerosene lanterns. The soul key trait is that it produces light. I would recommend at least one light source having a red filter of some sort. Red light will leave the least amount of visible light to be seen by stranger at a distance.
10-Mulit-Tool: Multi-Tools have replaced the notorious Swiss Army knife. Any multi-tool will come with a plethora of tools and uses.
In conclusion use this as a guide not scripture, feel free to adjust to your needs. This is just my thoughts on the subject, take it as you will. Gear will only get you so far, don't go unprepared by not having a foundation of knowledge.
Dave