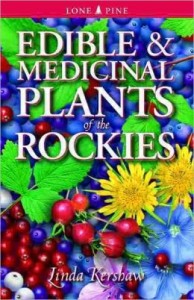 My brother wrote me a fine book review on this piece of literature.  I've glanced at this book in the past, as my brother was staying here and we had a habit of unpacking and repacking our bug-out-bags when we got bored, and this book was always packed in a handily retrievable location.  I've added it to my book wishlist, you might find it worth your while.  Enjoy.
Jon
PS. I have nothing to do with the popup purchase add for this book that came with the image; and in no way will I profit from the sale of this literature.  Please don't be thrown by the two star rating, as that is generic for a book without reviews at that site.
EDIBLE AND MEDICINAL PLANTS of the ROCKIES
by: Linda Kershaw
The first thing that I noticed about this is its sturdy construction. It is very well made, easy to read, as well as being something that would hold up to any test of time in the wild. It is difficult for any one book to truly hold all the information that would be beneficial to individuals out in the woods. Throughout human history plants have provided us with food, clothing, medicine and shelter. EDIBLE AND MEDICINAL PLANTS OF THE ROCKIES covers 333 plants that are found in the northwest that are all good to know their uses as well as their dangers. It has a great introduction that covers everything form gathering tips to preparations of plants. This book contains:
– Pictorial Guide
-More than 700 color photographs and illustrations
– An introduction explaining the use of wild plants, including gathering, preparing and cooking
– Food, medicinal and other uses for each species
– Clear descriptions of the plants and where to find them
– Warnings about plant allergies, poisons and digestive upsets
– A special section at the end detailing 46 of the more common poisonous plants in the Rockies region.
-Index and Glossary
The thing that you will notice is that this book is color coded. In each section the plants are divided into families. Each plant has at least one photo, many have two or three. Each plant has sections which detail utilizing it for food, medicine, other uses, as well as a description and any warnings associated with the plant.
For the basics on this great book, see Leslie Nelson's review — "it's spot on in describing its many strengths. I know nothing that touches it for Rockies edible & medicinal plants. Its pictures make gathering the most common plants quite easy, at least for someone used to identifying flowers, trees, bushes & other plants. Though for some plants, and if you're not used to identifying plants, I'd recommend getting a few other books for confirmation… If you're not sure on identification, another couple of books often help. For your area — mine is Colorado — you might go to your local National Forest bookstore or a State Park bookstore…As a start to playful or semi-serious gathering in the Rockies, this book cannot be beat. It helped me adjust from my Midwestern gathering to gathering in my new home. It added to my knowledge of which medicinal plants here were available & useful. Although always, ALWAYS follow the rule: If you're not SURE, never put it in your mouth!"
This is a book definitely worth having in your collection. Whether you throw it in a backpack or on a shelf it is a great asset to anyone who will take time to read it. There are many other books that will cover more plants with more depth on different plants, but one of the things that makes this book my favorite are the detailed colored pictures. This is one item that most books are lacking.
Dave