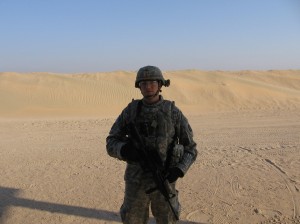 The picture is me in Kuwait at the range for weapons test firing prior to going into country on my last deployment.
I have a delightfully funny video clip on my computer of some back woods types (seemingly drunk) strapping on a Kevlar vest to one of their number and then another firing at it with a 9mm pistol.  Laughs and hoots and even a slap on the vest wearers chest; but then he starts doubling over and coughing up blood.  The video ends right after a comment about taking the guy to a hospital.  What went wrong, he had a Kevlar vest on right?  My thought was, if people are going to be dumb I'm gonna laugh at them.
There are some key facts that people should understand when they consider Kevlar and body armor.  During multiple deployments we have always had a plate carrier lined with Kevlar inserts for shrapnel absorption.  But it is not designed to stop bullets; that's where SAPI (small arms protective insert) plates come into play.  Each deployment led to an upgrade in plates from the basic SAPI, to the E-SAPI (enhanced), to the X-SAPI; each being rated for a higher level of small arms penetration protection; assistance in dealing with bad guys that are improving their ammunition to deal with us.
How it works-From Nathaniel Marten, Science Museum "Kevlar is able to stop a bullet due to its molecular structure. It is a light, polyacrylamide plastic fabric, which has a high tensile strength. This means it takes a huge amount of energy to make its fibers stretch even a little. Each Kevlar molecule looks like a long twisting coil. During polymerization these coils of molecules become tangled, causing it to be hard to stretch.  Inside a bulletproof vest are many strips and layers of Kevlar. When a bullet hits the vest, it tries to force it through the layers, but to do this it must push the fibers apart. The fibers are woven and resist this very effectively. The movement is translated into a stretching force on the fibers. Some will break, but most will absorb the energy of the bullet by stretching a small amount."
I've broken Kevlar down into two categories, because they are different: the first is the flexible material that is used in vests and other protective garments; the second is a rigid material that has a combat application of Kevlar helmets, to inch think armored vehicle internal lining like in the M109A6 Paladin.
Soft Kevlar-In a tactical situation this soft flexible material is primarily used to line vests.  In country before the huge push up up-armored vehicles thick blankets of this stuff were available that troops used as shieling under feet and in the sides of vehicles.  Prior to going into Iraq on my first deployment one of our brigade's companies took a Kevlar blanket down to the range and put a few rounds into it to see how it would respond; they were shocked that the bullets punched right through without noticeable hindrance.  This is why vests designed to resist bullets will have supplemental plates as mentioned above.  These Kevlar blankets were the only armor for some of our machine gunners in pick up configured HMMWVs (high mobility multi wheeled vehicle).  This soft material only offers limited protection against bullets and should not be relied upon, especially for anything that is supersonic.
Rigid Kevlar-This is like the material used in the modern military helmet that replaced the old steel pots.  While similarly designed for shrapnel, there are countless stories of these helmets actually stopping direct hits from bullets.  I have a helmet that I acquired and will be taking it to the range to test the effects with a variety of bullets and will post the video for you guys to check out in the near future.  While deployed this last time a sister company had an MRAP (mine resistant ambush protected) vehicle struck by an EFP (explosive formed projectile).  The molten copper had punched a perfect hole through the passenger side door armor, severely injuring the vehicle commander, and then embedding into the Kevlar helmet of the driver with a direct hit.  Both were evacuated out of country and the driver lived because his helmet stopped what had already punched through the door.  I saw the vehicle and helmet caved in nearly two inches; absolutely amazing.
Lesson learned is that while Kevlar is amazing; don't assume wearing it will make you impervious to bullets.  Body absorption of bullets should be a last resort.  Like my buddy going through post police training told me; at close range even a .22 will punch through law enforcement body armor with little resistance.  For my bug out gear I got my hand on an old woodland plate carrier and stripped the Kevlar out, using it to carry my plates and for the MOLLE strap system.  In my area, if I get shot while bugging out it is more likely to be a high powered rifle than an explosive blast, so I protect for what I might encounter.  I'm more worried about high velocity rounds than absorbing shrapnel and so the reduction in weight was worthwhile.
Jon