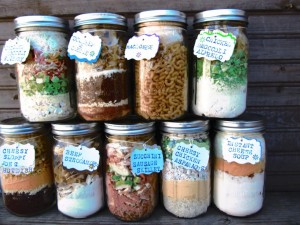 My wife's aunt shared this and it was too good not to pass along.  I had never thought to do this; great article, great site.  Check out the link, I know you'll love it.
Jon
"These are really great ready-to-make meals in jars! You simply assemble the dry ingredients in a jar, and then when you want to make up a meal you just add water and cook.
You can make Sloppy Joe's, Chili, Chicken Stir Fry, Mac and Cheese and many more!
To see all recipes, visit Rainy Day Food Storage here…"
http://rainydayfoodstorage.blogspot.co.uk/p/meals-in-jar-recipes.html
Dry Pre-Measured Meals in Jars, January 14, 2014 by admin Leave a Comment
herbsandoilsworld.com