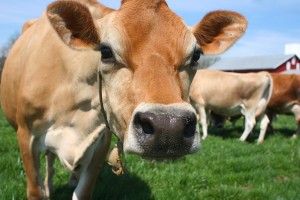 I know quite a few people who raise a family beef cow, but not very many outside of the dairy industry that raise milk cows.  This is one story from my youth, and built from personal experience, so I hope it motivates or inspires some ideas by letting you know some of what my family did growing.
We had a single family and felt no need for more than a single dairy cow alongside our other farm animals.  We had around 9 acres so we grow plenty of hay and alfalfa to stock up for the winter months and keep our plant eating animals full.  We paid one of our neighbors to cut and bail it for us.
My father chose a jersey cow for two reasons; nostalgia because that was what he had been accustomed to growing up in Denmark, and because of the rich cream content of the milk.  A jersey cow will not produce as much milk as its more common black and while Holstein counterparts, but for a single family it gave us plenty to drink and even to freeze down for later use.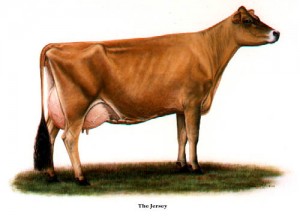 We would milk her every twelve hours on the clock, and as long as you are consistent with milking and drain her completely when milking, the goods keep coming.  My father was very particular about making sure the udders were always cleaned with soap and water before he began.  If it was summer afternoon one of the kids would usually hang out with him to swat horse flies as they landed and attempted to bite her.  More than once she jumped, put a foot in the bucket, and spoiled the afternoons work.  This usually led to my father giving the milk to the pigs and swearing in Danish; you could always tell when he was really frustrated because he stopped using English.
Between milkings we were getting about 5 to 6 gallons a day, more than enough to drink.  The raw milk was set up in the fridge after being strained through a clean cloth to cool and let the cream rise.  Over the next day we would use a skimming spoon to skim the milk at least twice, and often we'd have to whip the cream back into the milk before drinking it.  If you are a skim milk drinker then a milk cow might not be your thing.  I know of no boys who group up on a dairy farm that can stand anything less than whole milk.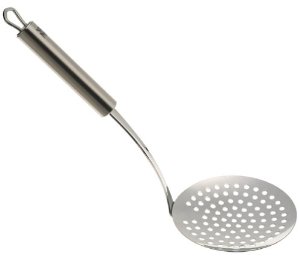 The cream was used for whipping cream, butter, cooking, and any number of things we needed.  It was so heavy that when making whipped cream, more than once it turned to butter if we weren't paying attention.  With an abundance of raw milk my father experimented with different cheeses and other fresh milk dishes that cannot be prepared with pasteurized milk.
We were astounded at how many times over that cow paid for itself; one of the best financial investments my parents made.  All by products from making butter and cheese and the such were fed to the pigs.  The butter milk and whey were instrumental in raising big healthy pigs, and thus nothing went to waste.  During the summers the cow was always tethered in the field so that she could eat fresh food and drop her dung where it was best utilized.  The winter dung was piled and in the spring spread over the several acres of garden we grew.  You can expect about 300 days of milking per year when figuring in calving.  An average US cow will produce about 20,000 lbs of milk a year, less for a jersey, but better cream.  For your hand milked animals you can expect 10 good lactations; only half that for mechanically milked animals.
Because of the abundance of alfalfa we always kept a bloat stone to keep her from bloating, and a salt stone for her to lick and enjoy.  Both of these are about one foot square stones that the cow and lick and nibble.  Pure alfalfa, primarily if the cow isn't used to it, can make the cow bloat and die if over consumed.  With a bloat stone it's an amazing diet that keeps them healthy and strong.  There is no problem with alfalfa that has been cut and bailed.  Once a year we had her artificially inseminated from an Angus bull.  The Angus are wonderful beef cows where a jersey is not.  The calves ensured her milk started over every spring, and gave us an animal to slaughter later on for meat.  During the last months of pregnancy is when we would dip into to frozen milk.  One thing of interest and note is that the milk will shift in flavor depending on what the cow is eating.  I had a preference for the flavor of milk while she was on her winter diet over the summer diet.
Don't worry about killing the calves when they get older.  Ours were always ornery and getting mean long before butcher season came around.  You can pay a butcher to come out and take care of the animal on the spot, or have someone teach you how so that you can butcher the animal yourself.
Well, if you are thinking about getting a milk cow, and you have the time and diligence to keep up on milkings then this can be an amazing decision and opportunity for your children to learn about hard work and where their food comes from.
Jon