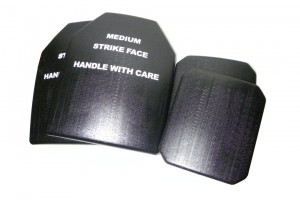 "The Small Arms Protective Insert (SAPI) is a ceramic trauma plate used by the United States Armed Forces. It was first used in the Interceptor body armor, a ballistic vest. It is now also used in the Improved Outer Tactical Vest as well as the Modular Tactical Vest, in addition to commercially available "plate carriers". The kevlar Interceptor vest itself is designed to stop projectiles up to and including 9x19mm Parabellum submachine gun rounds, in addition to fragmentation. To protect against higher velocity rifle rounds, SAPI plates are needed."
If you've been in the military or law enforcement then you've probably worn these.  Since my first deployment, plate carrier styles aside, I've gone through three versions of these, the black SAPI, the green E-SAPI, and the tan X-SAPI.
"In May 2005, the U.S. Armed Forces began replacing the standard Small Arms Protective Insert plates with the Enhanced Small Arms Protective Insert (ESAPI). An ESAPI provides protection from .30-06 M2 Armor-piercing rounds with a steel or tungsten penetrator, but costs about $600 per plate, 50% more than SAPI plates. They are produced by Ceradyne, BAE Systems, and ArmorWorks Enterprises."
"A call for a next generation plate (X-SAPI), to stop even greater velocity threats than the ESAPI plate has been issued by the U.S. Army. They have specifically allowed scalar or flexible systems, and are also calling for greater coverage, with less than a pound of additional weight."
If you are like me then you want a plate carrier and plates that you can rely on if it ever comes down to the worst, hence this quick article.  The picture you are looking at is a plain old black first generation SAPI with the outer skin cut off so you can see the effects of a variety of rounds.  Bear in mind that none of the rounds used were built for armor penetration type performance and were off the shelf.  The four rounds fired are as follows:
7MM MAG @ 20 ft & 3,000 ft/sec
12 Guage Slug @ 10 ft & 1,600 ft/sec
.44 MAG @ 10 ft & 1,400 ft/sec
.40 Cal @ 10 ft & 1,200 ft/sec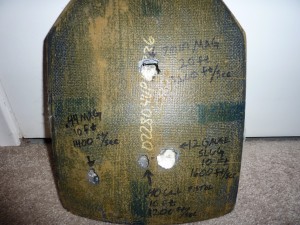 The strike face.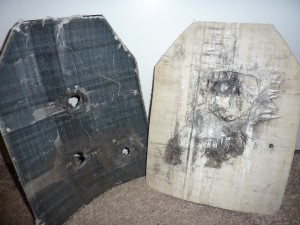 Between the layers.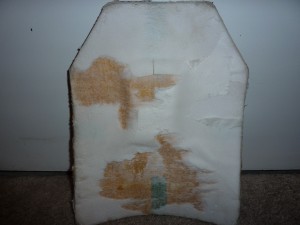 And the back bulged out slightly.
The first thing you will notice is that even with the structural integrity compromised after the first round received; that and none of the subsequent rounds managed to pierce the plate.  Had you been wearing this in a firefight and received these rounds you'd be alive though probably hurting like hell and with a few broken ribs; after all, a 7MM MAG is not a tiny bullet.
"The standard plate for the Interceptor body armor is made of boron carbide or silicon carbide ceramic. New ESAPI plates are also made of boron carbide. The standard plates are not given an NIJ rating, as they are tested in accordance with specific protocols for the military and not the NIJ's testing. Military testing calls for survivability of three hits from the round marked on the plate – for standard SAPI, of a caliber up to 7.62x51mm NATO M80 ball and of a muzzle velocity up to 2,750 ft/s (840 m/s). For ESAPI, a .30cal M2 AP (.30-06 black-tip armor-piercing) cartridge. This performance is only assured when backed by the soft armor of the OTV (or any soft armor which meets military requirements for protection. The ceramic plate is backed with a shield made of Spectra, a material up to 40% stronger than Kevlar., to trap any fragments of either plate or projectile and prevent them from injuring the wearer."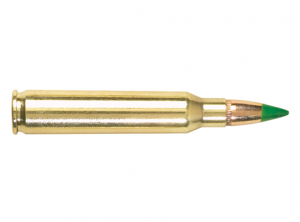 As a side note what do we do if the bad guys take over and the nation as we know it goes to crap? While going out and buying armor piercing rounds might raise some NSA eye brows, as well as violating some state laws; there are alternate routes for combatting the future communist/extremist enemy that takes over our nation after collapse.  The technologies in body armor and personal protective equipment we use are duplicated and utilized by many of our enemies.  A good friend of mine acquired some green tip military ball ammunition and took them out for some range time with a thick steel plate.  If you haven't taken a green tip .223 (5.56MM) bullet apart then this is what you will find, a copper full metal jacket, lead, and a hardened steel penetrator cone. "It turns out that sure enough, M855 was removed from the ATF's list of AP rounds. I haven't been able to track down when this change took place, but I thought it was important to share to all those that have considered M855 to be AP rounds like I did. While having a Steel Penetrator Tip, this doesn't constitute M855/SS109 as "Armor Piercing." The round was designed for increased penetration at longer ranges to combat SAW (Squad Automatic Weapon) issues though."
My buddy brought the plate in to show me the next day.  He had hit it with a variety of high powered rounds; bigger rounds spread more material but most barely made it half way through.  The ball ammunition however had a neat little half inch wide hole punched right though like butter; or copper lead and steel.  These are not classified as AP rounds, but can increase your ability when facing armored opponents in defense.
I have an old Kevlar helmet that I'll be taking out to the range and hitting it with everything from a .22 to ball ammunition and I'll be sure to post the results.  If I can get my hands on another SAPI plate (off the books) I'll hit it with the same ball ammunition and post the photos to this article.
Hope I gave you some things to think about; body armor is never a bad investment.  Have fun and keep prepping.
Jon
http://www.itstactical.com/warcom/ammunition/military-ammunition-and-why-green-tip-m855-is-not-armor-piercing/
http://en.wikipedia.org/wiki/Small_Arms_Protective_Insert