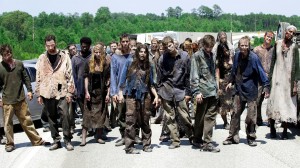 No I'm not going to be talking about bath salts; but for kicks and giggles let's take a look at some real world viruses and scientific experiments and their zombie like symptoms.  Zombies have been at the forefront of our cultural minds since Romero made the first Night of the Living Dead; but they have also been a real concern since the stone age; evident in the way they periodically decapitated, buried upside down, or even wedged stones in the mouths of the dead so they could not rise from their state and consume our flesh.  If you study the topic you will find the undead and vampires being synonymous in most cultures.  This trend continues, in my opinion, until I Am Legend was written; clearly laying out two classes of the undead and inspiring future horror writers.  You can find the references I used at the bottom of the page, and if you look on the internet you will find plenty of odd people who spend their whole lives researching and pondering the idea of real zombies.  Portions of this article are direct quotes because like you, I am learning as I study; and these guys often put together a great bit of dialog that will explain things better than I could.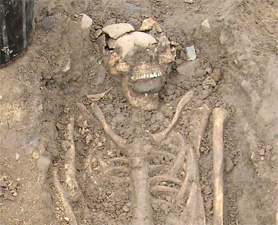 There are several real life diseases that could make a person act like the proverbial zombie.  So let's take a quick look at the symptoms with which we identify a zombie like virus; bearing in mind that there really isn't any known disease that will in fact raise a corpse from a state of death aside from a divine touch; so we'll identify that ones that make people "act" like the living dead.  We will be looking for signs of rotting or dead flesh, a trance-like state that robs people of any higher cognitive function, the inability to communicate beyond grunts and groans, a slow shuffling gait (I'm into the classic Romero zombies if you must know), a desire to bite or even consume the flesh of the living, an absence of concern for self-preservation, and lastly an extreme sense of rage or anger towards those around them.
How might a "zombie virus" arise?  If not a single virus then there is the possibility that two viruses could converge to form a hybrid.
Brain Parasites
Brain parasites are featured in Resident Evil IV as well as other film and literature.  Parasites have the possibility to turn victims into mindless zombie-like slaves.  There's one called toxoplasmosa gondii that seems to devote its entire existence to being terrifying.  This particular bug infects rats, but can also be found within the intestinal track of cats.  Somehow the parasite knows it needs to get the rat inside the cat so it can take over the rat's brain and intentionally makes the rats scurry towards locations where cats reside.  The rat has had itself programmed to get eaten and doesn't even realize it because the bug infects rats but can only survive inside cats.  This is real, check it out.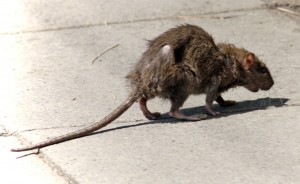 But that's just rats and cats.  Did you know that half the Earth's human population is infected with toxoplasmosa and don't even know it?  Studies have shown that those infected see a change in personality and have a higher chance of going insane.  The offspring are passed out in the cat's feces, and this is where humans can pick it up, especially when cleaning out litter trays. While it can cause serious problems to people with weakened immune systems, it's most insidious effect comes in otherwise healthy people. In them, it can form cysts in the brain that will sit there, apparently doing nothing. These cysts are surprisingly common and can be found in ten percent or more of the human population.  Transmission may occur through:
Ingestion of raw or partly cooked meat, especially pork, lamb, or venison containing Toxoplasma cysts: Infection prevalence in countries where undercooked meat is traditionally eaten has been related to this transmission method. Tissue cysts may also be ingested during hand-to-mouth contact after handling undercooked meat, or from using knives, utensils, or cutting boards contaminated by raw meat.
Ingestion of unwashed fruits or vegetables that have been in contact with contaminated soil containing infected cat feces.
Ingestion of contaminated cat feces: This can occur through hand-to-mouth contact following gardening, cleaning a cat's litter box, contact with children's sandpits, or touching a leech; the parasite can survive in the environment for over a year
The thing to consider is that humans and rats are no that dissimilar in many respects; that is why they use them for drug testing.  All it takes is a more evolved version of toxoplasmosa, one that could to do us what it does to the rats.  Imagine if half the world suddenly had no instinct for self-preservation or rational thought.  But it may take an eternity for a parasite to evolve that far without external manipulation for something like a weapons program.  Don't put it beyond psychotic researchers and governments to try and harness toxoplasmosa gondii to work in their favor, there's a fifty fifty chance it's already in your brain.  Experiments have shown that rodents infected with toxoplasmosis become fearless, even approaching cats rather than running away from them. If you think about this from the parasite's point of view, fiddling with the rodent's brain like this is the perfect way to ensure that it ends up back where it wants to be. That is inside a cat. Yet, there is evidence that toxoplasmosis affects humans in a similar way, making them more reckless.
Neurotoxins
You may be familiar with these from such media as the movie The Serpent and the Rainbow, and the Resident Evil 5 video game.  There are certain kinds of poisons that will slow your bodily functions down to the point you might be considered dead to inexperienced persons; and that of course leads to your boyfriend also taking poison and then you stabbing yourself in the heart and such.  The poison from fugu (Japanese blowfish) can do this.  The victims can then be brought back under the effects of a drug like datura stramonium (or other chemicals called alkaloids) that leave them in a trance-like state with no memory, but still able to perform simple tasks like eating, sleeping, moaning and shambling around with their arms outstretched.
"This stuff has happened in Haiti; that's where the word "zombie" comes from. There are books about it, the most famous ones by Dr. Wade Davis (Passage of Darkness and The Serpent and the Rainbow). Yes, the movie The Serpent and the Rainbow was based on this guy's actual science stuff.  What is definitely true is the story of Clairvius Narcisse. He was a Haitian guy who was declared dead by two doctors and buried in 1962. They found him wandering around the village 18 years later. It turned out the local voodoo priests had been using naturally occurring chemicals to basically zombify people and putting them to work on the sugar plantations (no, really)."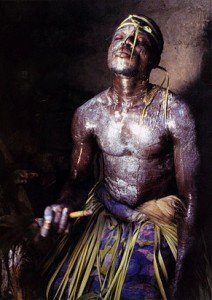 While there is street cred because this has already happened; but even if a super villain were to distribute this amongst the world's population it would only turn them into a mindless shambling horde with none of the typical zombie aggression or cannibalistic desires.
The Real Rage Virus
This is what they called it in 28 Days Later.  "In the movie, it was a virus that turned human beings into mindless killing machines. In real life, we have a series of brain disorders that do the same thing. They were never contagious, of course. Then, Mad Cow Disease came along. It attacks the cow's spinal cord and brain, turning it into a stumbling, mindless attack cow."
And humans have consumed that delicious meat, despite governments trying to put down the infected beasts.  When it gets in our systems they call is Creutzfeldt-Jakob disease. Here are the symptoms:
Changes in gait (walking)
Hallucinations
Lack of coordination (for example, stumbling and falling)
Muscle twitching
Myoclonic jerks or seizures
Rapidly developing delirium or dementia
The disease is rare but maybe not as rare as we think, and the afflicted aren't known to chase after people in murderous mobs yet.  But it shows that widespread brain infections of the Rage variety are just a matter of waiting for the right disease to come along.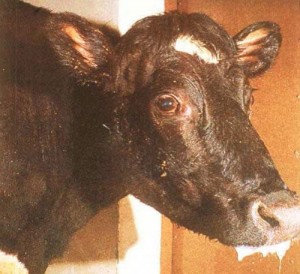 "If the whole sudden, mindless violence idea seems far-fetched, remember that you are just one brain chemical (serotonin) away from turning into a mindless killing machine (they've tested it by putting rats in Deathmatch-style cages and watching them turn on each other). All it would take is a disease that destroys the brain's ability to absorb that one chemical and suddenly it's a real-world 28 Days Later."
So imagine an evolved disease that we might call Super Mad Cow disease getting a foothold in our food supply, or spread through blood-on-blood contact, or the proverbial saliva-on-blood contact.  All it takes to start is a bite, not unlike in the movie.  Without the common sense to eat and drink victims would likely die within a matter of days; but it would be a fast sweeping terror.
Neurogenesis
This has a greater threat as laboratories around the world are playing with this science. "You know all that controversy out there about stem cell research? Well, the whole thing with stem cells is that they can basically be used to re-generate dead cells. Particularly of interest to zombologists like ourselves is neurogenesis, the method by which they can re-grow dead brain tissue."
With organ transplants and extravagant procedures science has learned to save us from almost everything aside from brain death.  When the brain turns to mush we're gone; at least that used to be the case.  Science is already able to re-grow the brains of comatose head trauma patients until they wake up and learn walk around again.  "Couple that with the new ability to keep a dead body in a state of suspended animation so that it can be brought back to life later, and soon we'll be able to bring back the dead (theoretically), as long as we get to them quickly enough."
It sounds great, and there is even a lab dedicated to "reanimation research;" explaining how the process of "reanimating" a person creates a problem. "It causes the brain to die off from the outside in. The outside being the cortex, the nice part of you that makes humans human. That just leaves the part that controls basic motor function and primitive instincts behind."
"You don't need the cortex to survive; all you need is the stem and you'll still be able to mindlessly walk and eat and enjoy Grey's Anatomy. This is how chickens can keep walking around after they've been beheaded (including one case where the chicken lived for 18 months without a head).  So, you take a brain dead patient, use these techniques to re-grow the brain stem, and you now have a mindless body shambling around, no thoughts and no personality, nothing but a cloud of base instincts and impulses."
This is what we would call real, live, undead zombies; or probably as close as we are going to get.  Think about the fact that under every legal system in the world all rights are terminated at death.  It just takes the right resources and a need for a mindless zombie workforce or slave labor.  I wouldn't put it beyond North Korea or some similarly controlling government to give this a thought.
Nanobots
Nanobots are a technology that science apparently engineered to make you terrified of the future. We're talking about microscopic, self-replicating robots that can invisbily build–or destroy–anything. Vast sums of money are being poured into nanotechnology. Sure, at some level scientists know nanobots will destroy mankind. They just can't resist seeing how it happens.
Scientists have already created a nano-cyborg, by fusing a tiny silicone chip to a virus. The first thing they found out is these cyborgs can still operate for up to a month after the death of the host. Notice how nano scientists went right for zombification, even at this early stage. They know where the horror is.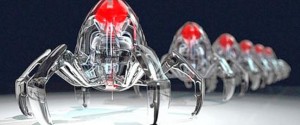 According to studies, within a decade they'll have nanobots that can crawl inside your brain and set up neural connections to replace damaged ones. That's right; the nanobots will be able to rewire your thoughts. What could possibly go wrong?
Some day there will be nanobots in your brain. Those nanobots will be programmed to keep functioning after you die. They can form their own neural pathways, meaning they can use your brain to keep operating your limbs after you've deceased and, presumably, right up until you rot to pieces in mid-stride.
The nanobots will be programmed to self-replicate, and the death of the host will mean the end of the nanobots. To preserve themselves, they'd need to transfer to a new host. Therefore, the last act of the nanobot zombie would be to bite a hole in a healthy victim, letting the nanobots steam in and set up camp in the new host. Once in, they can shut down the part of the brain that resists (the cortex) and leave the brain stem intact. They will have added a new member to the unholy army of the undead.
Now, it should be more than clear by this point that our goal is to be responsible researchers. We don't want to create a panic here. All we're saying is that on an actual day on the actual calendar in the future, runaway microscopic nanobots will end civilization by flooding the planet with the cannibalistic undead.  Science has proven it."
Sleeping sickness
Sleeping sickness is the stuff nightmares are made of. The headline of this BBC News article from 2005 pretty much says it all: "The disease that makes people zombies." Prevalent in Africa, sleeping sickness is caused by the parasite Trypanosoma brucei and transmitted by the tsetse fly.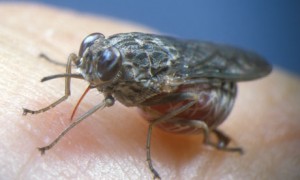 Interviewed for the BBC News piece, Professor Sanjeev Krishna of the University of London and a doctor at a hospital in Lucala, Angola, explained the horrible progression of the disease:
At first it will cause headaches, aching muscles and maybe itching. But in the late stages, when the parasites have invaded the brain, the signs become more obvious and ominous. Victims find it hard to concentrate. They become irritable, their speech is slurred and they stop eating. Their daily rhythm becomes disrupted to such an extent that they can't sleep at night and find it almost impossible to stay awake during the day. It even becomes very hard for them to do simple mental tasks, such as drawing a straight line. This is an infection that carries nightmarish qualities, reducing many of its victims to a zombie-like state before they go into a coma and die. Those that do survive can be left with irreparable brain damage.
Worse, there are still no vaccines or ways to prevent infection occurring once the tsetse fly bites a person. Even the available treatments are – to be charitable – less than perfect. Melarsoprol is one of the few treatments available (and that rather dubiously assumes that the average infected person has access to any medical care), but it's over fifty years old and contains enough arsenic to kill 1 in 20 people that are treated with it. And even if a patient survives the ordeal, they remain at risk of contracting the disease again later.
About 50,000 to 70,000 people die of sleeping sickness every year, although Krishna suspected that estimate was actually much too low. In Uganda, one in every three people is at risk of getting the disease, and some sixty million people remain under constant threat. So then, there are about 50,000 examples of the walking dead each year, although (perhaps mercifully) they don't remain walking for very long.
Thankfully, there is some hope. The genome of Trypanosoma brucei was sequenced this April, and it is currently being compared to another strain of the parasite that only affects cows. Researchers at the Sanger Institute who carried out the sequencing hope this comparison will yield hugely useful data on just why one strain infects humans and the other doesn't. This could pave the way for new drugs that would greatly reduce the mortality of sleeping sickness and hopefully decrease the incidence of the most severe, zombie-like symptoms in the afflicted.
Rabies
As a science fiction writer, Slonczewski is used to imagining doomsday scenarios. Her 2010 novel Brain Plague featured zombie-like characters that bite people to transmit intelligent microbes, which then communicate with the infected person's brain cells. So I asked her: Could a zombie-like virus occur in real life?
Sort of. No one's expecting the dead to rise again, of course, but there are so-called neurotropic viruses that attack our brains and cause aggressive or bizarre behavior.
'I suppose you could imagine a [new neurotropic] virus that would cut off the higher brain function and then induce a starvation-like state and could thereby induce the disabled person to go after brains'—the classic zombie meal, Slonczewski said.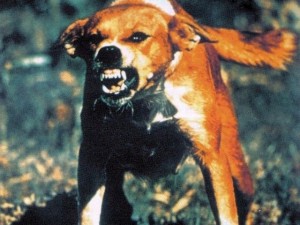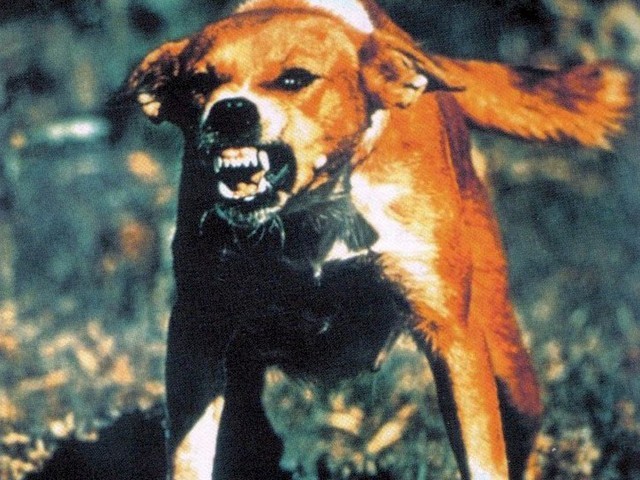 Some existing neurotropic viruses are already the stuff of nightmares. For instance, 'rabies is pretty scary on its own,' said Kartik Chandran, a microbiologist and immunologist at the Albert Einstein College in New York who studies the deadly Ebola virus. (In the movie and book, the zombie plague is first misidentified as rabies.)
Like the mythical zombie virus, rabies is transferred through biting. Once inside your body, the virus travels directly to your brain and 'makes you go nuts and go and bite more people,' he said. More than 55,000 people, mostly in Africa and Asia, die from rabies every year, which is one person every ten minutes, according to the World Rabies Day website. Most infected people are bitten by rabid wildlife. (See 'New, Fast-Evolving Rabies Virus Found—And Spreading.')"
There isn't a disease, be it mental or physiological, that makes people want to eat other people, at least none as currently recognized by medical science. (Cannibalism isn't considered a mental illness in its own right, but rather as a part of a larger web of psychoses.) There are certain culture-specific mental conditions – Wendigo psychosis, observed in certain native American peoples, is one of the better examples – that make people think they are turning into cannibals, but that's about it.
Still, rabies can, under certain conditions, approximate some of the conditions of the zombie lust for brains. The rabies virus causes massive inflammation, or swelling, of the brain, and it's most often transmitted by bites from infected animals. About 55,000 people die annually from rabies, with almost all of these deaths occurring in Asia and Africa. Although vaccines do exist (indeed, it was Louis Pasteur's successful treatment of a rabies-infected child that brought us into the modern age of vaccinations), they have to be administered before the onset of symptoms if the patient is to survive.
Rabies is something that in western countries has pretty much been eliminated (although it is making a comeback in some places as wildlife re-invades our cities and homes), and we've forgotten quite what a horrific disease it is. The virus causes those infected with it to produce vast amounts of saliva, causing them to, quite literally, foam at the mouth. This is the disease's cunning way of getting passed on because the saliva is full of the virus, ready to infect anyone the carrier bites. It also takes control of the brain, making the infected animal or person do things they wouldn't normally do. This includes relentlessly attacking others with little or no fear. While there's a vaccine for rabies, this will only work if it's given before the infection reaches the brain and the victim starts showing symptoms. After that, death is almost a certainly, but only after the infected person has been sent mad, because there's no treatment, and no cure. Because of it's terrifying characteristics, including the way it takes over people's brains, rabies has often been used as an agent to create zombie-like creatures. However, real rabies differs from these fictional accounts in that it progresses ever so slowly, taking months, or years in some cases, to kill its victims, and there have been no known cases of human to human transmission.
Again, the symptoms of rabies sound rather like those of the walking dead: full or partial paralysis, mental impairment, agitation and strange behavior, mania, and finally delirium. It takes a bit of cherry-picking of symptoms, but one could put together a rabies patient with an inability to think clearly or communicate, difficulty walking, and manic aggression that takes the form of frequent attacks on humans.
Although such a zombie-esque sufferer is medically possible, such a hypothetical patient is apparently really, really unlikely. Human-to-human transmission of rabies is incredibly rare, and it almost always occurs thanks to insufficient background tests before organ transplants.
Necrosis
Those of you who are up on your Greek roots already know where we're going with one: necrosis is death, specifically those of individual groups of cells before the organism as a whole dies. This isn't technically a disease but rather a condition with a lot of different possible causes. Cancer, poison, injury, and infection are all possible causes of premature cell death.
If we're being super-literal about what the walking dead really are, then a patient with necrotic tissue is maybe the closest equivalent. After all, a patient suffering from necrosis technically is partially dead, albeit still very much alive in all the important areas (the brain, the heart, and the rest of the vital organs, for a start) that we generally associate with the living.
Whatever it's external (or, in the case of cancer or infarction, internal but extraordinary) cause, necrosis triggers a series of event that can lead to even greater negative effects outside the affected area. The dead tissue stops sending signals to the nervous system, and necrotic cells can release dangerous chemicals that hurt nearby, still healthy cells. If the lysosome membrane inside the cells is damaged, enzymes can be released that can also harm surrounding cells.
This chain reaction can cause the necrosis to spread (and if it spreads over a great enough area, it becomes gangrene) and can ultimately be fatal. The only way to cure the condition is through a process known as debridement, which is simply the removal of necrotic tissue. If the dead area is too large, this may require amputation.
If there is any sort of bright side to all this – and I'm not sure there is, but I'll put my Pollyanna hat on and try my best – at least necrosis isn't contagious, meaning it's not the sort of thing that could spur a faux-zombie outbreak. Of course, a sudden wave of hyper-aggressive, necrosis-spreading spiders or snakes? That might be another matter entirely.
Dysarthria
Let's take a bit of a break and talk about something relatively less serious. ("Relatively" being very much the key word there.) We've talked about possible causes of zombie-like trances, cell death, and hyper-aggression. What about something a little more innocuous, like the iconic moans and grunts of the oncoming zombie horde? What could cause that?
Well, the best real-world equivalent is probably dysarthria, which is a disorder affecting the motor controls of human speech. Dysarthria is particularly appropriate because it's neurological in its origins, which ties in with the brain-based aspects of zombie lore. There are a lot of different causes of dysarthric speech, but all are characterized by a malfunction in the nervous system that makes it difficult to control the tongue, lips, throat, or lungs.
This in turn causes difficulty in articulation, which can take the form (among many possible manifestations) of an inability to communicate in more than unintelligible noises. The condition can be brought on by traumatic brain injury, metabolic diseases like Lou Gehrig's or Parkinson's, or a stroke, all of which lead to a loss of control over the vocal muscles. Possible affected areas include the ability to regulate the volume of speech, the ability to create the proper inflection, and, most importantly for our purposes, the ability to create the correct sounds of speech.
To be sure, in and of itself dysarthria is not a particularly zombie-ish condition. However, coupled with any of the other diseases on this list, it gets you frighteningly close to a real approximation of the sight and sound of the walking dead.
Leprosy
Both zombie folklore and leprosy have a long, long history. Armies of the flesh-eating undead can be traced all the way back to the roughly tenth century BCE Akkadian work The Epic of Gilgamesh, which drew on earlier Sumerian mythology and was one of the first substantial written works in human history. Cases of leprosy have been reported going back some four thousand years throughout Eurasia and northern Africa, including China, India, and Egypt. Considering a common feature of zombies is their rotting flesh and decaying body parts, it would seem like leprosy and its similar-sounding symptoms would be a natural inspiration for such stories.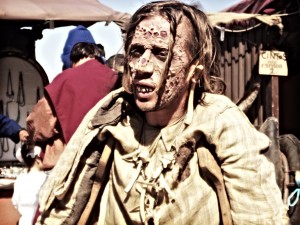 Well…sort of. The truth is (as usual) rather more complicated. First of all, it's a myth that leprosy causes body parts to rot away and fall off – indeed, there really aren't any diseases that can actually make limbs fall off (although, as discussed earlier, necrosis can necessitate the amputation of dead limbs). Leprosy can cause damage and numbness in its victims, which could cause a slow, shuffling walk that might have inspired the gait that we associate with zombies. The main external symptom of leprosy is the outbreak of extensive skin lesions, which gives the skin a diseased, decaying appearance not unlike that of the common conceptions of zombies.
Fortunately, leprosy is pretty much under control at this point, certainly compared to sleeping sickness. Over 95% of people are naturally immune to the disease, and over fifteen million people have been cured of the disease in the last two decades. It's a remarkable turnaround for once of the most feared and stigmatized diseases in human history – indeed, for centuries leprosy evoked the same kind of irrational dread that we might now feel towards the dead rising from the graves en masse, ready to devour our brains.
Although there are definitely a few connections to be drawn between the symptoms of leprosy and the supposed traits of zombies, maybe the most fascinating overlap can be found in the story recounted in John Tayman's 2007 book The Colony: The Harrowing True Story of the Exiles of Molokai. As the Zombie Research Society reports, the book describes how the lepers at the Hawaiian colony were literally treated like they were the walking dead.
The leprosy patients were judged legally dead, their spouses were granted immediate divorces on the grounds they were basically widows anyway, and their wills were executed. The patients were then banished to a remote island where they were left to die, although some survived on the island for decades. This tragic part of Hawaiian history – a story with plenty of echoes elsewhere – is pretty close to how one might expect society would actually treat zombies if they existed.
Lyme Disease
Many zombie-type stories start with an outbreak of a disease that either turns living people into violent maniacs (think of the rage virus in 28 Days Later), or converts them into the walking dead (as is the case in World War Z). These diseases are fictional, but there are real ones out there that are just as scary and that share many of the same traits as any zombie infection. They may get passed on through bites and frequently they'll hack into your brain, gradually taking it over and, in some cases, making you do things that you wouldn't normally do. In this article, I'm going to introduce you to three of these 'zombie' diseases. You might think these are obscure diseases only found in far-flung rain-forests but, depending on where in the world you live, you're likely to find one, and possibly all three, can be caught within easy walking distance of your own home, or even inside it. This is something I can say with certainty from first-hand experience as I'm currently being treated for one of them.
So I'll start with the one I currently have. This is Lyme Disease, named after a town in Connecticut and only discovered in the 1970s. This is an insidious little disease. It's spread through tick bites (that's how I picked it up), and often starts with classic flu-like symptoms and a rash that radiates slowly away from the bite site. It's strange watching, as I have done for the last week, the rash spread over several days, as the infection works its way through your flesh (I can't help but be reminded of a festering bite from a zombie whenever I look at the one currently spreading across my leg). Then the rash goes away and all seems fine. It's only months, or sometimes years, later that the real problems kick in. This can be chronic fatigue, muscle weakness and paralysis, turning you into a shambling, groggy zombie. The strain you get in Europe also has a tendency to get into your brain, causing neurological problems. Luckily it's easily treated, at least in the early stages, and a two-week course of antibiotics is enough to rid your body of the bacteria that cause it. Later stages are more difficult to treat, but it's still treatable none the less.
Hybrid Virus
How else might a "zombie virus" arise? One possibility is that two viruses could join together and form a hybrid.
Viruses work by copying their genetic material within human cells. If there are two viruses in the same cell, one virus may accidentally jump on a genetic copy that belongs to the other virus. The progenitor to the human HIV virus may have arisen this way in Africa when a chimpanzee and monkey virus combined, Chandran explained.
I also asked Chandran if the Ebola virus—which causes widespread hemorrhaging—and rabies could ever hybridize and infect people, making them look and act like zombies. He said that's unlikely because the viruses aren't closely related, and that even if it were to happen, the resulting "bastard progeny would be nonfunctional or poorly functional."
But there's another way that a mutant virus can arise: if there's a glitch in the genetic copying machinery of an existing virus. Sometimes, one of these mutations confers an advantage to the virus that allows the mutated strain to outcompete others and quickly take over the world.  Called a "selective sweep," this usually happens frequently with influenza. That's why the concept of a World War Z-like viral plague is not so far-fetched.
Viruses also succeed when they encounter populations that have no immunity against them. A good example is measles in the New World in the 1600s, noted Chandran. Europeans, who were resistant to measles virus, brought it with them to the Americas, where the natives weren't. It spread like wildfire.
References
http://io9.com/5547673/5-real-diseases-that-could-make-you-act-just-like-a-zombie
http://newswatch.nationalgeographic.com/2013/06/25/world-war-z-could-a-zombie-virus-happen/
http://njcscitech.wordpress.com/2013/06/22/5-scientific-reasons-a-zombie-apocalypse-could-actually-happen/
http://cmdrysdale.wordpress.com/2012/11/21/real-zombie-diseases/