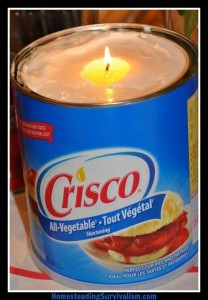 I've never seen this before, but I saw a post on facebook and realized I had to try it.  Supposedly it'll run for 45 days, but i don't believe that for a moment, however, I bet you could get several days out of it judging by how fast my pine scented candles burn down.
Instructions: Stick a cheap taper (stick) candle down in the can and you're done.
Up until 1920 something Canola oil was designated as industrial oil unfit for human consumption. Then we discovered how to get all the oil we need from petrochemicals and there was a glut of canola oil. The FDA then approved canola oil for human consumption; which doesn't mean we should eat it!
As an FYI, Canola oil is just Rape Seed oil. People think it's corn based but it isn't . But it's very difficult sell something called "rape" seed and sell it on the market.
Jon
Look up "Living Off the Grid" on facebook and follow them, they've got some fun stuff.