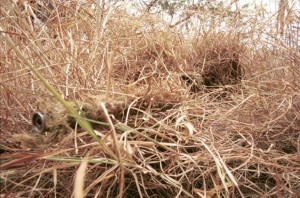 What it is
A ghillie suit, also known as a yowie suit, or camo tent, is a type of camouflage clothing designed to resemble heavy foliage. Typically, it is a net or cloth garment covered in loose strips of burlap, cloth or twine, sometimes made to look like leaves and twigs, and optionally augmented with scraps of foliage from the area.
Snipers, hunters and nature photographers may wear a ghillie suit to blend into their surroundings and conceal themselves from enemies or targets. The suit gives the wearer's outline a three-dimensional breakup, rather than a linear one. When manufactured correctly, the suit will move in the wind in the same way as surrounding foliage
The name was derived from gille, the Scottish Gaelic for "servant" or a "lad". In English, this term was especially used to refer to those assisting in deer hunting, deer stalking or fly fishing expeditions in the Scottish Highlands.
The ghillie suit was developed by Scottish gamekeepers as a portable hunting blind. Lovat Scouts, a Scottish Highland regiment formed by the British Army during the Second Boer War, is the first known military unit to use ghillie suits. In 1916, Lovat Scouts went on to become the British Army's first sniper unit.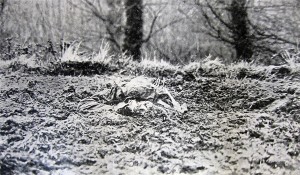 Sniper's robe on a 6ft. 4in. man in the open, Hawkins position. Distance from camera, 8 yards.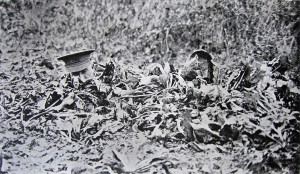 Comparison of sniper robe as opposed to ordinary kit firing over a turnip heap. To find second sniper look for muzzle of rifle. Distance from camera, 8 yards.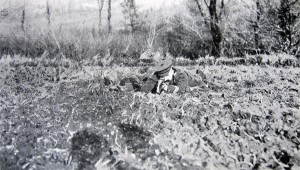 There are two snipers here—one in uniform and one in a " sniper's robe.
How I made my Ghillie suit
Camouflage for me has come a long way.  Being young and short on money I found a can of green spray paint, took a pair of Sunday slacks, and sprayed on a pattern that I thought was pretty amazing; my parents disagreed.  Anyway, I've always loved the art of making one's self invisible.  Many days of my youth, when not doing chores, were spent crawling in the ditches around our small rural town pretending I was in enemy territory.
My first ghillie suit was a burlap potato sack with burlap sand bags sewn on as sleeves; courtesy of my mother.  I shredded all sorts of neutral material and threaded it through the loose burlap weave and ended up with a fairly effective set up.  After joining the army and going through basic in BDUs, going on my first deployment in DCUs, and then returning to swap out my old uniforms for ACUs; I ended up with quite the surplus of obsolete uniforms.
This is what I've found works best for me.  And I have to apologize, I'm in the middle of a house move so I do not have pictures of my own equipment, and I've had to substitute it the best I can with pictures pulled of the net.  As soon as we get settled and I get my stuff unpacked I'll adjust the photos so you can see what I've done.
As a side note, I don't typically care for the standard ghillie suite that you might find at the local surplus store or online.  I've checked them out up close, though I've never bothered with purchasing one, and the construction seems flimsy.  It could just be snobbery, but I believe a ghillie suite should be a personal time investment and hand crafted.  However, I have found and purchased kits that are simply assorted burlap threads in all their numerous natural occurring colors and found this a lot easier than trying to comb out a gunny sack for the dead grass look.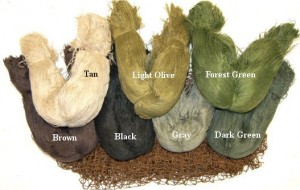 Depending on the terrain you are shooting for take a loose fitting uniform as your base.  I've never reinforced the knees and elbows, but my brothers do by sewing on additional material, usually burlap, over the existing elbow and knee seems.  An effective ghillie suit is designed for a particular environment for optimal performance.  Unless your area of operation is heavily forested or green, I'd recommend using DCUs or Multi Cam as a good base as apposed to a woodland; under the heap of material it blends better with the soil and doesn't leave deep shadows when you're hiding.
Acquire some of the old camo netting, you know the type, that's OD on one side and tan on the other.  With the appropriately colored side out for your environment proceed to sew this in place along the back of the torso, back of the legs, and shoulders and arms.  This is assuming you plan on crawling and shooting from the prone; remember that a moving bush in the woods will stand out as bad as jeans and t-shirt so plan on staying low and moving slow.
You do not have to use camo netting, I just have a personal preference for it, but there are plenty of subdued colored nets that work just fine.  A lot of guys use various fabric glues to hold the netting to the uniform, but I prefer sewing.  I use the thick twine stuff that comes will camo netting repair kits because it's durable as hell.  Most the camo netting I've used has come out of netting repair kits.
Rather than using a hood, I've found that a boonie hat works very well as a base for the head cover.  Sew the camo netting over this as well to match the main body.  The netting only has to be sewn on enough to hold it in place; every portion does not and should not be sewn on.
The camo netting now provides you with a beautiful way of attaching all the neutral material you like.  I like using burlap, and in ragged pieces or long strings it is easy to tie onto the netting.  Over time the burlap gets a great fray to it.  The netting also does a great job of picking up local debris as you crawl about, and natural foliage can easily be inserted to maximize the suites effectiveness.  I've seen some guys use rope tied and then prayed out to mimic dead field grass and such.
I love this system because you end up with essentially four levels of camo, the camo uniform, the camo netting, tied on loose material like burlap, and lastly elements of your natural surroundings.
If you don't have time for the whole thing at least make a sweet head cover you can toss into your bug out bag.
Check out my camo rifle for some fun weapons ideas if you enjoyed this read; it's one of my earliest posts.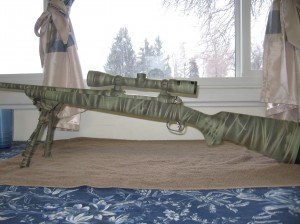 A fun urban game
A game that I've played with my brothers in our adulthood is donning our ghillie suits and getting from point "A" in a city to point "B." we typically did this on the local college campus after the sun went down but while people were still out; plenty of greenery but still a good challenge.  This game is ideal for residential areas, so long as you don't mind the possibility of getting arrested.
A fun woodland game
I have an earlier article about a hide and seek style game to play with your children, and here is another great game we used to play in our youth.  Have a point "A" and a point "B" about a hundred yards apart in an area with good ground cover but not to many trees.  The "spotter" sits about 25 yards beyond point "b", the target point, and keeps his eyes peeled.  Everyone else starts out at point "A" and attempts to make their way across the field without being seen by the "spotter." If the spotter can call you by name and location you have to go back to the start point.  If point "B" is reached the person becomes the new spotter; and thus the game continues for however long you want to run it.
A bunch of motivational pictures
Most of my reference pictures came from:
http://www.ghilliesuitdepot.com/
http://blog.gunfire.pl/en/2010/10/25/making-a-ghillie-suit-%E2%80%93-photo-story/
http://en.wikipedia.org/wiki/Ghillie_suit
http://wgvenom.wordpress.com/2013/02/
http://www.allworldwars.com/Sniping%20in%20France%20by%20Major%20Hesketh-Prichard.html
http://www.theprepperjournal.com/2013/12/05/make-a-ghillie-suit/