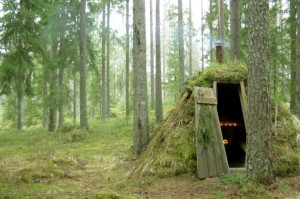 As much as I love making fun of environmentalist hippies and Swedes; I found myself reading this article and saying to myself hell yes I would.  Kolarbyn Ecolodge is stated to be Sweden's most primitive hotel; it is devoid of electricity and showers.  If you are already asking yourself why; then I can guarantee this isn't your sort of place.  I'll be the first to state that this kind of stuff is not for everyone.
Having quite a few European relatives I think I can understand some of the mindset that goes into a location like this.  In the US a vacation generally means rides and wild times; nice hotels and pools.  For many Europeans, vacation means simply getting away from modern life; escaping the things that surround us.  My aunt, after retirement, went on a vacation to the Pyrenees Mountains where she went on a famous walking trip from France to Spain; and she considered it a vacation.  Europeans like finding a place where they can walk and enjoy their surroundings; take in the fresh air and mother nature.  This is why there are few amusement parks when compared to the US.  And it might just be that wilderness is more of a novelty for the well-manicured European continent.
Believe it or not, people from all over the world go to Kolarbyn for a few nights; and to experience something off the beaten track. "To breathe fresh air, to enjoy the peacefulness, to take part in free outdoor activities and to be guided to see wild animals like nowhere else! You will soon realize that the forest is full of Moose, Beavers and other wildlife." Supposedly that wildlife also includes isolated packs of wolves deep in the forest.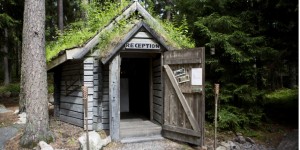 Korlarbyn Ecolodge is located tucked away in the Bergslagen Forest (about a two hour's drive from Stockholm; and near the village Skinnskatteberg.  Because of the public transport being proficient, as it is in most of Europe, an automobile is not necessary to reach to site.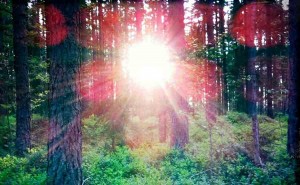 So, what is Kolarbyn Ecolodge?  It is a hotel kind of establishment; despite being Sweden's most primitive.  At the location you will see nothing but trees and more trees.
"Everything is green. But if you look closer you will soon find that in between all trees are twelve well camouflaged little houses covered in mud and grass. Bilberries and mushrooms grow wild on the roofs. As natural as it can be!
A real ecolodge. A rustic hotel. Cabins for rent. Some guests have even called them mud-holes or hobbit houses. We simply call them forest huts. Kolarbyn is an unusual hotel. And you're gonna love it!"
As you can expect, a place like this in not noted for its luxurious beds; in fact the wooden beds aren't really built for comfort as much as efficiency and practicality.  Each forest hut has two beds and a fire place.  The wooden beds are covered with insulated mats and sheep skin rugs; on this guests roll out soft sleeping bags.  Accommodations are made for larger families and groups.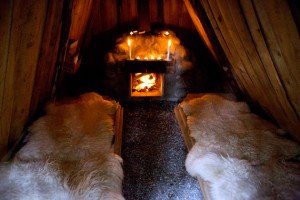 "After a silent night you slowly wake up to birds' song and a feeling of triumph. You made it, you actually slept well! Fancy a cup of coffee? Perhaps even a refreshing swim in Lake Skärsjön?
No matter how you prefer to wake up, a new day of adventures begins just outside your hut every day. Kolarbyn Ecolodge is undoubtedly a true nature experience. Not only for adventurers, but for couples, friends and families.
Fire it up!
Each forest hut has a fire place. Go chop your own wood. Use our sharp axes and chop up some birch log. There is a Swedish saying: "Let the wood heat you twice. First when you chop it, then when you fire it up."
I often get the question what there is to do at Kolarbyn? Wood chopping and lighting fires is probably closest to the truth."
There is also fishing and canoeing in the forest lake Skärsjön, and a floating sauna.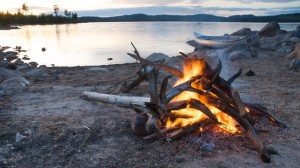 "When you are hungry, just visit the small storage shed behind hut number 12. There you will find groceries like spaghetti, tomato-sauce, bread, müsli, fruits, eggs and other food items that can be used as ingredients for breakfasts, lunches and evening meals. Remember there is no kitchen. You prepare everything over open fire. We provide all outdoor cooking equipment for you."
As to be expected you will be using composting toilets, and can wash your hands in a creek with environmentally friendly soap.  You can pee any ware in the forest, just not on berry bushes.
If you had the opportunity would you?
Jon
As an after-note, there is no profit in this article for me; I simply found it fascinating and had to share.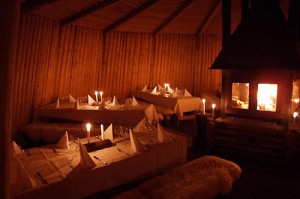 http://www.wildsweden.com/kolarbyn-ecolodge/