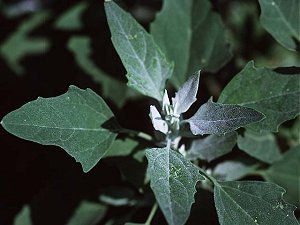 Here are some excerpts from a great little article I read that I highly recommend you read.  Like most of you I've been fairly ignorant of this plant that is a phenomenal urban foraging base.  A common annual weed related to quinoa and spinach that can grow up to 6′ tall. Blooms from June through October with small green flowers. Leaves have white or powdery violet undersides.
And to think of all the times I've pulled these little buggers up in the garden and simply thrown them in the trash, or on the lawn to die and get mown over.
"Mr. Pollan, who advocates for Americans eating more wild botanicals, called lambsquarters and purslane 'two of the most nutritious plants in the world.' I realized that I ought to at the very least muddle past my own blind spot and learn to identify this healthful green that everyone seemed to love."
"…its leaves were shaped like a goose's foot…it grew ubiquitously throughout the city, its numerous nutrition benefits."
http://fort-greene.thelocal.nytimes.com/2009/06/10/urban-forager-sheepish-about-lambsquarters/
Please also read this article by Steve Brill where I pulled additional info:
http://www.wildmanstevebrill.com/Plants.Folder/Lamb'sQuarters.html
Lamb's quarter, lambsquarters and similar terms refer to various edible species of goosefoot, or pigweed.
There are numerous variations, with or without hyphens and apostrophes, using one word or two, and singular or plural. As a rule, the British English spelling uses two terms with or without hyphen though usually with an apostrophe, while the American English spelling uses one word.
In Europe, the term      usually refers to Chenopodium album (White      Goosefoot)
In North America,      the term usually refers to Chenopodium berlandieri (Pitseed      Goosefoot)
Although widely regarded today as a weed, this species was once part of the eastern agricultural complex of prehistoric North America, and was a fully domesticated pseudocereal crop, similar to the closely related quinoa C. quinoa. It continues to be cultivated in Mexico as a pseudocereal, as a leaf vegetable, and for its broccoli-like flowering shoots.  Although cultivation of the species died out in eastern North America, the plant continues to be grown as a domesticated crop in Mexico, though its cultivation has been declining.
"You can eat the leaves and stems at this stage, in early spring, when this annual (1-year) plant first appears.
The diamond-shaped, shallow-toothed leaves growing on branches, with whitish powder on the leaf undersides and smaller leaves, make identification absolute.
The smaller leaves at the tip of the plant are elliptical with smooth edges.
The tiny black seeds that develop inside the flowers in autumn are tasty and healthful, but very labor-intensive to collect."
For additional reading check out:
http://thenettlepatchgarden.wordpress.com/
Jon