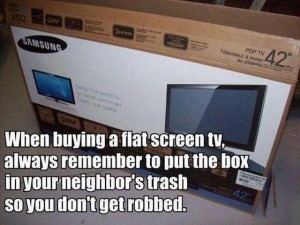 Okay, do any of you guys remember that show It Takes a Thief, or something like that?  The premise is that a former burglar is hired to test a home's defenses at an unknown date and time in the near future; and testing how prepared families really are.  The families are in on it and cameras are set up to film all the action as he goes through and robs the home.  Then of course its shock and awe as the family realizes how vulnerable they were getting home and reviewing the film; so they follow some tips and install an alarm system and of course the same dude comes back and can't get in, or gets frightened away.  The first time I saw it I thought a pit with punji sticks hidden below a partially opened window would be a much more effective deterrent; although in our day that would get you sued, even if he was trespassing with criminal intent.  Anyway, I'm sure they have a good laugh about the whole ordeal over a beer later that night, but for some reason the show irritated the hell out of me.
Let's be honest, whether we're at home or not, one of the scariest things that can happen to us is a home invasion.  A lot of these goons don't wear IRA style ski masks and it's hard to know who should and shouldn't be in the neighborhood when many of us don't even know the names of our neighbors.  My mother was at home after her shift at work when she heard a knock at the door; two nice looking guys in their early 20s wanted to know if she had seen their dog who had gotten loose (I think that's what they were asking).  Anyway, to make a long story short they were casing homes midday and my mom's neighbor got robbed because they were at work.  When the police questioned here she just remembers being shocked because they were so different from what she had imagined burglars would look. "Yes, some home invasions begin when a burglar busts through a front door or breaks a window and crawls through it. But many others start with a seemingly innocent ringing of a doorbell. The burglar might pretend that he's making a delivery or that he's collecting money for a charity or informing you about a power outage or gas leak, or is just a person in distress who needs to use a telephone or bathroom." Break-ins typically occur in the daytime when occupants are at school or work; July and August most the frequent months for break-ins.
According to the FBI, Home Break-In (Burglary) is the most common threat to our home.  In the U.S. a home burglary occurs every 13 seconds.  From Safeguard the World Here are some home security statistics:
2,000,000 home burglaries are reported each year in the United States.
About 30 percent of all burglaries are through an open or unlocked window or door.
Nearly 66 percent of all burglaries are residential (home) break-ins.
Renters are just as likely to be the victims of property crime as homeowners.
The highest percentage of burglaries occur during the summer months.
Homes without security systems are up to 300% more likely to be broken into.
While we need to know what to do after an intruder is discovered in your home, let's talk a little about intrusion mitigation; and we'll hit the latter another day, because they really are very different situations.  In combat we learn that the hardened target is the least likely to be attacked.  If you let down your guard and look vulnerable you get hit.  Ideally you want a home invader to have to make a decision before he even enters your home; is the invasion worth the effort?  It sounds callous, but when it comes to safety of family and self I want a criminal to go after my neighbor before he goes after me.  Bearing in mind that I'm one of those guys who has gotten spooked by myself and strategically spend the next minutes clearing every room and closet with a weapon at the low ready…if you're a vet you've probably done this.
"Some people believe that their home will never be the target of a home invader because there are more expensive houses in the immediate area that contain more expensive items to steal. The problem with that kind of thinking is that fact might not matter to a burglar. A burglar is equally interested in determining which houses he can get in and out of quickly without being detected as he is in what kind of loot with which he can escape. And a more expensive house is more likely to have a more elaborate security system that the burglar doesn't want to mess around with."
Something to consider is that 85% of break-ins are from non-professionals that are usually more desperate and dangerous.  They are looking for items that are small and expensive and easily converted to cash.  Favorite items include: cash, jewelry, laptops, guns, digital cameras, small electronics (IPods, GPS, PDA's MP-3's and CD's).  Money is usually used to support a drug habit.  Your house may not be the largest nicest looking home on the block, but that might make you look like a softer target for theft.
Statistics show that a home intruder doesn't typically want to run into people.  But you should use some common sense strategies to include not opening the door until you are absolutely sure you know who that person is. Make sure that a delivery person shows you an ID, and call the company if you have any doubts about that person.
These ten tips come from Frank Bates and the link below will take you directly to his article:
Always keep your doors locked, whether you are home or away. Install solid wood or metal-clad doors, as these are the most likely entry points for an intruder. In addition, upgrade your locks. Grade 1 or Grade 2 deadbolts, accompanied by heavy-duty brass strike plates should keep doors from being kicked in.  Home security statistics tell us that 95% of break-ins needed some amount of force to break-in and is usually accomplished via the front or back door.
Keep your windows locked. You don't want windows that can be manipulated from the outside, so keep them from opening more than six inches. Consider installing mounting brackets now so that you could quickly install window bars later if necessary.
Install a security system with a loud alarm and advertise that system with signs on your property. Even before your security system is in place, a loud alarm could scare away an intruder. Post a sign regarding your alarm near the entrances. Make sure everyone living in the house knows how important it is to keep alarm codes confidential.
Make sure your front door has a peephole that gives you a good view of anyone on your porch. Your porch light should be bright enough to enable you to recognize the person before you open the door.
Keep the inside of your house well lit at night. Put your inside lights on a timer when you are away. Make sure newspapers aren't delivered while you're gone, and try to keep a car in the driveway.
Take a walk around your home — inside and out — and look for areas where someone could enter without a great deal of trouble. Assess these potential breach points and secure them. If there is a seldom-used door to the outside, install a 2 x 4 barricade on the inside.
Safeguard the perimeter of your home by installing motion-sensor lights on your property. A fence can be climbed, but having one might be enough to make an intruder choose a different home. Keep your shrubbery trimmed in order to reduce the number of hiding places on your property.
Whether or not you own a barking dog, plant a "Beware of Dog" sign near your house's entrances. Dogs can be trained in defense, or at least to bark when they hear a noise outside.
Keep tools that could be used to break into a home (ladders, crowbars, etc.) away from open view.
Have a family emergency plan. Every family member should know exactly what to do, in advance, if an intruder enters the house. Getting out of the house quickly is best, but if that's not possible, a previously designated "safe room" is where they should head. Always keep a pair of tennis shoes, a flashlight and a cellphone by your bed.
There were some great photos and ideas on http://realestate.msn.com/turn-your-home-into-a-fortress-on-a-budget#1 so check it out.  For some great statistics check out http://www.safeguardtheworld.com/statistics.html.  I checked out many other sources including some criminology books but most of my info came from the three sources.  Do you have an experience that we can learn from?  If so, please share it.  And lastly, God save us from the GTA generation.
Jon
http://personalliberty.com/2014/01/06/top-10-ways-to-turn-your-home-into-a-fortress/