Alright, it's time to talk machetes, but I have a little caveat to put out there; I got to hit on the Bolo first, because I love these things.  So bear with me as I take you to the Philippines and then we'll talk other varieties.  Whether camping or loading my bug out bag, I've always included a machete of some kind.  If you are curious why I am bringing up so much Filipino info it is for a twofold reason; first, they are the best utility blades I've ever come across, and I love bladed weapons; second, I have personal attachments with the Philippines and its people.  As always, there is no money in this for me by sharing specific websites, and all links can be found below for additional reading.  Remember that when it comes to purchasing one of these tools/weapons, you are generally going to get what you pay for; if it cost five dollars, expect five dollars worth of performance and edge retention quality.
My favorite and most appreciated survival tool is what I like to call a sundang (s-ü-n-d-a'-ng).  The word sundang was a local take on the word bolo, often attributed to Filipino machetes.  In a land with dozens of official dialects, there are going to be dozens of names for some common implements.  If you've read my other articles then you likely know that I spent several years living in some pretty remote locals deep in the Filipino jungle islands.  In the areas I stayed most of the locals either worked in the jungle harvesting copra, growing rice in water logged patties, or fished from dugout outrigger canoes.  No matter where you went every single person seemed to carry a machete by their side, and indeed I soon realized how versatile this tool was and acquired one of my own for day to day usage; it is still one of my most efficient and prized possessions.
I've used my sundang to cut up meat, clear brush, cut firewood, split coconuts, and any number of other uses.  If you can think of something to use a knife, a machete will do it better; if you can think of a use for a hatchet, a machete will suffice and outperform the hatchet in general versatility.  I even had the chance to cut the head off a Philippine's cobra with mine.
If you look below you will see the style of sundang that I have a preference for, it's called a barong (not to be confused with the Pilipino dress shirt).  It's a beautiful elegant blade, and for me has offered better performance than many of the others.
Indeed, most of the sundangs/bolos I watched being made were hand forged out of old leaf springs.  One shop in particular was quite an admiration to watch as one man manipulated the location of the heated blade with a pair of tongs, and his other three "apprentices" swung sledge hammers in rhythm, striking a single spot on the anvil.  Having toyed around with farrier work I've gained a deep respect for those quality blades.
From a great site selling bolo and similar blades internationally I gleaned this description that sums up fairly nicely what they are:
"A bolo is made with chopping in mind. One of the most common characteristics is the weight forward element in which a Bolo possesses, usually due to the narrow blade width near the handle that gets wider up towards the tip.
These tools are made with fire, a pair of tongs, water, a hammer and hands. From then they are ground with either a grinder or stones to a convex edge. These are not pretty collectables nor were they made to be. No beauty pageant hopefuls here!
All knives are hand forged using leaf spring or ball bearing steel (5160). All knives come with a convex edge for strength when chopping."
A bolo is essentially a large cutting tool of Filipino origin and similar to a machete, used primarily in the jungles of Indonesia, the Philippines, and the sugar fields of Cuba.  The primary use is clearing vegetation; but as said above, this is a versatile tool.  Bolos are characterized by having a native hardwood or animal horn handle, a full tang, and by a blade that both curves and widens, often considerably so, at its tip. This moves the centre of gravity as far forward as possible, giving the knife extra momentum for chopping vegetation. So-called "jungle bolos", intended for combat rather than agricultural work, tend to be longer and less wide at the tip.
The bolo is called an iták in Tagalog or sundáng in Cebuano, while in Hiligaynon, the blade is referred to as either a binangon or a talibong.  Because of its availability, the bolo became a common choice of improvised weaponry for fighting in the islands to the everyday laborer.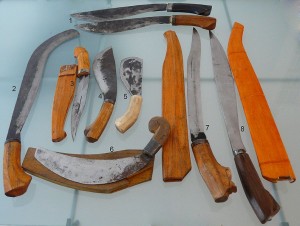 Various types of bolos are employed. An assortment of bolos and related implements include:
The all-purpose bolo: Used for all sorts of odd jobs, including breaking open coconuts.
The haras: Similar to a small scythe, it is used for cutting tall grass.
The kutsilyo: The term comes from the Spanish word cuchillo, meaning knife. Generally used to kill and bleed pigs during slaughter.
A smaller bolo.
The bolo-guna (or simply guna): A bolo specifically shaped for digging out roots and weeding.
The garab: Used to harvest rice.
A large pinuti: Traditionally it is tipped in snake, spider or scorpion venom and used for self-defense.
The sundang: Supposedly used mainly to open coconuts. The sundang, also called "tip bolo" or itak, was a popular weapon of choice in the revolution against the Spanish colonial government and during the Philippine–American War.
Having now had a bit of knowledge on the Bolo, let's briefly describe other machetes and their world counterparts.  As you go through these, bear in mind that these are a handful of generalized styles out of thousands of individual and traditional variants.  From several great sales websites and book information here is a compilation and their descriptions:
Khukuri (aka. Kukri)
The Kukri, more a large knife than a machete, was created by the Gurkhas of Nepal and is carried by their army and used by their people as a general-use tool and weapon. The kukri is an amazing multi-tasker. The big heavy end provides chopping force close to that of the hatchet, and the sharp inner curve gives great control for finer tasks.  Kukri machetes have 3 parts to their blade, a pointed tip for stabbing, a wide midsection for chopping, and a narrow area near the handle for whittling and carving. The kukri is THE tool of central Asia (Nepal,India,Pakistan,etc), carried for protection and as a utility tool.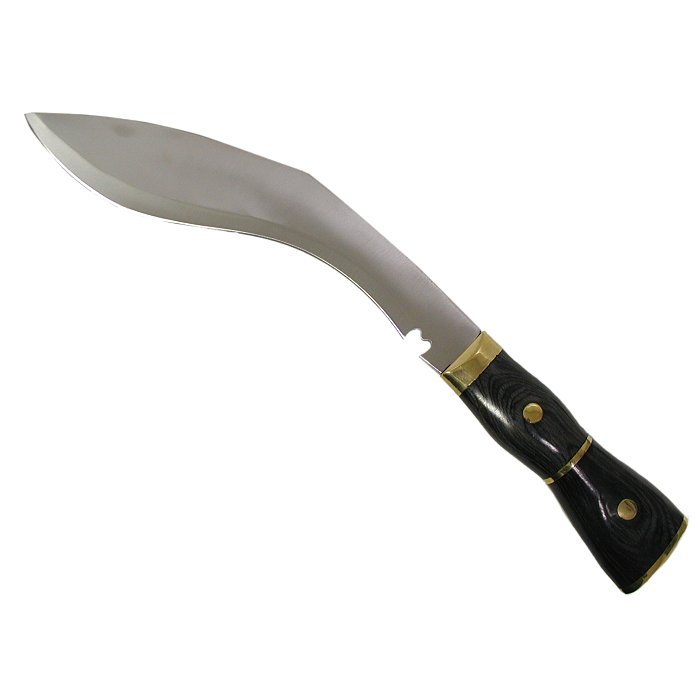 Bolo or Iták
The bolo machete was created in South America, and is used in the Philippines, Indonesia, and Cuba, and most of SE Asia. The bolo is a heavy duty tool used for brush clearing and light chopping in the field.  The bulge adds heft to the fore-blade for additional chopping power. Usually has a thicker than average blade. Compact, weighted machete good for chopping woody vegetation.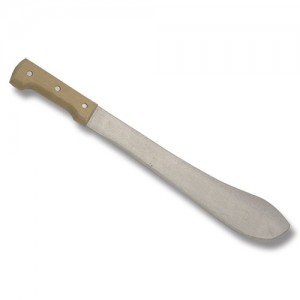 Parang (aka Golok)
The parang machete was designed in conjunction with the British Army.  These machetes generally have a distinctive curved shape in which both the spine and the edge of the blade is curved, much like a scimitar. They tend to be long and either slightly weighted or fairly evenly weighted, and usually have a thick blade. Good for cutting woody material without lodging in the material.
Panga
The panga machete originated in Africa where it has been used in many conflicts.  This machete design is popular in Africa and the Caribbean. The panga, parang, bolo, and kukri all have the weight focused on the end of the blade where it provides more chopping force. The panga can be use effectively for slashing through light underbrush. Deep belly provides weight for chopping and curvature for slicing. The upturned point can concentrate force on a small area for piercing. Good for slicing and chopping moderately thick woody vegetation.
Heavy Machete
This is a product by Cold Steel and is similar in function and design to the cane machete. The heavy machete is the heavyweight of their lineup, with chopping force greater than that of a hatchet the heavy machete can do some serious damage to solid wood.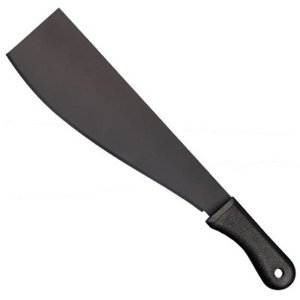 Bush Machete
All-purpose machete with a normal, straight back blade. Blade tends to be evenly weighted and fairly stout. Very portable, can be fitted with a sheath easily for carrying around. Good for green vegetation and as a utility tool.  This is the tool that was popularized by GIs in the South Pacific and later in Vietnam; it is the most popular machete style you will encounter in the US.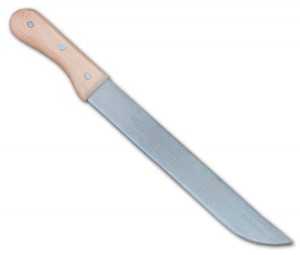 Weighted Machete
The workhorse of the machetes. A cross between an ax and a knife, the heavy machete is weighted toward the top of the blade for chopping thick and woody vegetation. The cutting edge is relatively flat for chopping, not curved for slicing, and the tip is dull or removed. The best style of machete for chopping woody or tough vegetation.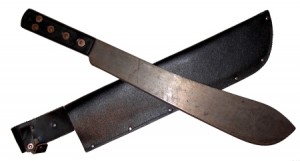 Barong
These machetes are known for their unique leaf-shaped blade, which is traditionally only sharpened on one side. The traditional weapon of certain tribes in the Philippines, the barong was feared by European colonizers for its ability to cut through rifle barrels. Aside from use as a general utility tool, and as a status symbol, the filipino barong is used in the forms of martial arts known as Kali, Eskrima, or Silat, all of which originate from the Philippines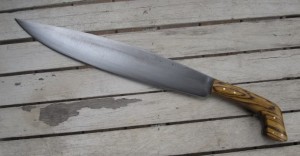 Colima
These machetes are sharpened on both sides of the blade. Great for mowing or clearing swaths of vegetation by cutting on the fore and backhand strokes, this machete is weighted on the back side for aid in clearing on the backstroke.

Cane Machete
These are wide, blunt-tipped machetes perfect for hacking corn stalks and sugar cane. Often the blade is hooked to allow the user to pull the chopped cane from the plants still standing. The thin blade thickness allows for easy cutting through cane style vegetation. Typically used for cutting sugar cane, rice, and corn stalks. The related cleaver variety great for butchering and chopping thick vegetation.
Short-handled Sickle
An ancient agricultural implement sharpened on the inside of the curve, the sickle permits the cut stalks to be drawn together and pulled out after being cut. Uses for reaping and harvesting. Blade cuts and draws together the cut stalks for efficient collection.

Spear Point Machete
Machete blade with a point for piercing or stabbing. Typically used for livestock slaughter and self-defense.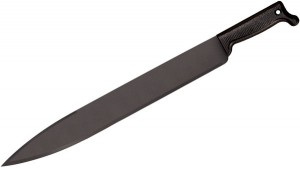 Hawkbill Machete
A curved or hooked machete that can be sharpened on both sides or on the inside of the curve. The sharpened tip can concentrate force on a sharp point allowing it to pierce and cut very hard materials. Generally used for cutting tall grasses.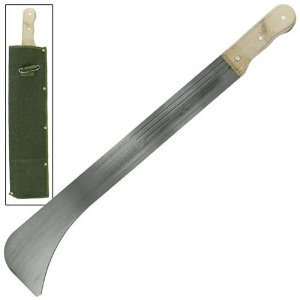 Bill Hook Machete
Ancient agricultural implement in much of a Europe, the billhook has a curved blade for chopping around curved objects like tree trunks. Traditionally used for snedding, which is the process of stripping side shoots and buds from a branch. The hooked blade, sharpened on the inner curve, is also ideally suited for gripping and cutting vines and brambles. Also used for hedge construction and maintenance, and by charcoal makers for use in coppicing and woodlot management.
Coping Machete
This machetes is noted for its blunt tip. Good in rescue situations to avoid harm to victims and as tools in tight spaces to prevent the tip interfering with the cutting surface.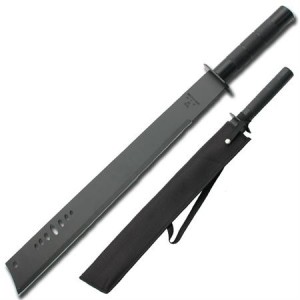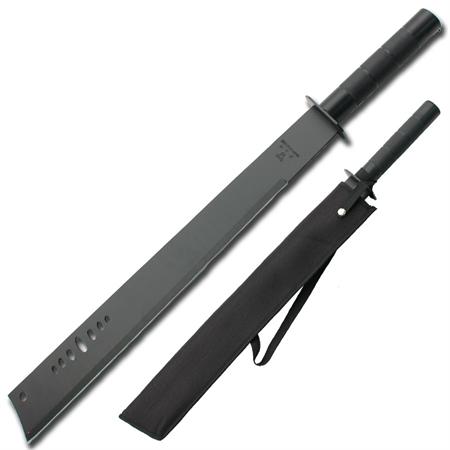 Sax Machete
The machete of medieval northern Europe. Ancient European blade with a straight edge and a sheepsfoot spine. Long flat blade provides long, consistent surface area for good control of the blade when chopping and hewing.  I like this weapon because it is named after the early middle ages Nordic long knife, or sæx, and captures its brutal efficiency.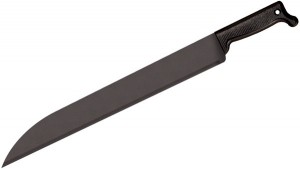 Tanto Machete
Japanese blade design with an extremely strong point, originally for piercing armor. Reinforced tip used almost exclusively for piercing and stabbing.  Tanto style knives are quite common among combat style knives.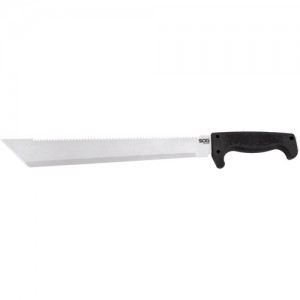 Two-Handed Machete
Blade attached to a long handle for swinging and hewing with two hands. Great for generating additional power by swinging with two hands or for additional reach. Great for tough, woody vegetation, palm tree trimming, and high branches.  The illustration below is just one of many two handed variants.

Bowie Machete
Blade with a clip-point or skinner tip for skinning wild game. Style popularized by American frontiersman Jim Bowie and still popular for survivalists and backwoodsmen.  Machete having a distinctive skinner tip, a good utility knife for the woodsman and hunter.  You are much more likely to see knives in this style than longer bladed weapons, but it is cool none the less.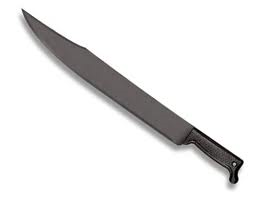 Tapanga
Blade with a distinct back-swept weighted chisel tip popular in certain parts of Africa. This machete typically has a flat cutting edge for general use, but also has a front-weighted blade for chopping. The blade can be turned over and the spine of the blade sharpened for hacking.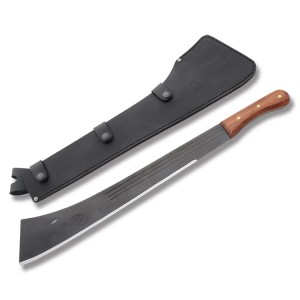 Talibong or Talebong
This is an Eastern Visayas or central Visayas origin, a local version of the Filipino bolo.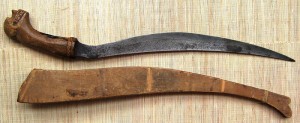 If you are curious about people killing power aside from just utility functions, from personal eyewitness, these fellows will do the dirty deed without a problem, regardless of style.  Getting chased by a man intent on doing harm with a machete is also enough to make you want to soil yourself when you are defenseless; which is also from a little personal experience; although once the local cop showed up and started unloading with his pistol that situation was resolved rather quickly.
Jon
If there are some machetes and machete relatives that I missed please let me know so I can do a little research and add them.  Thanks.
http://www.machetespecialists.com/tyofma.html
http://filipinobolos.com/
http://survivalcache.com/buy-machete-types/
http://en.wikipedia.org/wiki/Bolo_knife