The word "Snipe" is a verb defined as "shooting at someone from a hiding place, esp. accurately and at long range." This term is used very broadly today for any king of semi accurate, semi ranged fire; regardless of training or skill level.  I prefer the term "sharp shooting" for a person of a moderate to good skill level, but for the sake of simplicity and common verbiage we'll stick with "sniping."
The idea of urban sniping may strike some liberal minded persons as an instructional lecture on how to take down innocent persons by crazed gunman; but the truth is I'm concerned for my family and friends the live within the confines of cities.  If the SHTF they will be in a position of combating civilian individuals are small groups running around the streets armed and desperate.  Knowing these skills could save you and your family's lives.  If you live in a city then your AO is your home and you should do what you have to in self-defense.
But this is just a simple written lecture; true experience is getting out to the range, setting up mockups of windows and doorways for both the shooter and targets being fired upon.
Urban sniping is quite unique from other types of precision shooting and is often broken down into three categories of engagement: short, medium, and long.  The variance in ranges has to do with the variance in terrain as a shooter navigates the urban jungle.
"Short range engagements are less than "Maximum point blank range" (MPBR) shots. This means that the bullet leaves the barrel and never goes above or below a few inches. Even a 30-30 has an MPBR in excess of 250 meters when you give it a +/- 6 inches.
Medium range engagements are really out to "about double" the MPBR distance for a weapon.
Long range engagements are greater than double the MPBR of a weapon."
From these examples we can see that the category of engagement has as much to do with the weapon as it does the distance the bullet is travels prior to making contact with the target.
For example "If you take the standard 20″ AR-15, MPBR is 320 meters with M855 ammunition, less if you want a real +/- 6 inch pipe zero. This means medium engagements are between 300 and 600 meters, and long range is greater than 600 meters."
Also affecting the range is the trajectory of the round as with a 7.62×39 which has a MPBR of roughly 200 meters, and 22LR that has even less at about 100 meters.
Also to bear in mind is that the longer you're shot that greater time of flight.  With directional wind and cross winds having to be taken into account, the closer you get to your target the higher your rate of success.  This is the reason the "Beltway Snipers" always took their shots inside MPBR distance, and most Iraqi "snipers" do the same.
The obvious issue is that being inside you MPBR greatly increases your chances of getting caught.  This means that once the target is neutralized you either have to abandon your weapon, cache it in spot, or be able to break it down far enough to fit into a back pack or other subtle carrying bag.  The idea of an "urban sniper rifle" is a weapon that is small enough to make infiltration and exfiltration easy; another huge difference from conventional sniping.
While a bolt action might be more accurate for shooting long distances over fields, it is difficult to conceal.  A weapon like an AR-10 or AR-15 with a 16~20″ barrel and collapsible buttstock is a prime weapon.  Caliber is irrelevant, "anything from 223 to 308 will work, and all the exotic 6.5 Grendel/6.5 LBC, 6.8 SPC, WSSM's only change the MPBR less than 100 meters either way. If you want one then get one, but caliber is not important compared to skill." Good equipment matters, but not as much as the skill of the shooter.  Always think of your urban weapon as a light portable one that can be carried inconspicuously.
A suppressor is massively beneficial, but if you set up your hide properly you may not need one.
I'm going to take a moment to share portions of a great article and a few of the person's pictures.  The author has actually requested the widest distribution possible so I'm glad to share this info.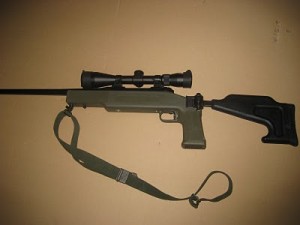 The Case for the Guerrilla Sniper Rifle
My personal view is that in any coming maelstrom, most individual level "misbehavior" will very likely manifest itself in the form of small encounters, systems disruption, and "Clinton Rules" engagements. While small unit action is possible and may happen in some instances, I think that it will be the aberration and the rule will be the small, individual action. This is the territory of the guerrilla – individual, self-supporting, and operating in their home AO.
For much of this type of activity, a reasonably accurate, potent, robust, and above all portable rifle is the most desired and efficient tool possible (especially for many of the "semi hard" targets that systems disruption activity must deal with).
Enter the Guerrilla Sniper Rifle.
While the concept is not new, the modern use of the term has recently been popularized on Gabe Suarez's "Warrior Talk" forum. More specific references to this site are found in the "Sources For Further Study" section of this document. There is a large amount of good information on Warrior Talk and I strongly suggest any serious student go there and digest it. It should help you sharpen your thoughts on the concept, as should the other resources referenced. Additionally, I end this document with a "Sources For Acquisition" section that may help those interested in a similar project.
Through my own research and much supporting material gleaned from other sources (Warrior Talk being one of the primary ones), I decided on the components necessary to build a couple of rifles as proof of concept vehicles. I focus on one specific example here, but many other variations and implementations could be equal or better solutions. Experiment and find what works for you – just make sure that you test it so that you know it works and can prove it on demand.
There will be no dress rehearsals.
For my Guerrilla Sniper Rifle subject, I utilized a Savage bolt action 308 (short action length), a Choate Folding Sniper Stock, and a Nikon 3-9 x 40 BDC reticle scope. That and a minimal set of supporting accoutrements are really all one needs.
First, why a bolt action?
In the Guerrilla Sniper role, it is unlikely that multiple fast follow up shots will be needed, at least in the context of how I foresee such activity. We are generally talking about one or perhaps at most three well placed shots, and then scoot. A bolt action does this with a lighter, more accurate, less complicated, and usually much cheaper implementation than a semi-auto battle rifle. A solid bolt action is simple and offers several tactical advantages (brass retention, ease of scoping, superior suppressor platform, etc.). Keep it simple when you can and you will usually find that you have the best tool for the job. So I chose a bolt action.
Second, why the Savage 100/10/Stevens 200 action in particular?
From my analysis, I think there are three significant advantages that this action offers:
1) Accuracy/Economy ratio – they are the most affordable option and inherently accurate
2) Barrel changes – to be able to replace or exchange barrels yourself is unique and enabling
3) Accutrigger – to have an excellent trigger out of the box is a significant advantage
That all said, don't get too hung up on requiring the gun to have an Accutrigger, as most of the standard triggers can easily be made quite serviceable (possible exception being the basic "two screw" variety that comes on the Stevens 200 and some older Savages). The three screw models I've played with are just fine. If this is not the case for you, several excellent aftermarket triggers exist.
I cannot overstress that the modularity of the rifle, in particular the ease of barrel replacement, is what really makes this the best choice, in my opinion. Never underestimate the utility of being able to replace or exchange your barrel in the field, with no need for precision, powered machinery or a trained gunsmith. It could be a life saver. Ponder the concept and I think you'll agree.
As to barrels, while one can make do with the standard 22" factory sporter barrel, the Guerilla Sniper concept really shines when you utilize a shorter barrel, something in the 16" – 20" range. It may not seem like much, but shortening the barrel by just a few inches significantly improves the handiness of the rifle when in use and opens up whole new areas for transport and storage with the stock folded. I have played with barrels from 22" down to 18" so far, with a 16-1/2" barrel next in the queue for testing.
A worthwhile option is to thread the barrel for a flash hider (Smith Enterprise Vortex model 1009V is my recommendation) and potentially a suppressor. This is especially true if you have the barrel cut down to the 16" – 18" range. If going this route, just make sure you plan ahead and have the barrel threaded to a pattern that will support both the flash hider and suppressor – not always a simple task. Minimizing sound and flash can be critical in this role, so consider these options carefully.
The Choate Ultimate Sniper Folding Stock
The availability of this stock is really what made me decide to put together such a rifle. Were I limited to traditional full length stocks, I could easily 'make do" with my Steyr Scout with FFP reticle Pride Fowler scope and angelic trigger. It's an awesome package and still is my go-to "walking around" rifle. However, if you add the ability to shorten a rifle by 10 inches, you suddenly open up flexibilities normally associated with "hand rifles" such as the T/C Contender/Encore, Savage Striker, Remington XP-100, etc. With the Choate folder, a short action, and an 18" barrel, you have a potent and accurate rifle that can be reduced to a storable length of less than 30". For a .308 rifle, that is excellent utility value.
Clearly this reduced form enables storing in some large packs and cases, but an aspect overlooked by most is the ability to sling the rifle over your back and yet be able to move much more freely than with a full length slung rifle. The barrel does not poke down so low as to make kneeling or sitting down as problematic as is often the case with African Carry. Similarly, nothing extends above the shoulder, as muzzle down is the obvious way to sling this setup. Not only can you thus move much more easily, but when moving you will not stand out nearly so much as "a man with a rifle slung over his back." This lower profile is another huge advantage offered by a folding stock.
Originally, I was concerned about whether or not this stock would be rigid enough to provide a solid shooting platform for a .308 rifle. After a number of shooting sessions, I am convinced it is more than up to the task. Shooting it is comparatively comfortable and does not introduce any impediments to accurate field shooting. It plain works.
There are downsides, however. The stock is just a bit heavy for its size (but it's cut down and thus manageable). It also has no sling swivels, although that is easily fixed. Given the abbreviated forearm, a traditional bipod location is not possible. You can mount one, though (and I did). That said, the Guerrilla Sniper role likely is best served by a rucksack or pack rest, keeping with clean lines and minimalist equipment. If you really want to put a bipod on it though, you have that option. A decent sling, however, is not negotiable.
A good sling is required for carry and should be of a type offering proper sling supported position use, preferably via some type of loop for the support arm. That is out of the scope of this paper, but is something that must be stressed – a Rifleman needs to be competent with the use of sling supported firing position in the field. I care not what you can do off the bench in the shade, but what you can do in the field from sitting or rice paddy prone might just save your life – or mine. Learn it, well. (If you have no idea of what I speak, seek out an Appleseed and then follow it up with more training, since you won't learn things like rice paddy prone at an Appleseed, which is only a starting point.)
One further carry idea that makes a lot of sense is something I picked up from the Warrior Talk forum. Using one of the "sniper rifle" scope cover/muzzle cover combinations makes the folded rifle into a durable package, whether slung on your back or laying on the back seat floorboard. It protects the scope and muzzle as you would expect, but also retains the folded stock and covers the bolt handle. It's not quite as protective as a traditional soft case, but leaps ahead of just the bare rifle. Such considerations are moot for the bench rest potato taking his rifle to the range, but of huge value to the lone rifleman in the field.
NOTE:
There is one significant caveat when buying this stock if you are working with a Savage Short action rifle. Currently, this stock is only available in the 4.3" action screw spacing length. Since some point in time around 2006, Savage switched over to the newer "center feed" action, which uses a 4.41" action screw separation. The older "staggered feed" actions are what fit the Choate Folder, while rifles manufactured recently do not fit.
If you have a 4.41" action, it is possible to buy the Choate Varmint Folder (as used in the factory Savage "Model 10 FP Folding Choate" package). However, as far as I can tell the stock is currently only available directly from Choate at full retail ($285 IIRC). Worse than that, it is HEAVY.
For Long Action Savage rifles, there is only one screw spacing length and you are OK. Similarly, those utilizing Winchester or Remington actions should also have no issues.
Thus if going this route, be careful with the parts you try to combine.
In summary: 

The Choate Sniper Folder stock weighs about 3.5lbs and is what I describe here. 
The Savage Choate FP folder stock weights about 5.25 lbs and:
– does not have its forearm abbreviated
– has a different butt section (like from the original Ultimate Sniper/Varmint Stocks)
– is thought to only be available from Savage with a complete rifle, but one may be able to purchase it directly from Choate, albeit at full retail
– has a heavier duty folding mechanism that is slightly more difficult to disengage
Nikon Team Primos 3-9 x 42 w/BDC
IMHO this is the way to go for scoping a Guerrilla Sniper role. Reticle wise, its BDC is a straightforward yet significant improvement over the Burris Ballistic Plex that I previously favored. Optically, this specific "Team Primos" labeled scope is a notch (or more) up from the Burris Fullfield or the other Nikon options (Prostaff and Buckmark lines), as it is essentially an old model Monarch UCC (Ultra Clear Coat) with its coatings and 95% light transmission specification. It also has nicer adjustments with decent miniature target style turrets and positive ¼" (IPHY) click adjustments. It's a tremendous scope at a very attractive price, and comes with an outstanding reticle for our purposes.
On the reticle, where the Burris has small tick marks, the Nikon has little circles. It also has more of them (Burris has crosshairs, then three ticks, then the thick portion of the crosshair – Nikon has four little circles).
The Nikon's circles offer several advantages over the Burris scope's ticks:
– More aiming points (top, center, bottom of circle, plus sides for some windage)
– Easier to see in low light or against dark backgrounds
– Ability to see a small aiming point, as with the circles you surround rather than cover it
– Much better potential for ranging (1.5MOA inside, 2.0 MOA outside at 9X)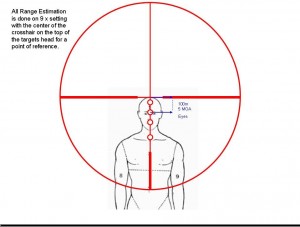 Nikon BDC reticle – graphic for 100m ranging example
In this Warrior Talk thread (also listed at the end of this summary), one can get several excellent graphic aids that illustrate a simple yet effective ranging method. The photo above is but one example. Do check it out closely.
This all said, were I armed with a rifle topped by a Burris with Ballistic Plex reticle, I would not feel unprepared at all – just not as prepared as I could be with the Nikon BDC. I still have a couple of Burris scopes, but they are now relegated to second line roles.
For now, the Team Primos scope is available from a variety of vendors from ~$200 up to ~$250. This is a Killer Deal – a No Brainer. Just buy it. Or buy two or three and get your buddies set up too (you do train with trusted friends with similar gear, don't you?).
For me, I use Leupold QRW rings since they are robust, easily removable, pretty good at holding close to zero when remounted, and fairly affordable ($50 or so a pair for 1" rings). I have the EGW bases installed for ease of scope swapping, but the standard Weaver mounts that come with the rifles will work fine as well. Remember, keep it simple.
In summary, with a reasonable amount of effort and not much monetary outlay, nearly anyone can set up a compact, portable, powerful, and accurate rifle to fulfill a wide variety of roles. You can call it a Guerrilla Sniper rifle or whatever other pithy term you care to dream up, but the true measure of the rifle will be what you can do with it. So if you are so inclined, put one together and put it to the test. You may find that you have something that gives life to the old cliché "the whole being greater than the sum of its parts" – as I did.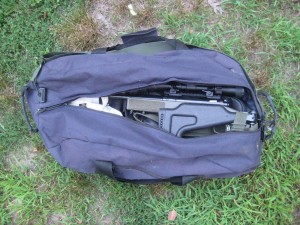 Exercising at the gym…..or Exercising your Liberty?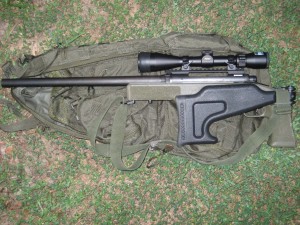 Now you see it….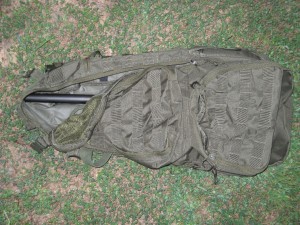 Now you don't!
And that is the end.  If you follow the second link at the bottom it will take you to his page, and he has quite a bit of additional material.  I still have a preference of an AR platform for urban sniping as I feel it is more concealable, but this guy definitely thought it out.
This was a phenomenal article that goes into the guerrilla tactics of urban sniping.  I'd like to make no adjustment and share this article in its entirety, giving all credit to the author; link at the bottom.
How To Defend A City From Invasion Using Civilian Snipers as an Auxiliary to the Regular Army
Outline of Sniper Tactics
"When you've got the best of it, make the most of it." – Mason Malmuth
"Constant gaining and breaking ground in the effort to obtain the distance which suits you best – to get where you are safe and he isn't." – Bruce Lee
"Intercepting an attack only works if you are at the fighting measure and he has to take a step forward to touch, thus giving you time to react. If you control distance, you are also controlling time." – Tim Tackett
A.            Timing. Psychologically, soldiers are weakest immediately after a win.
1.            Let them pass gauntlet of tall buildings, then attack from basements.
2.            When soldiers are fleeing, you can kill them as fast as you can fire.
3.            Victorious soldiers are focused only on raping, looting and sleeping.
4.            Let invaders pass by, then attack them from behind after the battle.
B.            Position. Select neither a panoramic view nor a tiny loophole.
1.            Positions with a wide view are easily identified and targeted early.
2.            Positions with a wide view are elevated and thus easily encircled.
3.            If you are too hidden, nobody will walk in front of your loophole.
4.            If it is hard for the invaders to find you, it is hard for you to scram.
5.            There are many semi-concealed hides; quantity makes them obscure.
C.            Elevation. Stay in the basement or first floor of most buildings.
1.            No Russian vehicle can depress its main gun below -6'.
2.            If the ground is frozen, basements will protect one from artillery.
3.            The roof and top floors of buildings will be destroyed by artillery.
4.            Avoid skyscrapers; they are easily encircled and have solid windows.
5.            Apartments and hotels are wider and have windows and balconies.
6.          Only go into upper stories if all the nearby buildings are multi-story.
D.            Teamwork. Most of the advantages of teams apply only to the invaders.
1.            Crew served weapons reduce willful misses by reluctant killers.
2.            In static positions (e.g. on a skyscraper) teams have more endurance.
3.            Rifles fire sideways and binoculars look forward; it is hard to do both.
4.            Two men and a rifle do not fit on a motorcycle, but cars are too slow.
5.            For the defenders, mobility is all important and teams are a hindrance.
E.            Move. The moment you stop moving is the moment you stop moving.
1.            If at all possible, do not get out of your getaway vehicle.
2.            Keep a warren of streets behind you. Fire over obstacles like canals.
3.            Never climb high into narrow buildings that can be easily encircled.
4.            In wide apartments and hotels, mouse-hole between interior rooms.
F.            Hug. Move alongside a column of troops 300 to 500 yards from them.
1.            Inside 200 yards you are vulnerable to SAWs and RPGs.
2.            Outside 600 yards you are vulnerable to artillery and air strikes.
3.            Stay in the safety zone; fire when there is an obstacle to shoot over.
G.           Surprise. Fire when the invaders are distracted or not expecting a shot.
1.            Invader's attacks on buildings are initiated with flash bang grenades.
2.            Barrels of ANFO are ineffective weapons but are useful diversions.
3.            Never fake randomness. Choose among your options by rolling dice.
H.            Illuminate. The battlefield is defined by who can see whom and when.
1.            Do not use a light yourself. You see glare and the invaders see you.
2.            From 90° away have a helper clamp a light down, turn it on and run.
3.            Radar can see mortar shells. Do not use them to launch flares.
4.            Deploy flares with small, remote-control rockets.
I.             Divide. Engage the invaders when they are crossing a boundary.
1.            Fire when half the invaders are inside a building and half outside it.
2.            Fire when half the invaders are in open and half in rough terrain.
3. Fire at dawn or dusk when neither infrared nor visible light is optimal.
4. Fire from one unit's area of operation into another's AO.
J.             Pin. Your first shot pins the invaders down. Follow-up shots kill them.
1.            Aim to break a soldier's pelvis. He cannot run and must be carried.
a.            The center of mass (hips, not heart) moves around the least.
b.            A .308 at 500 yards will not penetrate the armor over the heart.
c.             If cutting the femoral artery does not kill him, just shoot him again.
2.            Induce the invaders to hide behind non-bulletproof objects like trees.
a.            They will run if engaged in the open and you will only get one shot.
b.            They will hide if engaged near trees. Just shoot through each tree.
K.            Escape. Trap your pursuers in an apartment complex or cul-de-sac.
1.            Park your motorcycle in the living room and fire off the kitchen table.
2.            Drive your motorcycle away through narrow pedestrian walkways.
3.            Have a helper chain the gates shut to lock the pursuit vehicles in.
4.            Change vehicles under overhead cover to lose any airborne pursuit.
5.            Anti-tank missiles will not recognize a motorcycle and will fly past it.
L. Sidearm. I recommend the Ruger Mark III.
1.            Shoot dirt banks to create dust for wind reading.
2.            Low recoil is more important than power against dogs.
3.            Silently shoot enemy soldiers who blunder into you.
M. Tall Buildings. The only high ground that the enemy holds. (notes at bottom)
1.            Helicopters will insert snipers and MG on roof, but not guns.
a.            Position heavy machine guns to shoot them during insertion.
b.            SV-98 7.62 mm sniper rifle is dangerous out to 1000 m.
c.             OSV-94 12.7 mm sniper rifle is dangerous out to 1200 m.
d.            Kord 12.7 mm heavy machine gun is dangerous out to 2000 m.
e.            M-99 76 mm gun unlikely; requires large helicopters to insert.
e.            M-99 cannot lower elevation enough to hit close-in targets.
2.            Position mortars to shell rooftops of tallest buildings in town.
a.            Use the direct-fire version of my mortar fire control software.
b.            Define the roof to be ground level so muzzle height is negative.
c.             Click here for the formula for the height of office buildings.
d.            Fire from downwind of building to maximize accuracy. Note.
e.            Reduce powder charge to get an angle of descent > 45°
3.            Position incendiaries to burn off rooftop ahead of time.
a.            Defending the rooftop from helicopters requires SAMs.
b.            Destroying the building requires massive explosives.
c.             Best bet is to set the roof on fire before the invasion.
d.            Burnt roof provides an unstable platform for guns, MG.
N.           Desertion. Men desert to save their wives and children, not themselves.
1.            The principle advantage of the invaders is that their families are safe.
2.            Never pad troop numbers with married men; have them dig bunkers.
3.            Recruit only unmarried men and women to be civilian snipers.
4.            Women make better snipers than men because they posture less.
What is the single worst tactic for the civilian sniper?  Engaging mounted troops from over 600 yards away by firing down the length (the long axis) of a street.  The enemy has cannons that, unlike your deer rifle, really are accurate at that range.  Also, they have vehicles that can quickly close in on you with machine guns and grenade launchers, which are very dangerous at close range.  Thus, by attempting a shot that you will probably miss, you have given the enemy two can't-miss opportunities to kill you.  Asymmetry is supposed to work the other way around.
Quotations from Timothy Thomas' paper, Battle for Grozny:  "Mobility was the key to success against the slower and heavier Russian force…  The Chechen force exploited Russian disorientation by moving behind and parallel to the Russian force once it entered the city' Chechens used civil defense as well as underground sewage and water tunnels both to flank and to get into the rear of military units…  Female snipers were rumored to be fighting for the Chechens…  The Chechens fought in a non-traditional way, with rapid mobile units instead of fixed defenses.  One key lesson was the importance of the sniper and the RPG gunner, or a combination of the two.  For example, snipers were employed to draw fire from a Russian force, and then a Chechen ambush position overlooking the activities of the sniper would open fire on the Russian column fighting the sniper.  Additionally, forces could operate successfully in an independent mode."
Proper Use of the "Swarming" Tactic
"Rapidity is the essence of war: take advantage of the enemy's unreadiness, make your way by unexpected routes, and attack unguarded spots." – Sun Tzu
"[Our tactic in Grozny] was to fire at the enemy everywhere without being seen anywhere. The Russians did not know where and who the enemy was. We shot, destroyed, withdrew, went home to sleep, returned to start military actions again. No organization or planning. We were independent hunters."
– Aslan Maskhadov
"We will come at them from all sides, shooting them like partridges." – Ayub Khansultanov
Civilian snipers attempting to defend a city from invasion have a leader only to the extent that such a person has secure lines of communication with his troops. That is to say, civilian snipers are completely leaderless. However, in any city, it is not hard to find someone who aspires to the purple. A fancy uniform, sunglasses (the darker the better) and a few rousing speeches on AM radio goes a long ways towards convincing "Fearless Leader" that he is in charge. This is actually a good thing because the opposition general (who has secure communications and, therefore, really is directing the invasion) can easily be induced into thinking that he has a counterpart.
The opposition general has spent his entire career playing war games against other officers in which both sides had perfectly secure communications (they just moved their pieces around their gameboard or computer screen) and none of their pieces (little squares of cardboard or blips on a computer screen) had any volition of their own. It is impossible for the opposition general to conceive of leaderless snipers. If he cannot identify their leader, his own propaganda people will pin that title on some whacko, just to give a face to their enemy. This is a good thing for the defenders because second guessing someone who does not exist can only lead to error on the part of the invaders.
Bevin Alexander is a good example of someone who is incapable of conceiving of a commander who does not enjoy complete control over every soldier's movements through instantaneous and perfectly secure communications. In How Wars Are Won, pp. 14-15, Alexander writes:
Instant communications combined with great mobility and high flexibility are the keys to the success of swarming tactics. The [U.S.] military calls its integrated information system C4ISR, for "command, control, communications, computers, intelligence, surveillance, and reconnaissance." If carried out properly, small units in constant communication with one another could attack an enemy on all sides simultaneously.
Frankly, this seems a bit impractical. When are they going to find time to fight if they are in constant communication with one another? And what kind of mastermind do they have leading them who can keep all of that information in his head at once? He would have to have a telephone switchboard in front of him that rivals anything that AT&T possesses. Alexander appears to be so enthralled with pilotless drones that he has started to think of every weapon system as a drone. Some weapons must be accompanied by humans because they have more nimble fingers than robots, but Alexander does not expect the humans to, like, think. That's what computers are for.
What Fearless Leader actually accomplishes in his radio speeches is to tell everybody that the invaders have raided a certain location. He may go on to spin all kinds of fanciful stratagems for carrying out a counter-attack, and send hundreds of "secret" messages (using the ever popular substitution cipher) giving "orders" to his "troops," but all that really matters is that everybody knows that the invaders have committed themselves to a raid. Then, each civilian sniper independently rolls a six sided die. If they are disciplined, and they must be to trust their fate to chance, they will attack as follows:
Die Roll
Action
1
Attack the target from the NW
2
Attack the target from the NE
3
Attack the target from the SW
4
Attack the target from the SE
5
Attack the nearest freeway off-ramp from the left
6
Attack the nearest freeway off-ramp from the right
The purpose of using dice is to get the civilian snipers to completely surround the target, regardless of local conditions. You can't just tell them to spread out. There must be some mechanism in place that automatically results in the snipers distributing themselves evenly around the target. Unless they roll dice, civilian snipers will invariably do one of three things:
1)            They will make a beeline for the target without any attempt to think tactically until they are actually being shot at. The invaders aren't stupid. They knew before the raid began that there was a large residential neighborhood nearby and one or two choke points, like bridges, directly between it and the target. They'll probably have heavy, water cooled machine guns pouring bullets onto those bridges. This is one reason why I advocate civilian snipers being mounted on motorcycles. It only takes a few minutes to make a three mile radius around a target and approach it from the other side. Pedestrians don't have time for that.
2)            They will go to a shooting position that seems "optimal," based on general tactical principles. For instance, elsewhere on this website I have suggested firing over a barrier, like a canal, to prevent mounted troops from rushing you. That's good advice if you're the only one in the field and are attacking a target that nobody else is aware of. It's bad advice if 90% of the civilian snipers in town are elbowing each other out of the way to position themselves behind the only canal in the vicinity. The invaders will just drop a bomb on the sniper's "optimal" shooting position.
3) They will neglect to consider the path that the enemy's reinforcements will take. Initial contact with an enemy patrol accomplishes only two things: It pins them down by wounding one or two of them, and it causes them to radio for help. The response to such a call will be impressive. A cop was once shot a few blocks from where I lived, my balcony overlooking a major thoroughfare. His vest stopped the bullet, he shot his assailant a dozen times and then radioed in an "officer down" call. I did not observe this, but I did observe the response. Thirteen patrol cars raced past, all with lights and sirens on. They took up all three lanes of the street, pushing everybody aside. There were probably another thirteen approaching in a similar manner from the other direction. This is why rolls five and six of the die direct the snipers to attack the nearest freeway off-ramp. Far more enemy casualties can be produced by attacking the reinforcements than attacking the patrol that was initially engaged and is now dug in and waiting for those reinforcements.
Unfortunately, a lot of people resist taking counsel from dice. But consider this: Do casino owners sit in their offices thinking up "random" numbers and radioing them down to their croupiers? Of course not. They give them dice. And by so doing they've built seventy story hotels in a desert that, a hundred years ago, could not have supported seventy people. So they must know what they are doing. Yet Alexander, who is gambling with people's lives and not just their money, insists on "constant communication" with his troops. Why does he think that is so important? The casino owner isn't in constant communication with his croupier and yet they get along just fine. In fact, they get along so well largely because they do not have to communicate with each other beyond the bare minimum necessary to run a craps game.
Alexander claims that "If [C4ISR is] carried out properly, small units in constant communication with one another could attack an enemy on all sides simultaneously." Okay. But haven't we just accomplished the same thing in half the time and without any computers? Of course, to ingratiate ourselves to the RAND Corporation (Alexander's employer), we could make our dice out of little cubes of silicon instead of plastic and call them computers. (And if I can sell my computers to the U.S. military for even half what they pay for a hammer, I'll be a rich man.) But whatever they are called, I think rolling dice is more practical than, and accomplishes the same goal as, C4ISR.
Let's look at how a raid works: The invaders form a "500 yard box" around the target by hosing down everything within 250 yards of it with machine gun and rocket fire from the air. Then they stop shooting and drop in shock troops who quickly spread out 250 yards to secure the 500 yard box before the defenders can move back in. The assumption is that the defenders cannot shoot farther than 250 yards. This would be true if they were armed with AKs and RPGs, but practitioners of the Aguilar System for Medium Range Sniping have their rifles zeroed for 300 yards and are capable of making shots out to at least 500 yards.
Sniping against such an opponent is like boxing against someone who is bigger and stronger than you are. Standing in the middle of the ring and slugging it out with him will just get you beaten up, but running around the perimeter is not going to win the match and eventually he'll trap you in a corner. The trick is to stay just inches beyond his reach and keep stepping into his five foot box and punching him in the ribs when he tries to take a breath.
A 700-yard box would require twice as much ammunition to pepper it from the air and twice as many shock troops to secure it (because 350 squared is about twice 250 squared), yet it only requires the defenders to be able to shoot another hundred yards. It is easier for a 300-yard shooter to learn to make 400-yard shots than it is for the invaders to double the number of their gunships and transport helicopters. Thus, I do not foresee the Aguilar System for Medium Range Sniping becoming obsolete anytime soon.
But don't misunderstand me: The fact that you have to get at least 250 yards away from the target does not mean that, the farther away you are, the better. From 0 to 250 yards, there are a couple hundred places a sniper can hide. From 250 to 500 yards, there are only about sixty feasible positions because, while this donut shaped area is three times the size of the inner circle, it is ten times harder to see the target from there because all the buildings and trees get in the way. From 500 yards out, there are only about eight or ten positions elevated enough to allow a view of the target and they are very obvious sniper positions, in the traditional sense of the word, like a clock tower or a skyscraper.
Of course, the existence of sixty feasible positions between 250 and 500 yards assumes that the civilian snipers are spread out evenly around this donut shaped area. If they are all crowded into one quadrant, then there are far fewer than sixty available positions. This is why I recommend that they each roll a die to determine which quadrant they will fire from.
Of the couple hundred hiding places from 0 to 250 yards, none are any good because they will all be peppered with machine gun fire. The eight or ten distant but obvious sniper hides that provide Mr. X-Ring Shooter a chance to strut his stuff, like the clock tower, will immediately be hit with cannon fire or guided missiles. But, of the sixty potential sniper hides between 250 and 500 yards, perhaps a couple dozen will survive, and that's the best odds you're getting in this game.
Additional notes from the same website:
The height of office buildings is 3.9 meters times one more than the number of floors because the lobby is double height. Also, there is a double-height mechanical floor for every twenty floors. So a 27-story office building is 30 times 3.9 meters equals 117 meters tall. The published height of the building also includes some two-story roof structures, which are of no concern for this application because the snipers are at the edge of the roof. However, the 3.9 meters per floor is just a rule of thumb so, if you have access to the published height, it is typically more accurate to subtract 7.8 meters from that.
Lowering your aim results in longer shots and raising your aim results in shorter shots. Headwinds reduce your range and require a lower aim to get the same distance, which results in less flight time and thus less wind drift if you misread its direction. Also, there are always some variations in speed due to temperature and moisture content of the powder, slickness of the bore, etc. Near the angle of elevation that produces the greatest range (about 40°) small variations in speed or angle of elevation have very little effect on distance while, far from that angle, small variations have a dramatic effect on distance. Thus, because headwinds cause you to lower your aim, this reduces the effects of errors in your estimate of speed or your setting of elevation angle.
Also, please take the time to visit this page on the about the Aguilar System for Medium-Range Sniping.
http://www.sniperflashcards.com/instruction.php
I hope you drew some useful info from the above text.  There are countless resources available from experienced people with proper training, books, and the internet; but nothing substitutes for experience.  Take the time to hit the range because Call of Duty ain't gonna cut it.  If you have some good advice please post it below for our edification.
Jon
For some good reading:
Links:
http://randomthoughtsandguns.blogspot.com/2010/07/urban-sniper-rifle.html
http://westernrifleshooters.blogspot.com/2010/07/guerrilla-sniper-rifle-project_22.html
http://www.sniperflashcards.com/tactics.php