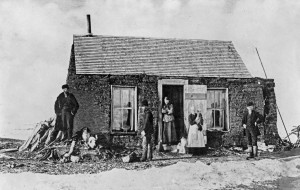 If you grew up reading stories of the frontiers men and pioneers moving West in the mid 1800s then you are familiar with both sod houses and dugouts; many homes of that date being combinations of the two.  Sod style roofs are still used in the western United States to cover large potato silos.
While it is unlikely you will ever have to construct one of these structures aside from a hobby shed or similar structure; it is good to be familiar with these building methods in the advent of an emergency where building materials might be scarce.  From a militaristic standpoint I am a fan of these structures because they can be cleverly built to conceal evidence of the building by running the sod roof all the way down to the ground.
Sod houses date at least as far back as the early middle ages.  They were particularly prominent among the Viking settlers as they moved into Iceland, Greenland, and North America at sites such as the L'Anse aux Meadows where reproduction sod long houses have been built.  In countries like Iceland they are still used as farm outbuildings.
The sod house or "soddy" was a corollary to the log cabin during frontier settlement of Canada and the United States. The prairie lacked standard building materials such as wood or stone; however, sod from thickly-rooted prairie grass was abundant. Prairie grass had a much thicker, tougher root structure than modern landscaping grass.
Construction of a sod house involved cutting patches of sod in rectangles, often 2'×1'×6″ (600×300×150 mm) long, and piling them into walls. Builders employed a variety of roofing methods. Sod houses accommodate normal doors and windows. The resulting structure was a well-insulated but damp dwelling that was very inexpensive. Sod houses required frequent maintenance and were vulnerable to rain damage. Stucco or wood panels often protected the outer walls. Canvas or plaster often lined the interior walls.
Jon