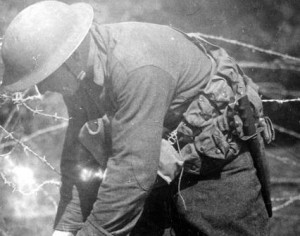 I had to share this information because I love bladed weapons; and while brass knuckles are cool; they become totally awesome with the incorporation of a blade. Drawing on info straight from the all-knowing Wikipedia I had to learn a little more about these beauties and spread the wealth.  And I you are a current/former marine, it might interest you to know where the KA-BAR came from.  I have a standard KA-BAR that has served me well over my deployments and I have a great appreciation for this Marine Corps fighting weapon.
A Trench knife is a combat knife designed to kill or gravely incapacitate an enemy soldier at close quarters, as might be encountered in a trenchline or other confined area. It was developed in response to a need for a close combat weapon for soldiers conducting assaults and raids on enemy trenchlines during the First World War. An example of a World War I trench knife is the German Army's Nahkampfmesser (close combat knife).
With the outbreak of the Second World War, the trench knife, by this time usually referred to as a combat knife, proved so useful that armies continued to develop and issue new designs. On the Axis side, the Nahkampfmesser and designs developed from it were again widely issued to the ordinary soldier as general-purpose fighting and utility knives, while Allied armies generally restricted issue of trench knives to elite infantry units and infantry not otherwise equipped with the bayonet.
The first official U.S. trench knife adopted for service issue was the U.S. M1917 trench knife designed by Henry Disston & Sons, and based on examples of trench knives then in service with the French Army. The M1917 featured a triangular stiletto blade, wooden grip, metal knuckle guard, and a rounded pommel. The M1917 proved unsatisfactory in service, and a slightly improved version, the M1918, was adopted within months. Despite this, the M1918 is almost identical to the M1917, differing primarily in the construction and appearance of the knuckle guard. Usable only as stabbing weapons, the M1917 and M1918 frequently suffered broken blades. Their limited utility and general unpopularity caused the AEF to empanel a testing board in 1918 to test various trench knives and select a replacement.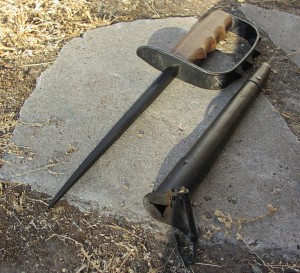 (M1917 trench knife)
The next U.S. trench knife was the Mark I, which was designed by a board of U.S. Army officers to remedy certain deficiencies of the M1917/18. Adopted in late 1918, with a blade profile patterned after the French Couteau Poignard Mle 1916 dit Le Vengeur, most Mark I knives were completed too late to see service in the trenches of World War I.
During World War II, the Mark I was issued in 1942 and 1943 to airborne troops, Army Rangers, and Marine Raiders. The Mark I featured a full-tang design with a double-edged blade and a heavy bronze hilt incorporating a guard ostensibly shaped as a knuckle duster, though the latter was intended to protect the fingers and prevent the knife from being knocked from the hand while in combat rather than for use as a weapon. Reflecting the savagery of hand-to-hand trench warfare, the Mark I's pommel incorporated a so-called 'skull-crusher' cap extension, ostensibly designed to stun or kill an enemy soldier and to provide a secondary weapon in circumstances where the blade was damaged or broken. A special proprietary metal scabbard was issued with the Mark I, capable of accommodating the new knife and its oversized knuckleduster grip handle.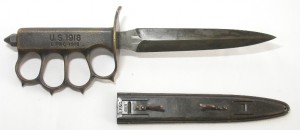 (Mark I)
In 1918, Captain Rupert Hughes of the U.S. Army submitted a patent application for a specialized automatic-opening trench knife of his own design, the Hughes Trench Knife. This was a curious device consisting of a folding spring-loaded knife blade attached to a handle which fastened to the back of the hand and was secured by a leather strap, leaving the palm and fingers free for grasping other objects. Pressing a button on the handle automatically extended a knife blade into an open position and locked position, allowing the knife to be used as a stabbing weapon. The Hughes Trench Knife was evaluated as a potential military arm by a panel of U.S. Army officers from the American Expeditionary Force (AEF) in June 1918. Unfortunately, after testing the board found the Hughes design to be of no value, and it was never adopted. Hughes went on to patent his automatic trench knife in 1919, though it appears to have never interested any civilian manufacturers.
In 1943, the U.S. Army adopted the M3 Trench Knife as a replacement for the Mark I. The Mark I required strategic metals to produce and was too costly to place into mass production, and had been criticized as being unsuited to more modern styles of hand-to-hand knife fighting. As the U.S. Catalog of Standard Ordnance Items of 1943 explained: The Trench Knife M3 has been developed to fill the need in modern warfare for hand-to-hand fighting. While designated for issue to soldiers not armed with the bayonet, it was especially designed for such shock units as parachute troops and rangers. The M3 was first issued to U.S. Army soldiers in 1943, with the first knives going to elite units such as airborne troops and the U.S. Army Rangers. Despite being designed for hand-to-hand warfare, the M3 did not receive universal praise as a fighting knife upon issue to combat units. While well-balanced (some paratroopers and rangers mastered the art of using the M3 as a throwing knife), the M3's blade was criticized as being too narrow for rough usage, particularly for utility tasks such as opening ammo crates and food tins, while its edge was found to be somewhat difficult to sharpen. The blade's secondary edge was also criticized as being too short, limiting the knife's utility when used for backhand slashing strokes.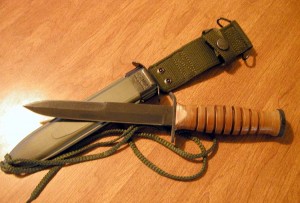 (M3)
Other fighting knives used by U.S. forces have sometimes been referred to as trench knives. These include the stiletto-shaped daggers carried by Marine Corps Raiders in World War II, and fighting-utility knives made by KA-BAR and other manufacturers.