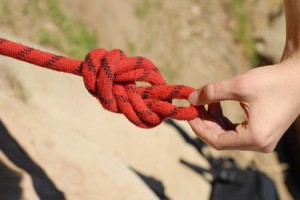 Here are some simple descriptions and illustrations of good knots to know for survival situations.  These are all common knots and it is incredibly easy to look up videos or how to pictures if it looks too complex in the illustration.  I hope you will comment below with some of your favorites and why.
Jon
Clove Hitch
The clove hitch is a type of knot. Along with the bowline and the sheet bend, it is often considered one of the most important knots. A clove hitch is two successive half-hitches around an object. It is most effectively used as a crossing knot. It can be used as a binding knot, but is not particularly secure in that role. A clove hitch made around the rope's own standing part is known as either two half-hitches or buntline hitch, depending on whether the turns of the clove hitch progress away from or towards the hitched object.  This knot is particularly useful where the length of the running end needs to be adjustable, since feeding in rope from either direction will loosen the knot to be tightened at a new position. With certain types of cord, the clove hitch can slip when loaded. In modern climbing rope, the clove hitch will slip to a point, and then stop slipping. With smaller diameter cords, after being heavily weighted it may become difficult to untie. It is also unreliable when used on a square or rectangular post, rather than round.
Fisherman's Knot
The fisherman's knot is a bend (a knot for joining two lines) with a symmetrical structure consisting of two overhand knots, each tied around the standing part of the other. Other names for the fisherman's knot include: angler's knot, English knot, halibut knot, waterman's knot. Though the fisherman's knot is associated with fishing, it can slip when tied in nylon monofilament and other slippery lines; however, if more holding strength is required, the overhand knots can be made with more turns, as in the double fisherman's knot, and so on. It is compact, jamming when tightened and the working ends can be cropped very close to the knot. It can also be easily tied with cold, wet hands. Though these properties are well suited to fishing, there are other knots which may provide superior performance, such as the blood knot.
Water Knot
The water knot (also tape knot, ring bend, grass knot, or overhand follow-through) is a knot frequently used in climbing for joining two ends of webbing together, for instance when making a sling.
Prusik Knot
The term Prusik is a name for both the loops of cord and the hitch, and the verb is "to prusik". More casually, the term is used for any friction hitch or device that can grab a rope. The Prusik hitch is named for its alleged inventor, Austrian mountaineer Karl Prusik. It was shown in a 1931 Austrian mountaineering manual for rope ascending. It was used on several mountaineering routes of the era to ascend the final summit peak, where a rope could be thrown over the top and anchored so that climbers could attain the summit by prusiking up the other side of the rope. A prusik made from cord does little or no damage to the rope it is attached to, although some mechanical prusiks can cause damage, especially if the device slips during prusiking.
Taut-line Hitch
The taut-line hitch is an adjustable loop knot for use on lines under tension. It is useful when the length of a line will need to be periodically adjusted in order to maintain tension. It is made by tying a rolling hitch around the standing part after passing around an anchor object. Tension is maintained by sliding the hitch to adjust size of the loop, thus changing the effective length of the standing part without retying the knot. It is typically used for securing tent lines in outdoor activities involving camping, by arborists when climbing trees, for creating adjustable moorings in tidal areas, and to secure loads on vehicles. A versatile knot, the taut-line hitch was even used by astronauts during STS-82, the second Space Shuttle mission to repair the Hubble Space Telescope.
Figure-eight knot (and Stein Knot)
The figure-eight knot is a type of knot. It is very important in both sailing and rock climbing as a method of stopping ropes from running out of retaining devices. Like the overhand knot, which will jam under strain, often requiring the rope to be cut, the figure of eight will also jam, but is usually more easily undone than the overhand knot.
The Stein knot (aka Stone knot) is a variation of the Figure 8 knot. It is used to secure a rope that is already passed around a post or through a ring. It is quick and easy to tie and untie. It is a device rigging rather than a true knot. In canyoneering, it is used to isolate rope strands to allow one person to rappel while another is getting on the rappel, or allow rappellers the option of using a single or a double rope.
Most of the comments on knot types came out of Wikipedia.