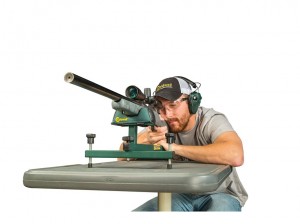 A funny zeroing story first though. My brother was on leave and visiting, so the day after thanksgiving we ran out into the desert for me to re-sight my 270, while he sighted in his 308 with a new scope he had purchase 2 days earlier. Like zeroing an M-4 we were doing this with three round sets. We hit the 50 meter first to make sure we were close; primarily for his new scope; and then we dropped back to 300 meters to finalize our zeros. We fired off my first three rounds with my bipod from the prone after which he followed suit. On his first round he casually drops the f-bomb under his voice and then stands up saying in a very casual tone "I can't believe I just did that to myself". I looked up and he had blood running down his face. He had scoped himself like a son of a gun. So what did we do? We tied a bandana on it and went on shooting for another hour or so. When we got back into town he decided on stitches rather than super glue and went down to the hospital where he go 10 (I think that's what it was).
So there are some common mistakes that many of us make when zeroing or sighting in our rifles….aside from scoping ourselves of course. Some of you might be sitting there wondering what the difference is between sighting-in and zeroing, but the truth is not much. There are some technicalities but most shooters use them interchangeably. So while mixing terms like rifle and gun are a big deal for me, zeroing and sighting-in do not.
1. Let it cool off. In the military we have spare barrels for all of our automatic and crew served weapons. This is because when the weapon barrel heats it has to be swapped as two things happen; both negative. As the barrel overheats any stresses in the steel will cause it to warp; obviously this does little for reaching out and touching a target and the main reason crew served gunners carry spare barrels. The other issue is that the heat will cause a mirage effect where your groups will appear higher than they actually are. If you are shooting a magnum or a rifle with a lightweight barrel you are especially going to have issues with overheating. Your rifles don't have spare barrels to swap out with once the first one heats up so how do you prevent this? Simple, let the weapon cool off between shot groups. Don't fire more than three shots at a time and then let it cool while you shoot other weapons; if you don't have other weapons you need to get some. If you can't hold the barrel for at least 10 seconds you need to let it chill.
2. Ammo. Not all ammo is the same, every brand differs one to another, as does the weight of the bullet. This can be an issue even when you reload your own ammunition. Remember consistency. Stick to the same brand, or at a minimum the same grain bullets. If your weapon has been shooting well in the past, but is now all over the target you might need to check what you are shooting…or cut back on energy drinks. Ammo really does make a difference.
3. Shooting rest. When you sight it in make sure you have a rest for your weapon that is firm, but not hard. If I have a bipod that will always be my preference; if not I go for sand bags. In the past I've had to resort to tightly bundled coats laid on the top of my car; not ideal, but it does work in a pinch. No matter your rest; hard, soft, or firm, your bullets are going to ride up. Make sure you weapon is fired from the exact same spot on the rest each time; and make sure the same part of your rifle is laying on the rest. Every rifle has its own character to find out how firm your rest needs to be for your specific weapon to get accurate results every time.
4. Shoot the way you shoot. After you've sighted in the weapon re-verify it shooting it the way you would in an actual hunt. If you use a sling and prefer to be sitting fire the weapon that way, if you have a preference for prone unsupported then fire it that way. Verify that your zero works for your shooting style because you probably won't have a sand bag rest in the hills.
I read a great article about long range shooting tips that I would like to share in its entirety which come from Walter Stroman was the Team Adjutant for the 2005 United States F-Class Rifle Team that competed in the World F-Class rifle matches in South Africa. In 2007, he won the 1,000-yard Southeast Regional Rifle Matches, F-Class Rifle, at Fort Benning, Georgia. I came across this article on qdma.com, check it out.
Buy a Quality Scope
Plan to spend about the same amount of money, or more, on your scope, rings, and mounts as you do on your rifle. Why? Quality scopes help you in those low-light shooting situations. Have you ever spotted a big buck near last light with your binoculars and not be able to clearly see it in your scope? A quality scope will also have precise windage and elevation adjustments.
Buy Quality Rings and Mounts
Even with the best mounting systems, we lap the rings of all our scoped rifles. Lapping is a process that smooths down the high spots of the bottom rings to closely align or center them with each other. Misaligned rings place bending forces on your scope tube. These forces can cause excessive use of windage and elevation adjustments to bore sight your scope. The farther your scope gets adjusted away from its optical center, the greater the potential for a distorted and darker sight picture. Accuracy problems can start to appear as the scope is adjusted toward its maximum range. A lapping kit costs about $35 and comes with a precision 1-inch or 30 mm solid steel lapping tube, handle, lapping compound, and instructions. It is easy to use and it takes about 20 minutes to lap a set of rings. The kits can be found at supply houses for target shooting, reloading, or gunsmithing.
Snug the Rifle Screws
Check your rifle for loose screws. The bedding screws that secure your rifle to the stock are very important for accuracy and should be tightened according to the manufacturer's specification. Refer to your manual or speak with the manufacturer to ascertain the proper amount of torque for each bedding screw.
Clean Your Rifle Barrel
We see a lot of "shot-out" hunting rifles that just need a good cleaning to restore their accuracy. After ensuring the rifle is not loaded by removing the bolt, look at the muzzle of your rifle in the sunlight. Do you see a lot of copper shining back at you? If you do, a good cleaning is in order. Accuracy decreases as your barrel accumulates powder residue and copper fouling.
Many hunters purchase inexpensive gun-cleaning kits because they feel they are adequate for the job. However, quality cleaning kits cost about $125 to $150, and they can improve your accuracy. We recommend that you also get a rifle-cleaning cradle for about $30 to $70. The cradle holds the rifle securely during the cleaning process. A cleaning rod guide, $20, is another must-have item. The rod guide is specifically designed for your rifle's chamber and prevents solvents from running back into the chamber and the trigger group. The guide centers the cleaning rod with the rifle's bore and prevents rod damage to your chamber, throat, and bore. Solid, one-piece cleaning rods with freely rotating handles allow the rod to spin with the twist of the rifling in the barrel, and they are available for about $30. The jag, brushes, solvent and patches should cost about $45.
More cleaning instructions can be found in this article on the Web site of the Civilian Marksmanship Program.
Break In Your Rifle Barrel
Most hunting rifle barrels have not been properly broken in, which helps to minimize accuracy-reducing fouling. If not properly broken in, we have observed hunting rifles to completely foul out in as little as five rounds. Many will foul out at fewer than 20 rounds. When a barrel fouls out, accuracy is dramatically reduced. Properly breaking in a rifle barrel is a must for our target rifles and our hunting rifles. We believe that this step is very important to optimize the accuracy potential of your hunting rifle. You will not have to worry about your rifle fouling out during the hunting season.
The break-in process is simple but takes time at the range. Use any inexpensive ammo that you can find. Start with a clean barrel, fire one shot, and clean the barrel. Make sure that you get all the copper out. Repeat the single shot/clean routine for five shots. Next, fire two shots and clean. Repeat three times. Now, fire three shots and clean. Repeat three times. Cleaning the barrel should become easier and copper fouling should be minimal.
Check the Trigger Pull and Action Fit
The trigger pull is important in making an accurate shot. We see hunting rifles with trigger pulls that range from very good to awful. The worst hunting trigger has excessive creep so that you are never sure when it will break. In those cases, we suggest that you see a gunsmith. A trigger job costs about $100. A fully adjustable replacement trigger costs from $40 to $100 or more.
The fit of the action to the stock – or bedding – is another critical accuracy factor. The accuracy of most hunting rifles would improve with a custom bedding job. Bedding work costs about $150, and you should be prepared for a long wait before the gunsmith returns your rifle. We decide to bed a rifle when we cannot get it to shoot tight groups after trying a few different types of bullets.
Find the Right Bullet
This quest is where the rubber meets the road, and we do not have any quick solutions. The answer is trial-and-error. Each rifle is different, and your rifle will tell you immediately which bullets it does not like. Your job is to find the one it prefers.
We suggest taking several different bullet weights to the range. When you change from one type to the other, you should clean your barrel or allow up to five shots of the new ammo to settle in the bore. If you clean your rifle, allow two fouling shots with the new ammo to settle in the bore. If you switch from non-coated to coated bullets, clean the bore and allow for five or more shots to properly coat the bore before testing for accuracy. If you are going from coated to non-coated bullets, give the bore a thorough cleaning. Then, add two fouling shots with the non-coated bullet before testing for accuracy.
Bore Sight Your Rifle
We have seen shooters coming to the range with newly scoped rifles who are not able to place a bullet on their target at 100 yards. We start at 25 yards. Removing the bolt, we center the target through the bore. We check the scope to verify that the crosshairs are also on the same spot. We fire a couple of fouling shots to see how close we are. We then fire one shot for accuracy. We adjust the scope to place the impact of the bullet in the center of the target. If we had to make a large adjustment, we might take one more shot to fine-tune our adjustments. Remember that it takes four times the scope adjustment to move your bullet's impact at 25 yards as it does to move the impact at 100 yards. We move the target to 100 yards to begin testing for accuracy and group size. Testing for accuracy requires a lot of patience and time. You do not want your rifle barrel to overheat. A hot barrel may cause your shot group to open up and certainly will cause the center of impact to rise.
We believe that if you have a quality scope with lapped rings, have broken in the barrel and found the right bullet, your rifle should shoot a group size of 1 1⁄2 inches or less at 100 yards. We think that with today's rifles and ammo, you should obtain groups closer to the magic 1 inch or less with a little work at the range. Even with a 1 1⁄2-inch group at 100 yards, that group becomes 4 1⁄2 inches at 300 yards and certainly accurate enough to take deer ethically at those distances.
If you're unable to consistently achieve this degree of accuracy, you should have your gun checked by a gunsmith and then spend additional time practicing at the range.
Zero Your Rifle for 200 Yards
Look at the drop chart in the Gallery below for several favorite deer hunting loads zeroed for 200 yards. You quickly see that with a 200-yard zero, you can place the crosshairs on a deer's vitals and make that shot from close up and out to 250 yards without adjusting your aim. We realize that some hunters shoot far less than 200 yards while others shoot farther. This chart is simply a guide to where your rifle can be expected to shoot at varying distances.
If you do not have a 200-yard range, notice that at 100 yards, you can zero your rifle about 1.75 inches high and be about right for 200 yards. We test our rifle's final zero with one shot from a cold barrel that has had only two fouling shots. Think about it – you shoot your deer with a cold barrel. Normally, we will not clean the barrel of our hunting rifle again until the end of the season. If you zero your hunting rifle in the heat of the summer, your bullet will impact lower during the colder winter hunting season. Try to get the final zero on your rifle when temperatures are closer to your hunting weather.
Stay In The Rifle
We think that more deer are missed at 30 yards than are missed at 300 yards. We are asked frequently to check the zero of a friend's rifle who has just missed a deer at close range – so close in fact, that something must be very wrong with that rifle. It is just human nature to pull your head up to admire the shot you just made on a deer, especially when it is so close. You cannot make that movement and hit where you are aiming. Follow through with the recoil and stay in the rifle.
You put a lot of hard work into your QDM program, and you spend a lot of time maintaining and learning to use the tools of habitat and deer management, from your chainsaw and food plot implements to trail cameras. Your rifle is also among these valuable tools that will perform more efficiently if you spend time learning to use it. When you make that first shot count, that moment should be one of the more rewarding steps in your QDM efforts.