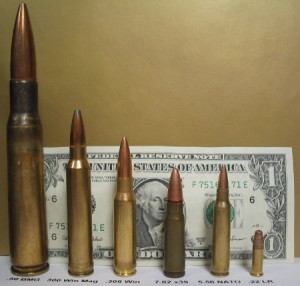 Some of you are just interested in the most common caliber weapons and so here is the list of the top ten. If you want a little history and some fun facts read on below. The stats on these calibers and their percent of average annual revenue were provided by Luckygunner.com. Here is why this info might matter to you. Over the last few years you've probably noticed the rise in cost on all these munitions and the inability to find them on the shelf. What does this mean? It means people are stocking up on these particular rifle and hand gun rounds. So if the world goes the hell in a hand basket what ammunition are you most likely to "acquire" or come across to help build up you survival cache? I might make sense for you to consider having one or two weapons that fire the ammo should you run out of 7mm or .270. These numbers reflect retail and not actual government and military purchases.
9mm Luger (9×19) – 21.4%
.223 Remington – 10.2%
.45 ACP – 9.0%
.40 S&W – 7.3%
.22 Long Rifle – 6.8%
5.56×45 NATO – 5.5%
12 Gauge – 5.5%
.308 (7.62×51) – 5.0%
7.62×39 – 4.0%
.38 Special – 3.3%
So what do all these numbers mean for you? If you are a novice you are probably wondering what the hell a caliber is. From my favorite online wiki site: "In guns, particularly firearms, caliber or calibre is the approximate internal diameter of the barrel, or the diameter of the projectile it fires. In a rifled barrel, the distance is measured between opposing lands or grooves; groove measurements are common in cartridge designations originating in the United States, while land measurements are more common elsewhere.
Good performance requires that a bullet closely match the groove diameter of a barrel to ensure a good seal. When the barrel diameter is given in inches, the abbreviation "cal" is used in place of "inches." For example, a small bore rifle with a diameter of 0.22 inch is a .22 cal; however, the decimal point is generally dropped when spoken, making it "twenty-two caliber" or a "two-two caliber". Calibers of firearms can be referred to in millimeters, as in a "caliber of eighty-eight millimeters" (88 mm) or "a hundred and five-millimeter caliber gun" (often abbreviated as "105 mm gun").
While modern cartridges and cartridge firearms are generally referred to by the cartridge name, they are still lumped together based on bore diameter. For example, a firearm might be described as a .30 caliber rifle, which could be any of a wide range of cartridges using a roughly .30 inch projectile; or a ".22 rimfire", referring to any rimfire cartridge using a .22 caliber projectile."
Here is the practical application, which is spoken of very nicely in the novel Patriots by JamesWesley Rawles; in an emergency it is worthwhile stocking up on weapons that use the most common calibers of ammunition you are likely to encounter. I know many guys that stock up on what the police and military carry because if the SHTF and they are running low, what is the ammunition likely stockpiled by government agencies across the US and most likely to make an appearance on the streets one way or the other. Listen to the news and read articles from the last few years and you will realize that Government agencies like the NSA, DHA, and now even the IRS are buying up rounds by the billion. I'm not gonna lie, that spooks me; especially amidst efforts to cut military spending and troop strengths…but I digress.
If you are curious why the 9mm and 5.56mm became integral to the US military machine as opposed to previously utilized higher calibers then here goes. There are rumors that when we went into Germany during the war the reason we started converting over to 9mm weapons was to utilize ammunition left by the fleeing enemies or captured munitions and stockpiles. Unfortunately the 9mm replacing the old .45 pistol did not even happen till roughly 40 years after Germany's surrender; and the M3 "greaser" was not used heavily in the war until right at the end and had little to do with using leftover German munitions; in fact they did not even start issuing it until early in 1943; and the improved M3A1 did not start replacing the Thomson until late 1944. They saw little combat. Sorry guys, a cool theory, but I have yet to find any substantiating evidence. One truth is that fire arms like that British sten gun or German MP 40 proved more accurate and lighter than the US .45 counterpart, the Thomson sub machine gun (a sub machine simply put is a machine gun that uses pistol and not rifle cartridges).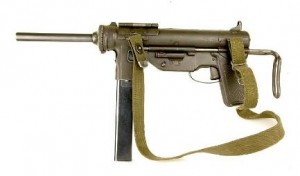 Here are some real reasons we use the calibers we do in the military today, specifically the 9mm that has received so much flak:
9x19mm is not only a NATO standard but an international standard. Very few nations use .45 ACP. (See, governments think just like we do)
This might surprise you but there is very little difference in real-world stopping power between a .45 ACP and 9×19 Para in a military loading. The 45 bullet is heavier but the 9mm is much faster and actually produced considerably more muzzle energy. However the truth is no pistol in a military FMJ loading is a great manstopper.
What pistol cartridge a nation uses really makes no difference. Pistols are a weapon of desperation or last resort. Mostly they are a fashion accessory for officers.
9mm is defined as the NATO Standard. Part of the reason for this is the same reason NATO utilizes a 5.56 round. It is a weaker round on purpose; it costs the enemy more money to take care of a wounded soldier than a dead one. And one wounded man will likely leave two to three enemy combatants combat ineffective as they will be carrying him off the battlefield or rendering aid. 5.56 and 9mm are designed to injure, not kill. As a side note, if you are in a squad at the receiving end of enemy fire; always secure the area before you administer first aid. People might die and it might sound brutal, but that is a simple fact of combat if you do not have a medic on hand.
Cheaper ammo and more ammo per magazine are two other key factors. With the penetrator cones in 5.56 Ball ammunition and the newer AP rounds now being used by combat forces overseas cost has less to do with these bullets and it being the NATO standard.
Another large factor is that most older versions of 45 pistols were fairly large and had a noteworthy recoil. It was felt that soldiers with smaller hands would have trouble using .45's but that is no longer the case with modern .45 subcompact pistols and .22 conversion kits for training.