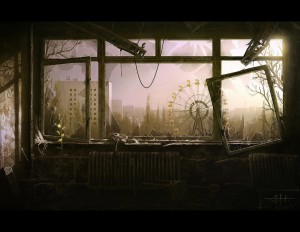 I just finished watching a film that impressed me with its views of what a future depleted of humans might look like. In a previous article I shared some images of Detroit and what the desolation of that once great city looks like. This time around I want to share some images of Pripyat and what a mere three decades of desolation looks like.
If you are unfamiliar with the history then here is the brief rundown. Pripyat (Ukrainian: При́п'ять, Pryp'yat'; Russian: При́пять, Pripyat') is an abandoned city in northern Ukraine, near the border with Belarus.
Named for the nearby Pripyat River, Pripyat was founded on 4 February 1970, the ninth nuclear city in the Soviet Union, for the Chernobyl Nuclear Power Plant. It was officially proclaimed a city in 1979, and had grown to a population of 49,360before being evacuated a few days after the 26 April 1986 Chernobyl disaster.
Enjoy the images. References are below for additional reading.
Jon
http://en.wikipedia.org/wiki/Pripyat
http://www.telegraph.co.uk/news/picturegalleries/worldnews/9128776/Photographs-of-Chernobyl-and-the-ghost-town-of-Pripyat-by-Michael-Day.html#?frame=2161229
http://villageofjoy.com/chernobyl-today-a-creepy-story-told-in-pictures/
http://www.bbc.com/news/in-pictures-22246328
http://commons.wikimedia.org/wiki/File:AMUSEMENT_PARK_AT_PRIPYAT_NEAR_THE_CHERNOBYL_NUCLEAR_PLANT_WHICH_WAS_EVACUATED_IN_1986_AND_LEFT_TO_NATURE_CHERNOBYL_UKRAINE_SEP_2013_(9859362183).jpg