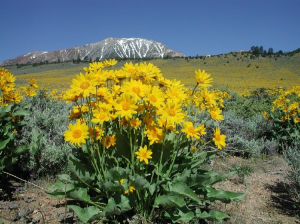 I grew interested in this plant while reading My Side of the Mountain. I had never heard of this plant as a means of food; although I had seen it plenty in the mountains. I think this will be another great plant to add to my inventory for wilderness survival.
I pulled this info from numerous sources, and then lost my references. I'm new to this plant and this isn't coming out of my head. My bad.
Arrowleaf, or Balsamorhiza sagittata, as it is formally called, is a species of flowering plant in the sunflower tribe of the plant family Asteraceae . It is native to much of western North America from British Columbia to California to the Dakotas. It grows in many types of habitat from mountain forests to grassland to desert scrub and is also drought tolerant.
Arrow-leaf balsamroot (Balsamorhiza sagittata) is easily recognized by its large, showy, yellow flowers that often color dry hillsides a golden-yellow starting in early May. It is a tap rooted perennial herb growing a hairy, glandular stem 20 to 60 centimeters tall. The branching, barky root may extend over two meters deep into the soil. The basal leaves are generally triangular or arrow in shape and are large, approaching 50 centimeters in maximum length. Leaves farther up the stem are linear to narrowly oval in shape and smaller. The leaves have un-toothed edges and are coated in fine to rough hairs, especially on the undersides.
The inflorescence bears one or more flower heads. Each head has a center of long yellowish tubular disc florets and a fringe of bright yellow ray florets, each up to 4 centimeters long. The fruit is a hairless achene about 8 millimeters long. Grazing animals find the plant palatable, especially the flowers and developing seed heads.
A large, deep, thick taproot completes the name, having a diameter the width of a hand and a branching root going some feet deep. The thicker portions are covered with bark. The balsam portion of the name refers to a resin in the root.
All of the plant can be eaten, although it can be bitter and pine-like in taste. Many Native American groups, including the Nez Perce, Kootenai, Cheyenne, and Salish, utilized the plant as a food and medicine. Young leaves and shoots were peeled and eaten raw, boiled or steamed. The peeled roots have a bitter, strongly pine-scented sap. When cooked for several days (roasted or steamed) the root became edible and was often ground into meal and mixed with grease and made into cakes, or mixed with powdered berries and eaten with a spoon. The small, sunflower-like seeds were dried or roasted and pounded. The seeds were particularly valuable as food or used as oil. Nearly all parts of this plant were used as food by various Native American groups. The roots may be baked or steamed and eaten, as well as the young shoots. The immature flower stems could be peeled and eaten; the flowers themselves are good browse for wildlife. Balsamroot seeds are nutritious and oil-rich, another good source of food. The root could be used as a coffee substitute. It was also used medicinally.
Jon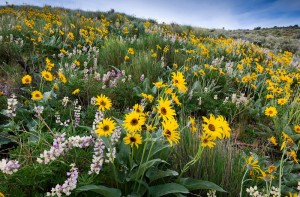 Arrowleaf near Boise, Idaho