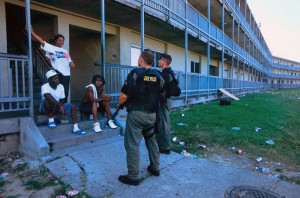 For what it's worth, there are some interesting articles on a topic that has bothered me for some time. Being a member of the military I was bothered by the notion of widespread gun confiscation in the wake of an emergency; especially if the military had been involved; in this I'm talking about Katrina. I've spoken with people I know were deployed in the wake of the storm and none of them saw or were explicitly ordered to participate in anything of the sort.
Below is an excerpt from some of the right wing propaganda that I love so much…that was a joke. I've also attached an interesting article below that in its entirety because I felt it was very telling, and a third excerpt at the end highlighting actual numbers and where the call for confiscation came from…because there actually was one. While most of us have issues with the DHS and their steady power growth; I think it's good to highlight that most law enforcement personnel (not trained or involved with the DHS) and military personnel share a common belief in constitutional liberties.
Atricle 1: 
Beck went on to air part of a news report about a woman who was disarmed and forced from her home during Hurricane Katrina in New Orleans.
Patty Konie explained to officers back in 2005 that her home was dry, she had plenty of food and she wanted to stay in her home with her dogs. However, police did not respect her request and forced her to leave. Further, when she revealed to officers that she had an unloaded handgun, officers tackled her to the floor and confiscated the gun — even though it was a legal firearm.
"I said, 'it's not even loaded,' while I dropped it on the floor and they punched me in the face," Konie says in the video report. "They dragged me out of here. I really thought they were going to kill me. I really did."
Edwards said it is important that gun owners know their rights, especially ahead of potential disasters like Hurricane Sandy. In 2006, then-President George W. Bush signed an executive order called the Disaster Recovery Personal Protection Act that strengthened individual gun rights during a national emergency.
"What that bill did…it basically says to law enforcement across the country, that you cannot violate the rights of American gun owners, even in a state of emergency, you can't violate federal law, you can't violate state law," Edwards said. "If that happens, then the punishment for those law enforcement agencies is a loss in federal funding."
"What we saw locally was the mayor and police chief in New Orleans saying, you're not going to be armed," Edwards added.
The state of Louisiana also passed their own law that specifically forbids law enforcement agencies of disarming law abiding citizens.
So, if you find yourself in the same situation as Patty Konie in the aftermath of Hurricane Sandy, Edwards said there are a few things you should be mindful of:
"You cooperate, you get the names [of the officers], you get all the information that you can, you hire an attorney and you have that attorney contact the NRA Civil Rights Defense Fund," he said.
Shockingly, some gun owners still have not been reunited with their firearms that were confiscated during Katrina roughly seven years ago, Edwards said.
"The last time I talked to the attorneys that were working with the NRA on the case, there were barrels of firearms that were rusting away in the New Orleans Police Department," he added. "We had a city in Katrina that decided that law abiding gun owners should be defenseless."
When deciding whether to travel with your gun during a state of emergency, consider where you will be going. If you are traveling to somewhere like a public shelter, you may not be able to have a firearm, said Edwards. As always, be smart and utilize caution when handling and traveling with your firearm.
http://www.theblaze.com/stories/2012/10/29/can-your-gun-be-confiscated-during-a-national-emergency/
Aticle 2: 
Katrina "Gun Confiscation" – My Experience
Posted on June 13, 2013 by MAC
Submitted by Brannon LeBouef
Executive Summary:
Yes, some guns were confiscated in New Orleans, LA (NOLA) following hurricane Katrina, but it was nowhere near as widespread as some would have you believe. They were isolated incidents and the majority of those were done by out of town LEO and MIL.
What you are about to read are my personal experiences and recollection of events as I saw them. While not all-inclusive, I think they lend a fiar account of what really happened on the ground.
Realities:
While it has been nearly 8 years since the events of Hurricane Katrina, which in my opinion currently serves as the closest controlled experiment of a SHTF scenario in this country that we have on record in recent times, many of the incidents or perceived incidents that occurred during that time are still being discussed. I was there, at least for the worst of it. Allow me to set the record straight on a few things….
There were NOT sharks swimming down Canal St.
There were bodies floating in the streets and abandoned on the roadways.
There were people taking pot shots with rifles at rescue helicopters and patrolling law enforcement.
There were NOT hundreds of people being killed and raped in the Superdome, convention center, or elsewhere, including infants and elderly alleged victims.
There were people setting fire to malls and then shooting at the responding firemen.
There were people shooting at the electrical lineman on the poles as they attempted to restore power.
There were NOT Blackwater mercenaries patrolling the streets. They were there, but they were primarily at static posts guarding private business and governmental shelters and camps. They were security guards.
There was looting of all kinds, by all kinds of people to include the police in very limited instances.
There were NOT people eating each other.
There was SEVERE ineptness and failure on the part of all levels of government as it relates to the response.
There was NOT widespread Gun Confiscation in New Orleans. Wait what?
Who am I?
I feel it is important to tell you a little about myself in order to provide context and perspective to my statements as they relate to this topic. During Hurricane Katrina, I was on active duty with the United States Marine Corps and stationed in New Orleans, where I have lived for the last 15 years or so. I was also a reserve police officer with Gretna Police Department, which is located on what we call the "west bank" of the river. We ended up becoming the epicenter for the entire LEO response to the area after the storm due to the fact that we had secured our limited assess against destruction, both man-made and natural. I resided in the city in the "uptown" section near Magazine St and Tchoupitoulas Ave. My USMC unit was on the other side of town in what was the rough beginning of New Orleans East. Between those spots, I saw most of the city and greater metro area.
The flooding was devastating leaving citizens to fend for themselves in many cases.
I left the city on the Sunday before the storm hit and moved my then girlfriend and her child to Lafayette, LA. While there, we witnessed the storm hit and the levees break. I was able to communicate with my brother officers who were still there via Nextel Direct Connect at the time. They were under harassing fire and in short supply of ammunition.
I believe it was the Tuesday after the storm hit and the levee broke that I packed my truck with all the ammunition I had (which admittedly was a lot), and headed down home to see what I could do.
The following statements are paraphrases, anecdotal recollections of a very dangerous and trying time. My attempt is only to try and shed some first hand light onto what really happened for those first few weeks after the storm.
State of Confusion
Now, as this story relates to gun confiscation… yes, it happened. That said, it is not the widespread gun confiscation that is depicted in the media pieces. From a personal standpoint, I agree that one illegal gun confiscation is one too many, but let's look at what really happened and attempt to view the incidents in context.
The entire area was in a state of complete and utter turmoil with not a single shred of command or control. The New Orleans Chief of Police basically declared his own martial law (which is wrong), and the mayor was about as useful as a screen door on a submarine. We had New Orleans Police Officers who went rogue, abandoned their posts, killed themselves, were looting, and all other manner of behavior to deal with. As I was leaving Lafayette, I passed 3 NOPD units heading towards Lafayette. All of the common social controls used to at least customarily identify the good guys from the bad were gone. Criminals were driving marked police cars, uniform and gun shops had been ransacked and pilfered. Other agencies had actually been involved in armed stand-offs with deviant NOPD officers. Yes, things were THAT bad.
Keep in mind, that by the end of that week, we also had several hundred National Guard, Marines, Army, and hundreds of out of state law enforcement officers, "aid workers", media, etc. running around with very little control and accountability.
A call for help spray painted on the side of a house. The orange paint signifies a LEO response and marks the house as secure.
With that stated, the overwhelming majority of those who came down to help handled the chaos with a respectful professionalism and attention to duty, whose help and sacrifice was invaluable to those of us from the region… but that is not who we are here to talk about.
The Las Vegas Mentality:
Yes, guns were taken, but with my own eyes, the overwhelming majority of those criminal and unethical acts, which is still a small number, were done by out of state LEO and military. These military members were primarily 18-21 year old reservists who thought they were coming down to help fill sandbags and clean roadways, but were instead thrust into law enforcement roles with little training and even less leadership.
Among the bad eggs of the group, there was this mentality that grew out of the lack of accountability that I call the "Vegas Mentality" where they realized no one really knew who they were and the lack of command and control meant there was no real accountability. For those whose moral compass had began to wander, the environment created a "wild west" atmosphere. There were a couple of agencies that were thanked for their assistance and politely asked to go home. It was primarily these bad eggs, along with a couple of NOPD officers, who we see in the YouTube videos.
There were also a couple of individuals acting alone at some of the checkpoints. I know I encountered countless people with firearms and did not confiscate a single one, neither did any officer I knew or worked with. The only time firearms were seized were when someone was arrested for a crime—no different than before the rain.
Truth be told, that was the basic ROE if you will, for my agency and those I encountered, including the over 200 or so federal agents that were based out of our department for several weeks –
"Guys, BE SMART. BE SAFE. BE POLITE. People are in bad places physically, mentally, and financially. Do not push people, but do not allow yourself to be pushed. We operate under the same rules and policies as before the storm—only with fewer resources. If you would not have seized a firearm as evidence of a crime or incident to an arrest, don't take it now."
As it related to "looting" by the police, we were instructed that if the integrity of the building had been compromised by the storm, to go in and take what we needed, but do not make entry into secured buildings. We also had permission from the local supermarkets, Academy Sports, and several other businesses to take whatever we wanted for our use and to distribute to the community. That was immensely helpful.
National Guardsmen taking a break.
I am paraphrasing the basic theme of our morning briefings before we headed out to countless looting calls, death calls from people suffocating, killing themselves, gunfire calls, etc. It also helped tremendously that our leadership made a decision to have all non-local LEO work static checkpoints and positions while those of us familiar with the areas, and most importantly the people, handled patrol and calls. Having some State Trooper from NY try and deal with a hot, hungry, and tired Cajun from the bayou is a recipe for chaos.
After the first couple weeks, many of the people arrested for looting were National Guard people. New Orleans had National Guard "troops", basically young reservists serving their 2-week active time each year patrolling the streets in fully marked patrol cars for 2-YEARS! This was a huge problem, and I personally had to deal with them on traffic stops and various other calls. They simply were not trained or experienced to deal with the role they were thrust into.
Cops and Gun Control and following orders and keeping oaths and…
I have been fortunate enough to train, and train with, thousands of police officers across this country, all strata of jurisdiction, regional idiosyncrasies, and mindsets. I can tell you unequivocally that the OVERWELMING number of police officers will not take firearms from US citizens. Period.
Most of them are smart enough to know that they are a citizen first and if it can happen to "them", it can happen to "THEM" too. Also, we are seeing an uptick in the number of prior military service LEO's and they actually take the constitution very seriously.
There will ALWAYS be those who will just "follow orders", but widespread firearms confiscation will never happen. Even if we were to ignore the Constitutional elements of this argument, Paul Howe put it best based on the logical argument. Cops will not roll into a house KNOWN to have guns, simply to take them. Their lives and their families are more important than that.
Now, you give them an actual bona-fide bad guy, one they know is bad based on their own morals, and they will run through a hail of bullets to take him off the street. However, you ask us to go next door and take them from our hunting buddies and brother-in-laws… well, you just unified the largest and best armed group of individuals against the government.
If it is ever attempted in this country in a true large-scale confiscation, some cops will die. There will be an initial rise in violence and then it will settle as everyone figure out the rules. Cops will realize, like many are about the "Drug war", that it simply is not worth it – in lives, money, or erosion of rights.
Brannon LeBouef is the owner and founder of NOLATAC Training and Consulting and The St Bernard indoor Shooting Center. Brannon is an 11-year veteran of the US Marine Corps, a 15 plus year veteran of law enforcement, a former private military security contractor, and professional firearms trainer. He can be reached at Brannon@nolatac.com or www.nolatacforum.com.
http://www.thebangswitch.com/katrina-gun-confiscation-my-experience/
 A Quick Personal Note:
So if the military and out of state cops did little to apprehend firearms then where do the stories come from; because we know it happened to some degree. From the bit below it might not surprise you to find out that most of the action was carried out by local PD officers under the direction of Eddie Compass.
Article 3:
Controversy arose over a September 8 city-wide order by New Orleans Police Superintendent Eddie Compass to local police, U.S. Army National Guard soldiers, and Deputy U.S. Marshals to confiscate all civilian-held firearms. "No one will be able to be armed," Compass said. "Guns will be taken. Only law enforcement will be allowed to have guns." Seizures were carried out without warrant, and in some cases with excessive force; one instance captured on film involved 58 year old New Orleans resident Patricia Konie. Konie stayed behind, in her well provisioned home, and had an old revolver for protection. A group of police entered the house, and when she refused to surrender her revolver, she was tackled and it was removed by force. Konie's shoulder was fractured, and she was taken into police custody for failing to surrender her firearm.
Angered citizens, backed by the National Rifle Association and other organizations, filed protests over the constitutionality of such an order and the difficulty in tracking seizures, as paperwork was rarely filed during the searches. Wayne LaPierre, CEO of the National Rifle Association, defended the right of affected citizens to retain firearms, saying that, "What we've seen in Louisiana – the breakdown of law and order in the aftermath of disaster – is exactly the kind of situation where the Second Amendment was intended to allow citizens to protect themselves." The searches received little news coverage, though reaction from groups such as the NRA, the Second Amendment Foundation, and Gun Owners of America was immediate and heated, and a lawsuit was filed September 22 by the NRA and SAF on behalf of two firearm owners whose firearms were seized. On September 23, the U.S. District Court for the Eastern District of Louisiana issued a restraining order to bar further firearms confiscations.
After refusing to admit that it had any seized firearms, the city revealed in mid-March that it did have a cache of some 1000 firearms seized after the hurricane; this disclosure came after the NRA filed a motion in court to hold the city in contempt for failure to comply with the U.S. District Court's earlier order to return all seized firearms. On April 14, 2006, it was announced that the city will begin to return seized firearms, however as of early 2008, many firearms were still in police possession, and the matter was still in court. The matter was finally settled in favor of the NRA in October 2008. Per the agreement, the city was required to relax the strict proof of ownership requirements previously used, and was to release firearms to their owners with an affidavit claiming ownership and a background check to verify that the owner is legally able to possess a firearm.
Louisiana legislator Steve Scalise introduced Louisiana House Bill 760, which would prohibit confiscation of firearms in a state of emergency, unless the seizure is pursuant to the investigation of a crime, or if the seizure is necessary to prevent immediate harm to the officer or another individual. On June 8, 2006, HB 760 was signed into law. 21 other states joined Louisiana in enacting similar laws. A federal law prohibiting seizure of lawfully held firearms during an emergency, the Disaster Recovery Personal Protection Act of 2006, passed in the House with a vote of 322 to 99, and in the Senate by 84-16. The bill was signed into law by President Bush on October 9, 2006.
http://en.wikipedia.org/wiki/Criticism_of_government_response_to_Hurricane_Katrina