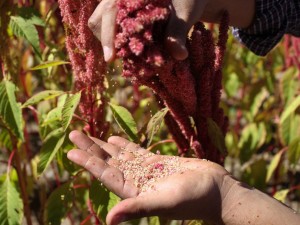 And yet again my mind has been officially blown by another weed I had never known was edible. As I learn more and more about what food grows wild in my backyard I find myself seeing food sources all around us when I'm walking or driving around town. I'm astounded that this knowledge has been lost and excited to share it. Much of the info below is taken straight from several sources, including the identification pictures, so please check out the source links if you would like additional info as I can't take credit for the info personally.
Amaranth is a broad-leafed, bushy plant that grows about six feet (1.8 meters) tall. It produces a brightly colored flower that can contain up to 60,000 seeds. The seeds are nutritious and can be made into a flour. Not a true grain, amaranth is often called a pseudocereal, like its relative quinoa. Both plants belong to a large family that also includes beets, chard, spinach, and lots of weeds.
There are around 60 different species of amaranth, and a few of them are native to Mesoamerica. For the last decade, the Oaxaca-based advocacy group Puente a la Salud Comunitaria (Bridge to Community Health) has been working to promote the plant's virtues.
Amaranth is gluten free and its seeds contain about 30 percent more protein than rice, sorghum, and rye, according to a USDA Forest Service report. It is also relatively high in calcium, iron, potassium, magnesium, and fiber, according to Puente.
"Amaranth's amino acid profile is as close to perfect as you can get for a protein source," Noll said. The plant contains eight essential amino acids and is particularly high in the amino acid lysine, which is largely lacking in corn and wheat, he explained.
"So if you make a tortilla with amaranth and corn, you give people a low-cost, culturally acceptable, healthy basic foodstuff," he said.
Florisa Barquera, a doctor and nutritional expert at the Universidad Anáhuac, Mexico City, and a member of the Mexican Academy for Obesity, told National Geographic that amaranth has been recommended by the World Health Organization as a well-balanced food and recommended by NASA for consumption in space missions. The variety of amaranth consumed in Mexico is 16 to 18 percent protein, she said, compared with 14 percent protein in wheat and 9 to 10 percent protein in corn.
Some studies have shown that amaranth also contains beneficial omega-3s and may help reduce blood pressure, said Barquera, who writes and speaks frequently about nutrition in Mexico but is not affiliated with Puente.
Amaranth is thought to have originated in the Americas and then spread to Europe, Asia and Africa sometime after European colonization began. In parts of Asia and Africa these plants have grown in importance as food crops and been developed into ornamental varieties. Throughout the Americas amaranth has decreased in cultural importance, but increased in frequency since the Colonial Period. Today amaranth can be found almost everywhere from central Canada to Argentina. Their common name, pigweed, may have comes from its use as fodder for pigs. Pigweed plants are commonly considered to be weeds by farmers and gardeners because they thrive in disturbed soils. Originally these plants would only have been found in prairie-dog towns, buffalo wallows, stream banks, roadsides, and agricultural fields were exposed soils provided them their ideal habitat. As agricultural land was expanded in the Americas by European Americans, pigweeds are thought to have become more common and developed their reputation as an unwanted pest.
Young leaves can be eaten raw or cooked like spinach, sautéed, etc. Pigweed has a mild flavor and is often mixed with stronger flavored leaves. Fresh or dried pigweed leaves can be used to make tea. The seeds of pigweed are also very nutritious, and can be collected by shaking the tops of the older plants. These seeds may be eaten raw, cooked as hot cereal or mush, ground into flour, popped like popcorn, or any number of ways. Amaranth seeds are high in protein (15 to 16 %), high in fiber content (~8%), and contain nutritionally siginificant levels of Vitamins A and C. The greens are rich in iron, calcium, niacin, and vitamins A and C. The flavor is greatly improved by roasting the seed before grinding it. Pigweed seed can be ground into a powder and used as a cereal substitute, it can also be sprouted and added to salads. The seed is very small but easy to harvest and very nutritious. When choosing amaranth plants to eat remove any sharp spins that may be present on some varieties. Also, stay away from plants growing along major highways or that may have been sprayed with herbicides, because of the dangers of lead poisoning from automobile exhaust or other poisons.
Amerindians in South, Central, and North America commonly used amaranth as a vegetable and a grain. In the Prairie Bioregion of North America, prostrate pigweed (A. grae'cizans L.) and the redroot pigweed (A. retroflexus L.) were most familiar to indigenous populations, although their use as food is not well documented. Amerindian populations in the Southwest and Great Basin regions (such as the Navaho, Tewa, Zuni, Havasupai, Yuman, Apache, and other Pueblo Indians) used the greens and seeds of pigweeds more extensively, and may have even cultivated some varieties. It has also been recorded that the native tribes as far north as Montana ate the leaves and seeds of the prostrate pigweed. The traditional Zuni myth that the seeds of prostrate pigweed were scattered over the surface of the earth by the rain priests demonstrates the cultural importance that this plant once had for these people. The Zuni have a recipe in which they make a meal out of ground amaranth seeds and black corn, which they mix with water, form into balls (or pats), and steam them on a grid of slender sticks fixed over a pot of boiling water (Kindscher 1987: 20).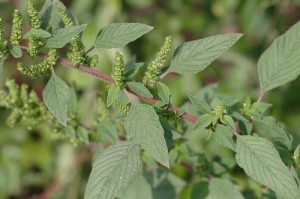 Amaranthus hybridus, aka Smooth Amaranth, stems can be red or green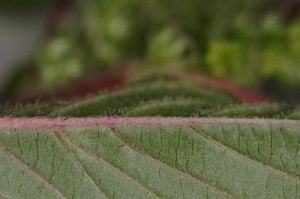 Smooth Amaranth red leaf hairy, green can be hairless.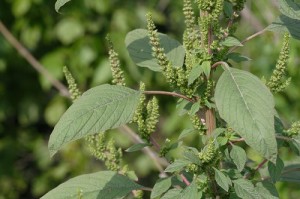 Smooth Amaranth flowers are short, petiole one half the lenght of the leaf to as long as the leaf.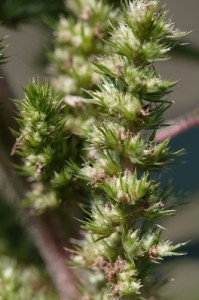 Smooth Amaranth flower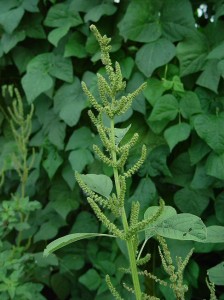 Smooth Amaranth, green form.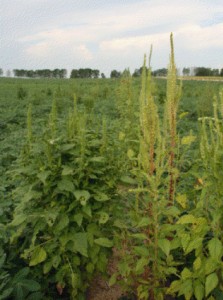 Amaranthus palmeri, Palmer Amaranth: Female left, Male right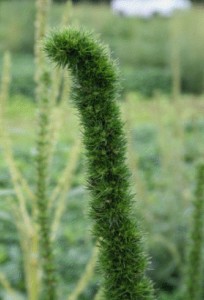 Palmer Amaranth, female flower is very long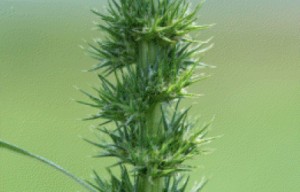 Palmer Amaranth, female flower is bristly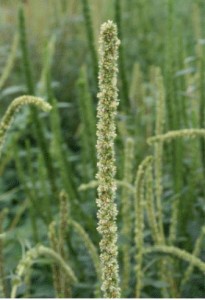 Palmer Amaranth, male flower is also long.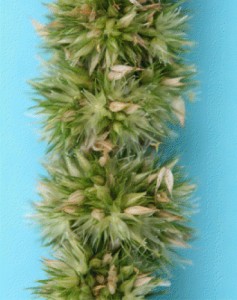 Palmer Amaranth, male flower is soft.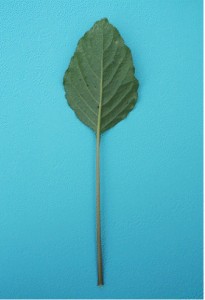 Palmer Amaranth, leaf petiole is as long as leaf or longer. Leaf also has white ribs on back. Top of leaf may or may not have a white chevron watermark.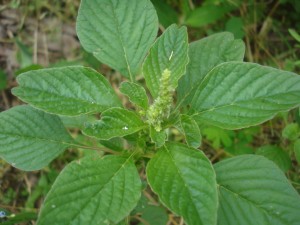 Amaranth viridis, Calalu, Smooth Amaranth, leaves can notched. Vlita (βλήτα) in Greek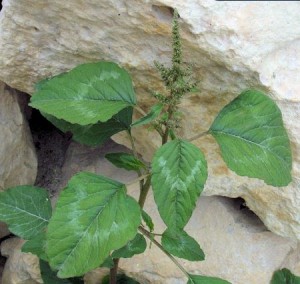 Smooth Amaranth's leaves can have chevrons. It can also have many branches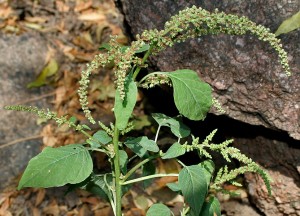 Smooth Amaranth flowers can be very long a droopy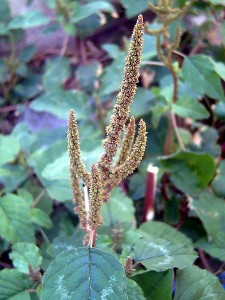 Smooth Amaranth, note red coloring of flower.
http://news.nationalgeographic.com/news/2013/08/130812-amaranth-oaxaca-mexico-obesity-puente-food/
http://www.ediblewildfood.com/pigweed.aspx
http://www.aihd.ku.edu/foods/Pigweed.html