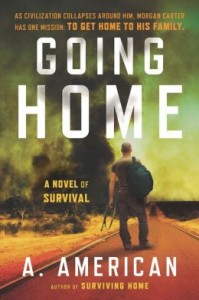 Going Home, by A. American, is one of the best books I've read in a long time; and possibly the best fictional survival book I've read thus far. And if you like it pick up Surviving Home as a follow on.
The story is one of a man on a business trip when the SHTF and his trials getting home to his family through over two hundred miles of now hostile terrain. I was fascinating watching the people move from a state of disbelief, to acceptance, to desperation, and finally to violent acts of necessity or opportunity. How many meals are we away from total anarchy? Most agree that after nine meals, or roughly three days, the system breaks.
As a warning, the content is extremely realistic; which means bad language, violence, graphic descriptions, and situations of moral dilemma. As I read this I saw many of my own fears manifest and it made me reevaluate my own preparedness situation. How well do I know my neighbors, do I have equipment with me when I'm on the road, and would my family be able to care for themselves in my absence?
I love the main character's human responses because I can put myself in his place. Would I have what it would take? I hope I never have to go through such scenarios; but if I do, have I prepared the tools of success? This book makes me look at the situations following Sandy and Katrina and the human response. Do we take matters into our own hands and prepare; or do we assume the government is preparing and will come save our butts?
If you need a quick wakeup call, or are simply looking for good advice on how to better prepare then this a book for you; if you simply enjoy novels with action then this a still a book to read. And remember that with preparedness comes peace of mind. Those who are most terrified of a major catastrophe are typically those that haven't started prepping. Those that don't fear a catastrophe are also those that haven't started prepping. The rest of us are somewhere in between.
Every can of food, box of bullets, or jug of water could be another day of self reliance and survival for you and your family. We hope for the best but prepare for the worst.
Jon