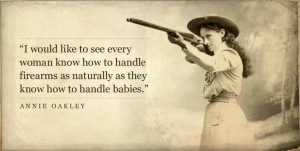 I thought a quick photo tribute to all those female shooters out there would be a fun addition. And let's face it guys; men who consider themselves manly men love a women that can hold her own on the range, hunting in the hills, and isn't defenseless when her man's not around.
And women, if you can't equal your man have him teach you. Women, if you can shoot better than your man; sweet, and power to you. And lastly, if your man is scared of firearms consider how much you care about him, because it's possible you should both be dating other men.
Men, remember that your woman is a battle buddy and not just a defenseless liability when the SHTF.
At the bottom is some interesting info on two Russian female snipers during WWII. Check out their short bios.
Jon
Thanks to Enemy at the Gates, we've all heard of Vasily Zaytsev; but the Russian sniper schools of the war turned out hundreds of female snipers that set a precedence for effective stalking and shooting.  Here are a few female snipers not to be taken lightly:
Liudmyla Mykhailivna Pavlychenko (July 12, 1916 – October 10, 1974) was a Soviet sniper during World War II. She is regarded as the most successful female sniper in history. In June 1941, 24-year old Pavlichenko was in her fourth year of studying history at the Kiev University when Germany began its invasion of the Soviet Union. Pavlichenko was among the first round of volunteers at the recruiting office, where she requested to join the infantry and subsequently she was assigned to the Red Army's 25th Rifle Division; Pavlichenko had the option of becoming a nurse but refused; "I joined the army when women were not yet accepted". There she became one of 2,000 female snipers in the Red Army, of whom about 500 survived the war. She made her first two kills as a sniper near Belyayevka, using a Tokarev SVT-40 semi-automatic rifle with 3.5X telescopic sight. Pvt. Pavlichenko fought for about two and a half months near Odessa where she recorded 187 kills. When the Romanians gained control of Odessa her unit was sent to Sevastopol on the Crimean Peninsula, where she fought for more than eight months. In May 1942, Lieutenant Pavlichenko was cited by the Southern Army Council for killing 257 German soldiers. Her total of confirmed kills during World War II was 309, including 36 enemy snipers.
Roza Georgiyevna Shanina was born to Anna Alexeyevna Shanina and Georgiy Mikhailovich Shanin in the Russian village Yedma on April 3, 1924 and died on January 28, 1945. She was known for her accurate shooting particularly in reference to targeting a moving object. She could kill two moving objects with a successive, rapid fire. She was one of the most famous snipers of WWII and was known as the unseen terror of East Prussia. She is credited with 54 confirmed killings including 12 enemy snipers. She was awarded the Order of Glory. Shanina died after she was shot while protecting a severely wounded artillery commander.
At the age of 15 when the war began, Klavdiya started work in a munitions factory. By age 17, she had volunteered for the local sniper school and was accepted. A girl with patience and enthusiasm, she was soon on the front lines working with another girl, Marusia Chikhvintseva, in a sniper/scout team. There, with a PU-scoped Mosin Nagant rifle and wrapped in camouflage, the two females engaged targets out past 500-meters and sometimes as far out as 1200. In a later interview, she explained the nature of her work:
"Because sniper's task was to eliminate commanders, machine gun emplacements, messengers that would be running around. They also had to be eliminated. Soldiers were not necessary, mostly — officers, commanders. You would fire one shot, let go of the rifle, and lie there. You would wait until your partner fired her shot. When it became dark, we left our position. During the day we walked around, looked for a good spot to lie in wait. Sometimes picked a spot in front of our trenches. After picking a spot, took up the position when it was dark. Then we lay there without moving a muscle until the next evening, because you couldn't crawl away in the daylight. If there was an attack, that was different, then you would get up and run. Otherwise, you would lie in that spot to the end."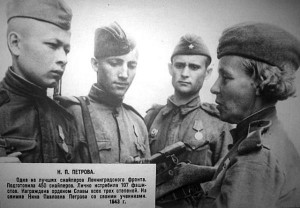 Born the century before, Nina Pavlovna Petrova was nearly middle-aged when the war came to her country. Volunteering for service, she went to sniper school and took 122 enemy soldiers in her sights before being killed at age 53 just seven days before the end of the war.