For those of you that are Blaze readers you've probably already read this article; but there is some good information to put out so I've shared the article in its entirety below.  I did however have one major issue with the article; I feel the author drastically downplayed the threat to give us a warm fuzzy on the situation.
What we are dealing with here is not one of several traditional Ebola strains, and as a consequence is still quite misunderstood and under-researched.  This is a virus that mutates at an astonishingly high rate.  We can't decide on whether or not it's airborne.  The virus shows any number of symptoms and not all symptoms at the same time in a given patient.  We don't know what the incubation period is.   And I'm bothered by the fact that I can read three different articles and get three different mortality rates.  To name a few off my list.  Oh yeah; did I mention we have a CDC and administration that are proving themselves utterly incompetent?  Sorry, I try and keep politics out of these articles; but for crying out loud…
Anyway, enjoy, and follow the link to the original article so you can share or post it if you find any validity to author.
Jon
4 Things That Won't Necessarily Protect You From Ebola…and 3 Things That Will
Oct. 17, 2014 11:18am    Liz Klimas
While there is no Ebola outbreak in the United States and health officials have said there is little reason for the general public to be concerned, the fact remains that some Americans are scared.
Just look at the passenger spotted at Washington Dulles International Airport wearing a plastic body suit.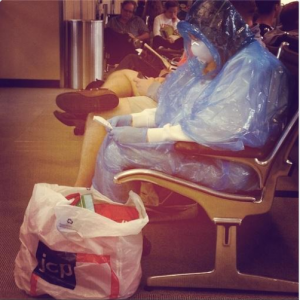 Then there was this doctor who last month donned similar gear to make a statement about his own international travel and a lack of checks at the airport.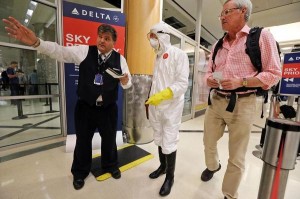 How to Protect Yourself From Ebola
Dr. Gil Mobley, a Missouri doctor, checks in to board a plane at Hartsfield-Jackson Atlanta International Airport while dressed in full protection gear, Oct. 2, 2014. He was protesting what he called mismanagement of the Ebola crisis by the Centers for Disease Control and Prevention. (AP/Atlanta Journal-Constitution, John Spink)
"We here in health intelligence have seen the broadest spectrum of behavior that you can possibly imagine," Katherine Harmon, director of health intelligence at iJET International, an operational risk management company, told TheBlaze. "We look for that kind of thing and what people are doing and what people are not doing in terms of diseases. Whenever you get these sort of anomalies — I'd call this an anomaly because who would think Ebola would pop up in America — it throws people for a loop."
If you truly are concerned about protecting yourself from Ebola because you feel there is a risk, there are some things you probably shouldn't do, but some practical things you could consider for your own peace of mind.
Things That are NOT Practical
"People get frightened and when they get frightened, they react irrationally," Harmon said.
Don't go buy a hazmat suit.
While you might think that a trip to Home Depot for a painter's suit, a set of goggles, gloves and a sawdust mask is in order, these items will not protect you from the virus should you somehow come into contact with infected bodily fluids. The personal protective equipment worn by medical professions is of a specific quality and grade. There are also very specific ways that PPEs must be put on and taken off to be considered effective. PPEs are only recommended for those in health care settings who are serving patients infected with or suspected to have Ebola.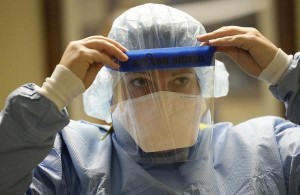 How to Protect Yourself From Ebola
Donielle Robertson, the clinical nurse coordinator for the adult emergency room at Presbyterian St. Luke's Medical Center in Denver, adjusts her face shield as she practices "donning and doffing" medical protection gear to treat Ebola patients. (Cyrus McCrimmon/Denver Post via Getty Images)
"I used to work in biosafety level 3 conditions," said Bianca Mothe, a professor of biological sciences at California State University, San Marcos. "Those suits are actually medical grade."
Most of the suits are one-time use, so anyone wearing one to protect against a pathogen would technically have to get a new one every time they used the restroom, Mothe added.
Regardless, the paper suits bought at a home improvement store are "not going to protect you," Mothe said.
"How much is a painter's suit going to protect you against maybe a microscopic amount of blood that could potentially get on your suit," she continued.
Don't avoid public transit.
You don't have to give up travel or use of public transit to get to and from work. Ebola is not considered an outbreak in the U.S., but it's also not airborne. The virus is transmitted only through direct contact with bodily fluids.
Even Peter Piot, a scientist who helped discover Ebola in 1976 when he was just 27 years old, said several months ago that he wouldn't be concerned about sitting near someone who was positive for the disease.
"I wouldn't be worried to sit next to someone with Ebola virus on the Tube as long as they don't vomit on you or something. This is an infection that requires very close contact," said Piot, now the director of the London School of Hygiene & Tropical Medicine.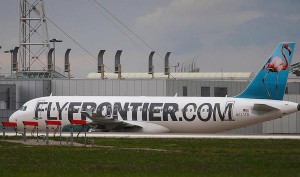 How to Protect Yourself From Ebola
A Frontier Airlines plane taxis the runway at Cleveland Hopkins Airport, Oct. 15, 2014 in Cleveland, Ohio. Ebola patient Amber Vinson traveled on Frontier Airlines from Dallas to Cleveland with a low fever on Oct. 10, then returned to Dallas on Oct. 13.  (Michael Francis McElroy/Getty Images)
Don't avoid school.
Many children were kept from Dallas-area schools after the first Ebola patient was reported there. Now, news of the second infected nurse who flew from Texas to Ohio and back before testing positive is prompting school closures in both states, as well as buildings at a San Diego college campus because of concern over secondary contact involving passengers on the flight.
"What is the purpose of that?" Mothe asked. "The only way going to get infected is if you come into direct contact with somebody actively showing symptoms of Ebola and touching their fluids."
While initial reports said the nurse, identified as Amber Vinson, did not have symptoms when she flew, more recent accounts suggested she may have been symptomatic earlier than thought.
Don't buy into "fringe" conspiracy theories.
Harmon said she has seen people trying to capitalize on the current fear factor surrounding Ebola by encouraging them to buy special kits or to quarantine themselves. Harmon said that, in general, such measures aren't warranted.
On the opposite end of the spectrum, Harmon said she's seen a "very small minority" of people in the U.S. who don't believe the situation at all.
"[They] think it's just a conspiracy … to get you to buy into more government control" and let the government "institute martial law and take away rights in the name of disease," she said.
Here Are Practical Things You Can Do to Avoid Ebola (and Other Infectious Diseases)
Wash your hands.
This No. 1 staple of all personal hygiene also holds true when it comes to Ebola as well. In its recommendations, the CDC says soap and water is sufficient to wash away the virus. It also said the use of an alcohol-based hand sanitizer is fine as well, though if hands are visibly soiled, nothing can replace good old soap and water.
So regular soap is good enough?
"The soap itself has a form of detergent," Mothe said. "The detergent properties of soap will actually destroy viruses and bacteria … anything it comes into contact with because it breaks up their membranes."
BHOPAL, INDIA – OCTOBER 15: Chief minister Shivraj Singh Chouhan with school students during the Global Handwashing Day programme at an Aanganwadi center on October 15, 2014 in Bhopal, India. Various activities were organised to help students understand the importance of washing their hands with soap. The world handwashing campaign aims to create awareness and understanding of hand washing with soap as an effective and affordable way to prevent disease. It takes place on October 15 of each year. Hindustan Times/Hindustan Times via Getty Images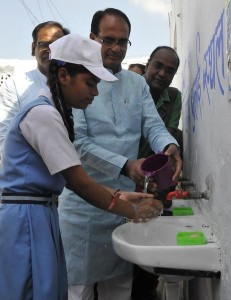 Avoid sick people.
If you travel to a country in West Africa impacted by the historic outbreak, avoid people exhibiting symptoms of Ebola and do not touch any of their bodily fluids. While some of these fluids would be obvious to avoid — vomit, diarrhea and blood — other fluids such as saliva, breast milk and semen should be avoided as well. The CDC also recommends not coming into contact with the clothes, bedding or other belongings of an infected person.
The same is true if you experience any type of illness yourself, Harmon said.
"Practice social distancing when people are sick. Sneeze and cough into crook of your arm and not in your hands. [Don't go] out when you're ill, spreading those things around," Harmon said — all common-sense practices most people already do around illnesses like the flu.
Educate yourself.
"More information about the actual biology and transmission of the virus is needed" to help quell unmerited fears of how Ebola spreads, Mothe said. "Everyone needs to take a step back and think 'What is Ebola? What is the actual risk?'"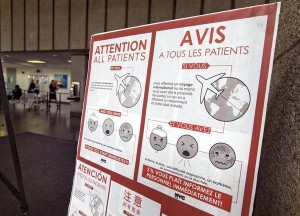 A sign advising advising those who are showing possible Ebola symptoms is posted in a lobby of New York's Bellevue Hospital, Wednesday, Oct. 8, 2014. The U.S. government plans to begin taking the temperatures of travelers from West Africa arriving at five U.S. airports, including the New York area's JFK International and Newark Liberty International, as part of a stepped-up response to the Ebola epidemic. (AP Photo/Richard Drew) AP Photo/Richard Drew
A sign advising advising those who are showing possible Ebola symptoms is posted in a lobby of New York's Bellevue Hospital, Oct. 8, 2014. (AP Photo/Richard Drew)
As has been reiterated by health professionals many times recently, Ebola is not airborne. Though the theoretical possibility for Ebola to mutate and become airborne or change its mode of transmission has been discussed lately, Mothe, like many others, said it's very unlikely.
"As of right now, we don't have any indication that Ebola is mutating or changing to become airborne," she said. "There are not enough cases for it to become endemic…for it to be able to do that, it itself has to change."
http://www.theblaze.com/stories/2014/10/17/4-things-that-wont-necessarily-protect-you-from-ebolaand-3-things-that-will/