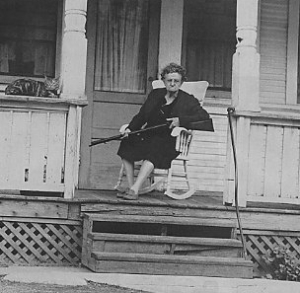 There are many reasons for bugging in; remaining in your current home for a portion of or the duration of an emergency.  So here are some thoughts.  I've browsed many of my favorite survival websites to see what they are say on the topic (links are below), as well as adding some personal thoughts and insights into the topic.
Secrecy: Don't tell people what you have; aside from maybe family, and other preppers. As people get hungry and desperate; you may regret telling neighbors and basketball buddies how much food storage and ammunition you have.  In the face of desperation it is hard to know who you can trust.
SDSU (sit down shut up): This first occurred to me several years ago while reading the Zombie Survival Guide by Max Brooks.  When the SHTF, the grocery stores start running out of food people will begin the mass exodus out of town.  Do not get caught on the side of the road out of fuel and out of food with thousands of other desperate people.  Keep your presence hidden and hang low.  Take a breath and be inconspicuous.
Stock up: Most American families have 3 days of food on hand; most grocery stores have 2 days of food on hand.  If you don't believe me ask your neighbors, or stock boys from your local store.
Strength in numbers: If you have to venture out in the first few week, most people will have fled the city within 2 weeks, do it in small well-armed groups.  Make yourself a hardened target and people will be less likely to approach you or cause trouble.
Intel: Not because you are looking at depending on your neighbors; but establish a good reputation and find out what assets are around.
Hygiene: Even something as simple as continuing to use the bathroom (no doubt outside in a pit after the SHTF) without paying proper attention to the washing of one's hands before eating could lead to severe sickness.  Add to that the fact that there could be very few accessible Doctors or prescription drugs and things could quickly spiral out of control.  Great care should be taken to maintain some semblance of clean living, brushing and flossing one's teeth daily, using baby wipes or other methods to "shower" up, disinfecting the small wounds that are sure to occur to avoid infection.
Security: Hopefully you would work with your community to identify and secure a small area encompassing all of your homes, almost creating an outpost of sorts.  Also consider the following when planning your security strategy.
Home Appearance: There has to be a careful balance here, you don't want to attract attention to your house but you also do not want to be seen as a soft target.  Based on your home's location and how many people you have living in close proximity to you will help to determine what course of action you choose.  A "ransacked house" look might be more practical than the "fortress."  A home that looks like it has been torn through a few times will be much less noticed than a home with boarded up windows, sandbags and concertina wire in the front yard.  Hopefully you will be able to find a decent compromise which allows you to remain somewhat incognito but still maintain some semblance of security.
Light Discipline: When the sun goes down, all lights stay off, it's just that simple.  Most people who do end up on the road will probably travel at night as a precautionary measure, and keep in mind even a small candle can be seen through a window from miles away.  You don't want to broadcast your location to the world by keeping the lights on at night.  Use a red or blue lens flashlight if you have to and cover up the windows.
Guard Roster: Depending on how far into SHTF things have progressed and how volatile things are in your area you should consider leaving someone up at night.  Think like a bad guy for a second.  They will try to break into your place under the cover of darkness and it will probably be sometime just after midnight when they think you are completely asleep.  If you can't spare anyone to stay up at night hopefully you have an alert dog.
Locks, Bars: Consider additional low cost methods of securing the entry points to your home.  If you have a sliding door which leads to a back deck or patio, realize this is a huge security risk.  It is relatively simple to pry a door up out of its tracks and it can be done quickly with minimal tools.  Consider using a barricade on your door, or even something as simple as a door jammer.
Early Warning: Cheap early warning devices might succeed in thwarting amateur-ish criminals, at the very minimum they could wake your dog or provide you with the suspect's location.  Something as simple as stringing up a few pop cans on para cord, or emplacing Cyalume trip flares will let those who are approaching know that your home has not been left undefended.
Water: I'm assuming you probably have enough potable water on hand to sustain your family for a few weeks or maybe even a month.  I am also assuming, like any good prepper, that you have ways to filter water obtained from various non-traditional sources.  Does your neighborhood have a pool?  This will be a huge resource if the SHTF.  Don't forget to identify ponds, lakes, streams within your immediate area and your methods for retrieving water from those sources.  Water is heavy and constant trips to a river which is 1/2 mile from your home (one way) will prove to be exhausting if done on foot.  Also think about getting a bladder for filling your bathtub with drinking water before the pressure drops.
Fitness: You simply cannot sit inside your home every day, eating MREs and pulling guard duty and not expect to get fat.  Have some sort of fitness plan which incorporates muscular endurance and cardiovascular fitness.  You don't need a gym or running track to accomplish this task, much can be done utilizing one's own body weight and a jump rope.
Medical: Have a good first aid kit on hand. Take a look at some of the basic combat life saver bags used by the military for an idea of what might be worth keeping on hand.  And remember that a med kit doesn't have to be the size of an ambulance.
Trash: when the SHTF the Garbage man won't be around once a week to take your nasty bags of trash and dirty dippers.  While it does stand to reason that there will be much less trash produced after SHTF (many items will be re-purposed), having a good plan for waste will be important.  Once the critters and vermin arrive they become very hard to eradicate.  I'm quite partial to organics into the compost pile, woods papers and cardboard for a wood burning stove, and a 55 gallon burn barrel for the rest.
Communications: I'm doubting that your mobile unlimited plan will be worth anything after the SHTF, so it might be a good idea to have a commo plan in place when operating around your neighborhood.  Some ideas might be two way radios, TA-312 phones for LP/Ops, HF radios, CB radios, and tons of other cool stuff.
Egress Strategy: Nothing more than your Bug out plan, which of course could be complicated by the fact that your vehicles no longer work and you have long since dug into your supplies (reducing your overall readiness level).
Food: No matter how much food you have in storage, given enough time it will run out.  With that in mind you should already have identified ways to come up with additional food through other means.  Whether that involves starting your own garden or attempting to hunt (although you shouldn't depend on that) emphasis should be placed on finding sources of food through unconventional methods.  Even a robust food storage supply can be depleted much quicker than anticipated.  If possible keep you garden growing out of site and out of mind of passer byers.  Also learn what kinds of weeds are edible.
Weapons and ammunition: bugging in means you can keep a lot more ammunition on hand.
Sectors of fire: if things get real do you all know which windows and doorways are your areas to protect. Don't leave dead zones in your yard or around the house for bag guys to take advantage of.
Home alone: check some VC handbooks and think of the cool traps you can set.  Bear in mind you are probably not looking to kill and maim your neighbors.
Have more tips?  Drop a line below.
Jon
http://www.prepper-resources.com/10-tips-for-bugging-in/
http://www.thesurvivalistblog.net/securing-your-bug-in-location/
http://www.efoodsdirect.com/blog/six-must-know-tips-for-bugging-in/