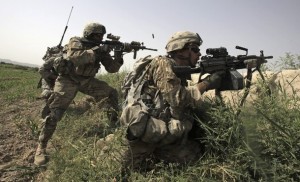 I just wanted to share some food for thought. Many of us have friends and family forming our little survival groups if the SHTF; but how is it broke down. Do you have designated positions and a leadership structure, or just a bunch of pseudo wannabe snipers? I love literature, especially books on military science and history, and I've been impressed by some of the details hinted at our plainly laid out.
What all this really comes down to is you cannot be an expert in all things; and if you plan on surviving with friends and family you need to distribute the proficiency to some degree. This can be simple as most of you bring a wide variety of experience to the table and will naturally fall into team slots.
Every group needs a leader, or chain of command. If you are faced with a dilemma do you plan on taking a popular vote? Or is the group organizer calling the shots? The last thing you need is a falling out because of a tough choice. Militarily we have the rank structure. During the American Civil War many early volunteer companies voted on their command structure. Even most pirate crews from earlier era's captains were democratically elected and could be pulled out of a leadership role via a vote of the crew.
I hope you have a medic in your survival team; because at some point you will need one. Modern army squads, and in some cases every single combat vehicle crew, will have a CLS or combat life saver. This soldier still has the priority of soldier, but when a lull in combat occurs his job is to keep casualties alive until they can be evacuated or a medic arrives on the scene.
In the book Inside Delta Force; the author, a member of delta force from the early 80s, talks about having two simplified types of operatives in a combat scenario, near and far shooters. While the near shooters armed with pistols and submachine guns move in on a target, roughly half the personnel in the group play the position of over watch with long range weapons. Doubtless tactics and changed and adapted since then.
A traditional infantry squad can be broken down to a squad leader, team leaders who is typically the point men, automatic riflemen, grenadiers, and standard riflemen. They will also have designated radio men, and compass man, and a pace man. Across the world there a great fluctuations to this breakdown but it helps bring out the concept of specialized troops.
If you have to secure a building do you have a designated team leader, an assigned breach man, and assigned number one man, an over watch man on a neighboring building, and predesignated movements; or are you going to be flexible and fluid in positions. Who has the shot gun for shooting out a door handle and is he simultaneously going to be the first man through the breach?
Army special operation groups now days are a great example of team cohesion and specialized roles. They can be made up of varying positions including, but not limited to; a team leader, weapons specialist, engineer, medic, communications, intelligence, operations sergeant, etc.
Even sniper teams can typically be broken down into a more experience spotter calling and walking in the shots, and the more junior at the trigger of the weapon.
It might be worthwhile having a man on your team that is an expert in outdoors skills such as wilderness survival and tracking. Or maybe you have a nerd in your group who flies RC airplanes; can he invest in and operate a drone for recon purposes? Do you have a person who is an expert at land navigation? And the list goes on.
In conclusion this is simply a brief overview to give you some ideas, and get the gears in your head turning. Do some research; and if you have the man power, and resources have a sit down and decide what direction you want to take you apocalypse team. If your designated leader gets wounded or put out of commission do you have a second in command or do you have to sit down and squabble as bullets fly around you? Food for thought.
Jon