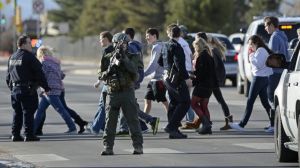 A school shooting is an occurrence in which an individual discharges a gun at an educational institution, such as an elementary school, secondary school, or post-secondary institution. A school shooting involves an individual discharging a firearm at a school infrastructure and may refer to incidents of an individual or individuals discharging a firearm on a school bus or near school property while school is in session. A school shooting can happen anywhere in the world where a person takes a gun into a school setting. These shootings have sparked a political debate over gun violence, whether firearms should be allowed in the classroom and whether there should be stricter gun control.
Below are some prominent cases concerning mass shootings in schools over the last two decades for you to browse over if you are curious. Cases of students bringing a fire arms to school and shooting single students are not among the cases below because they typically deal with a student and a directly correlated issue not involving sideline victims. Over the last decade the trend has been for gunmen to commit suicide rather than face the consequences of their actions. And the shooters have shown little or no discrimination towards age, race, or gender.
And while firearm control can be a wonderful topic to argue to debate and speculate on it serves little purpose in this article. It is unlikely that there are firearms present in your school due to campus, school, or state policy; and it is not a safe assumption that a properly trained faculty member is going to be there to stop an active shooter before that barrel is directed at a student or faculty member. Over the last 20 years very few mass school shootings, once initiated, were stopped by an armed faculty members; only one is mentioned below. This does not indicate shootings have been deterred or stopped before they occurred because of a concealed carrier.
Although it is statistically unlikely your children will ever be subject to the terror and loss of life affiliated with a school shooting; the shock comes via the indiscretion of their targeting and the loss of innocent defenseless lives. I myself cannot comprehend the evil or level of mental degradation required to commit such atrocities.
From policemag.com, Quicker Response to Active Shooters by Amaury Murgado:
"There are four possible ways to mitigate the damage inflicted by an active shooter. You can harden the target, arm and train potential victims, strengthen prevention programs and suspect identification, and improve law enforcement response times. Each one of these steps is easier said than done because of the associated bureaucratic, political, and budgetary considerations.
Department of Homeland Security research reveals that the average duration of an active shooter incident at a school is 12.5 minutes. In contrast, the average response time for law enforcement is 18 minutes."
What does this mean? It means that while law enforcement is fast and effective; it's not likely to make a difference in the outcome of a surprise incident, as most school shootings are. The faculty and student body are likely going to find themselves subject to the entirety of the shooters intentions until he is subdued by present persons or turns his firearm on himself; as appears to be the trend over the last decade. Plan on protecting yourself and those around you, and not relying on outside sources to come to the rescue.
I'm not an expert on taking down shooters, but during my military service I've had the opportunity to receive instruction from and train with law enforcement in actual local schools at night. Most departments will react very quickly effectively once on the scene; and many train specifically at schools after hours so that they are familiarized with the buildings they may be called to respond to.
Now that you've read through all that stuff let's take a look at some possible courses of action. And these can be applied for dealing with most active shooters, not just at school. Your first instinct will be either fight, flight, or freeze. Human reaction is typically going to fall under the 10-80-10 rule, according to the Survivors Club (a must read), meaning that 20 percent of us will make a decision good or bad, and the other 80 percent are likely to freeze and have a mental shut down. I don't know how this transfers to children, as those numbers are dealing with adults in catastrophic situations. Below are some great thoughts from wikiHow because they summarized my own research quite eloquently. I've also attached a great PDF at the very bottom that is worth taking a look at.
Running Away
1
Decide if you should run, hide, or fight. If you are able to run away from the shooter in a reasonable amount of time, then it's time to start running as fast as you can. Though you may freeze and be too scared to do anything, remind yourself that runners have the highest survival rate in a shooting. If you can't run away because the shooter is too close or because you're responsible for a group of small children, for example, then you should decide whether you have enough time to barricade yourself in a room before you hide.
If you don't have time to barricade yourself, then worry about hiding.
If the shooter attacks you, you'll have to fight him — this will be your only chance at survival. Read below to find out how.
2
Run away if you can. If you hear shots in the distance but feel that you can run or escape reasonably safely, then it should be time to plan your escape path. Though you may freeze when you hear the sound of bullets, you need to be able to react immediately and see if running is your best option. Runners have a higher success rate in shootings than people who hide, so if you feel that the shooter is far enough away for you to make a run for it, then now is your chance.
If the shooter is in close proximity to you, whether he's running up the hall or outside your door, then skip to the next section to look out for tactics for hiding.
Reacting immediately is crucial to this situation, whether you're running or hiding. Don't freeze up and delay your reaction. This may not give you enough time to run away even though that may be your best option. Freezing can force you to end up hiding, which may not be your best move.
3
Run in a zig-zag pattern or crouch down as you run. Though your first instinct will be to run straight ahead, since you'll be running for your life, you should run in a zig-zag pattern to minimize your chances of being shot. If the shooter approaches at a distance and aims his gun at you, you'll be harder to shoot if you're not running in a straight path that gives him enough time to aim his gun. You can also crouch down as you run so it's more difficult to shoot you.
Run as fast as you can and try to run in a zig-zag pattern or crouch at the same time. But if this is slowing you down or disorienting you, just run forward.
4
Forget your belongings. If you've determined that it's best to run, then forget your wallet, your purse, or your cell phone. Though your first instinct may be to take your possessions with you, none of them are as important as your life.
5
Bring people with you. As you're running, encourage others to run. If someone looks disoriented or too scared to move, grab that person and drag him with you. Tell the people that running is crucial to your survival. If you're running in a bigger group, it'll be harder to target you individually, and you'll have strength in numbers if you do run up against the shooter.
Hiding and Barricading Yourself
1
Determine if you should hide and barricade yourself. It should only take a few seconds to determine if your best course of action should be to run or to hide. If the shooter is rapidly approaching the room you're in, then you should prepare to hide as soon as possible. If you have more time, but not enough time to run, then you should barricade yourself and call the authorities before you hide. If you need to hide and have time to barricade yourself and there are multiple people in the room, you should delegate tasks:
One person or group of people should lock and barricade the door.
One person or group of people should call 9-1-1.
One person or group of people should grab all the weapons he can find.
2
Turn off the lights. Immediately turn off the lights in the room where you are. This will disorient the shooter and make it look less likely that there are people in the room where you are.
3
Lock and barricade the door. Lock the door immediately and do anything you can to make it more difficult for the shooter to enter. Remember that most shooters only have a few minutes before the police show up, and they're not interested in taking the path of most resistance. Lock the door, place a doorstop on it, and place all heavy furniture like desks and chairs in front of the door immediately to deter the shooter. If the shooter is approaching, get away from the door as soon as you can to keep yourself from being shot through the door.
If you're in a bathroom that doesn't lock, use a belt or t-shirt to tie the metal latches on top of the door that allow it to open and close.
Once you've locked and barricaded the door, stay away from the door and all windows immediately.
4
Call 9-1-1. If there's a landline in the room, pick it up and call 9-1-1 immediately. Using a landline instead of your cell phone is the best move because the police will automatically be able to trace the call, which they would not be able to do if you called from your cell phone.
5
Grab any weapons you can find. Look around the room where you're hiding and find anything that you can use as a weapon. It can be a stapler or sharp scissors you find in the teacher's desk, the hot coffee in the kitchen of your office, beakers in a science room, or anything that is sharp, heavy, made of glass, or which can be used as a weapon. Hold on to these weapons in the event that the shooter enters the room where you are.
6
Hide. Once you've grabbed your weapons, it's time to hide under desks, chairs, in closets, or in any hiding places that are convenient. No matter where you hide, you should stay low to the ground to make yourself less of a target. If you have time, turn off your cell phone so the sound won't encourage the shooter to approach you.
7
Try to stay calm. Though this may seem nearly impossible, it's crucial that you stay absolutely silent. Tell people that whimpering or crying will only make the shooter more likely to find you. Be mentally prepared for the event that the shooter comes into the room and finds you. In that case, you'll have no choice but to fight.
8
Wait. Once you've hid and barricaded yourself, all you can do is wait for the police to arrive and save you, or wait for the shooter to approach, in which case you'll have to hide. When the police arrive do not run to them or request help, as this may cause them to think you are a threat. Do exactly what the officers tell you to do, do it quickly, and do it without argument or protest. Be as helpful as possible to the authorities. Tell them everything you know.
9
Remember that attacking the shooter is your final option. You shouldn't jump out of your hiding place and attack the shooter if he's approaching. You should only fight him if you're sure that you'll be shot if you do nothing.
Attacking the Shooter
1
Do not try to reason with the shooter or plead for your life. Trying to engage with the shooter, ask him what he's doing, or to plead for your life by talking about your family has not been proven effective in dealing with shooters. The shooter will be on a rampage and will be beyond hearing the voice of reason, so don't waste your time by trying to talk to him — you're much better off fighting.
2
If there are multiple people in the room, ambush the shooter. If there are multiple people in the room and he can see all of them, then you should all try to attack him at once, hurting him, throwing objects, and doing everything you can to render him powerless. You may not want to fight the shooter if you see that someone else is doing it, but strength in numbers will make it more likely that you'll survive.
3
Attack the shooter with any weapon you can. Use your sharp scissors, glass, or any other sharp or heavy objects to attack the shooter immediately. Even a sharp ballpoint pen or pencil could be the perfect weapon for gouging out the shooter's eyes. You're fighting for your life and every second counts. Don't hesitate just because he has a gun and you don't.
4
Aim high. Try to hurt the shooter in the face, eyes, shoulders, or neck, or arms, so that he's more likely to let go of his weapon. You should stab him in the neck, gouge out his eyes, or stab him in the arm — doing anything you can to make him get rid of that weapon or to hurt him so the weapon is within your reach.
Kick him in the crotch. If you can't go for his face or weapon, kick him in the crotch. This will be an effective way to disarm him and to cause him a large amount of pain.
5
Don't think about being shot. Focus on fighting for your life, knowing that most people who are shot by a gun actually survive. Stay strong and fight for your life with everything you've got instead of worrying about the worst-case scenario. This may sound nearly impossible, but this is the best thing you can do if you want to survive the shooting.
Preventing or Preparing for a School/Workplace Shooting
1
Report any suspicious activity. Keep alert and always report suspicious incidents to the authorities. If a student or co-worker talks about killing people or threatens to bring a knife or a gun to school, report this to a teacher or law enforcement. You may prevent a disaster by doing so. Many shooters often announce their plans ahead of schedule as a way of showing off; do not take their behavior lightly or as a joke and report it immediately.
2
Be aware of your school or workplace's lockdown procedure. Every school and office has some kind of lockdown procedure that stipulates how doors should be locked, where people should hide, and how the authorities should be called, so if you'd like to be prepared for a shooting, be familiar with your workplace's standard procedure when it comes to shootings. Unfortunately, it may be difficult to follow protocol exactly in the event of a shooting, but knowing what it is can help you react in the most helpful way possible.
3
Be prepared for a shooting. Though you should not bring a weapon to school or to the workplace just in case there is a shooting, if you'd really like to be prepared, you should take self-defense classes or other classes that teach you how to fight off an attacker in the event of an attack or shooting. Knowing a few fighting tricks can help you feel more confident in the event that you have no choice but to attack a shooter.
When Emergency Services Arrive
1
Wait for the police or emergency crew to assess the situation. Do not reveal your position or run to the officers. This action may create confusion and the officers may open fire on you. Patiently wait for the rescue crew to bring the situation under control.
If you are wounded wait for a paramedic or firefighter, so they can send you to the hospital.
2
Listen to police or military instructions. When you're leaving the building a police officer or a solider will escort you to the exit.
Tips
Seek therapy afterward, if the event was deeply troubling for you.
Do not attack your shooter if s/he says that s/he can see you. Unless they're looking directly at you, they're probably not telling the truth.
If you are in the same area as the shooter, find cover, fast. If the shooter opens fire, attempt to take cover behind heavy furniture or any other heavy obstacle. If there is nothing close, simply drop to the floor and lie flat. This will protect your vital organs and make you a smaller target to the shooter. Lying flat could also make the shooter mistake you for dead. Remain quiet and still.
If you can see the shooter(s), the shooter(s) can probably see you.
If you come face to face with the shooter, run away in a zigzag pattern. It will be hard for the shooter to accurately shoot a moving target.
Actual Cases
May 1, 1992, Olivehurst, California
4 killed, 10 wounded
Lindhurst High School shooting Eric Houston, 20, killed four people and wounded 10 in an armed siege at his former high school. Prosecutors said the attack was in retribution for a failing grade. Eric Houston was arrested and faced the death penalty.
October 1, 1997, Pearl, Mississippi
3 killed, 7 wounded
Pearl High School shooting: Luke Woodham, 16, murdered his mother at home before killing his ex-girlfriend and another student and wounding seven others at Pearl High School. The perpetrator attempted to flee police and continue his killing spree at a nearby middle school, but he was stopped and detained by the Vice Principal, Joel Myrick, who had retrieved his .45 caliber handgun from his coat after hearing the shots fired. Woodham and his friends were said to be outcasts who worshipped Satan.
March 24, 1998, Craighead County, Arkansas
5 killed, 10 wounded
Westside Middle School massacre: Mitchell Johnson, 13, and Andrew Golden, 11, killed four students and one teacher and wounded ten others as Westside Middle School emptied during a fire alarm intentionally set off by Golden.
May 21, 1998, Springfield, Oregon
4 killed, 23 wounded
After killing his parents at home, Kip Kinkel, 15, drove to Thurston High School where he shot and killed two students and wounded 23 others. He was sentenced to 111 years of prison.
April 20, 1999, Littleton, Colorado
15 killed, 21 wounded
Columbine High School massacre: Eric Harris, 18, and Dylan Klebold, 17, killed 14 students (themselves included) and one teacher, and wounded 21 others before committing suicide.
March 5, 2001, Santee, California
2 killed, 13 wounded
Santana High School shooting: Charles Andrew Williams, a 15-year-old student, opened fire at Santana High School, killing two students and wounding 13 others. He was arrested and convicted of murder and attempted murder. He was sentenced to life with the chance of parole after serving 50 years.
March 21, 2005, Red Lake, Minnesota
10 killed, 7 wounded
Red Lake massacre: Jeffrey Weise, a 16-year-old student, opened fire at the Red Lake Indian Reservation, first killing his grandfather and grandfather's companion. He drove his grandfather's police vehicle to his high school, Red Lake Senior High School. Weise was armed with his grandfather's police weapons—a .40 caliber Glock 23 pistol, Ruger .22 caliber pistol, and a Remington 870 12-gauge shotgun. He shot and killed five students, one teacher, one security guard, and then committed suicide. Seven other people were wounded in the shooting.
October 2, 2006, Nickel Mines, Pennsylvania
6 killed, 3 wounded
Amish school shooting: Charles Carl Roberts IV, a 32-year-old milk truck driver, shot to death five Amish girls and wounded five others before killing himself in an Amish school in the hamlet of Nickel Mines, in Bart Township, Lancaster County.
April 16, 2007, Blacksburg, Virginia
33 killed, 25 wounded
Virginia Tech massacre: Seung-Hui Cho, aged 23, shot and killed 32 students and faculty members, and wounded another 17 students and faculty members in two separate attacks on the same day, all before Cho committed suicide.
February 14, 2008 , DeKalb, Illinois
6 killed, 21 wounded
Northern Illinois University shooting: Steven Kazmierczak, 27, shot multiple people in a classroom of Northern Illinois University with a 12 gauge Remington Sportsman 48 shotgun, killing five and injuring 21. He then committed suicide. Kazmierczak was not a student at the university, but had attended it the years prior to the attack.
February 27, 2012, Chardon, Ohio
3 killed, 3 wounded
Chardon High School shooting: Thomas "T. J." Lane, 17, took a Ruger MK III .22 caliber semi-automatic handgun and a knife to Chardon High School and fired ten shots at a group of students sitting at a cafeteria table. Three students died in the attack; a 16-year-old boy died immediately, and two other male students died from their wounds the following day. Three other students were injured. Lane was arrested when he was standing near his car parked near the school, and was charged as an adult with murder, attempted murder, and firearms offenses. In March 2013, he was sentenced to three life sentences without the possibility of parole.
April 2, 2012, Oakland, California
7 killed, 3 wounded
Oikos University shooting: One L. Goh was accused of shooting to death seven students and wounding three others in a classroom at Oikos University, a small Christian college. The gunman told the students in the classroom to line up against the wall, and exclaimed "I'm going to kill you all!" before firing the gun at them. He fled the scene, stealing a victim's car, and was apprehended hours later in a nearby location. The weapon used was a .45 caliber handgun. Goh was charged with seven counts of murder and is believed by his psychiatrist to suffer from paranoid schizophrenia. In January 2013, Goh was determined to be unfit for trial.
December 14, 2012, Newtown, Connecticut
28 killed, 2 wounded
Adam Lanza, aged 20, killed 26 people and himself at the Sandy Hook Elementary School. He first killed his mother at their shared home before taking her guns and driving to the school. Lanza brought four guns with him; A Bushmaster .223 caliber XM15-E2S rifle, a Glock 10mm handgun, a Sig-Sauer P226 9mm handgun, and an Izhmash Saiga-12 12 gauge shotgun which was later found in the trunk of the car and not used in the shootings. During the attack, 20 first-grade children aged six and seven were killed, along with six adults, including four teachers, the principal, and the school psychologist. Two others were injured. Lanza used the Bushmaster .223 caliber rifle against all of the victims at the school. He then took his own life with one of the handguns as police arrived at the school. According to the state's chief medical examiner, H. Wayne Carver, all of the victims were shot between 3 and 11 times.
June 7, 2013, Santa Monica, California
6 killed, 4 wounded
2013 Santa Monica shooting: Six people, including the shooter died and four others were wounded at or near the campus of Santa Monica College when a lone gunman opened fire on the school campus library after shooting at several cars and a city bus at separate crime scenes. The gunman, John Zawahri, was fatally wounded by responding police officers. Among the dead were the shooter's father and brother, both of whom died inside a house that was set on fire a mile or so from the Santa Monica College campus.
October 21, 2013, Sparks, Nevada
2 killed, 2 wounded
12-year-old seventh-grade student Jose Reyes opened fire with a semi-automatic handgun at the basketball courts of Sparks Middle School, injuring one student in the shoulder. A teacher, Michael Landsberry, who was trying to intervene with the gunman was then shot and killed by Reyes, as he was standing on a playground. Reyes shot and wounded student who tried to come to Landsberry's assistance after he fell onto the ground. That student suffered an injury to his abdomen. Reyes then committed suicide by shooting himself in the head. The shooting happened before classes, and the school was evacuated and was closed for the week.
May 23, 2014, Isla Vista, California
7 killed, 13 wounded
2014 Isla Vista killings. 22-year-old Elliot Rodger went on a stabbing and shooting rampage just outside the main campus of the University of California, Santa Barbara. Some campus buildings were within the route of the shootings. The spree began when Rodger stabbed to death three men in his apartment. Leaving the scene in his car, he drove to a sorority house, where he shot four people outside, fatally wounding two female students. He drove to a nearby deli and shot to death a male student who was inside. He then sped through Isla Vista, shooting at bystanders and striking four people with his car. Rodger exchanged gunfire with police twice during the killing spree. The rampage ended when his car crashed into a parked vehicle and came to a stop. Rodger committed suicide from a self-inflicted gunshot wound to the head.
October 24, 2014, Marysville, Washington
5 killed, 1 wounded
Marysville Pilchuck High School shooting. On October 24, 2014, at around 10:39 a.m. PST, officials ordered a lock-down of the school due to an "emergency situation." A gunman, later identified as Jaylen Fryberg, who was a student in the school, shot five students, fatally wounding four, in the school cafeteria before committing suicide.

ActiveShooterSafetyConsiderations
Jon