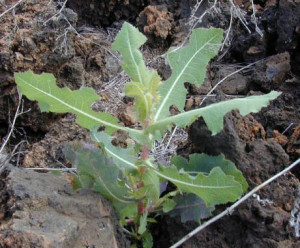 Lactuca serriola, also called prickly lettuce, milk thistle (not to be confused with Silybum marianum, also called milk thistle) compass plant, and scarole, is an annual or biennial plant, slightly foetid, that is commonly considered a weed of orchards, roadsides and field crops. The leaves grow along a spiny stem and get progressively smaller as they reach its top. They emit latex when cut. Many flowers are produced and usually appear in the upper part of the plant. It is known as the compass plant because in the Sun the upper leaves twist round to hold their margins upright.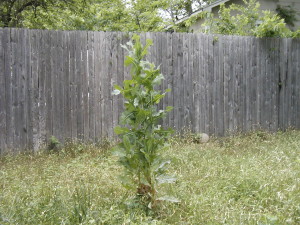 It has a hairless reddish stem, containing a milky latex, growing from 30 to 200 cm. The leaves are oblong lanceolate, often pinnated (especially for the lower leaves), waxy grey green. Fine spines are along the edges. The undersides have whitish veins. The flower heads are 11 to 13mm wide, are pale yellow, often tinged purple. The bracts are also often tinged purple. It flowers from July until September. The achenes are grey, bristly tipped. The pappus is white with equal length hairs.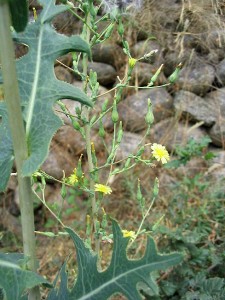 The sap of lettuces is milky, and their name "Lactuca" comes from the Latin word for milk. Most plants with milky sap are poisonous, though there are a few exceptions. The flowers look a bit like dandelion flowers.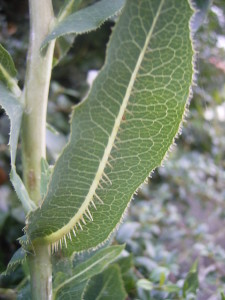 The plant can be eaten as a salad, although it has something of a bitter taste. Young leaves can be eaten raw or cooked. In the island of Crete in Greece the leaves and the tender shoots of a variety called maroula (μαρούλα) or agriomaroulo (αγριομάρουλο) are eaten boiled.

Jon

Pictures and information couticy of:
http://en.wikipedia.org/wiki/Lactuca_serriola
http://www.survival.org.au/bf_lactuca_serriola.php