Time for a few more images of the apocalyptic future. I love images of the world of humanity falling apart.  In this case an entire city, modeled after our very own Manhattan was built and never occupied.  These images come from China. According to Zhang Peng the unfinished buildings and vacant streets in Xiangluo Bay. Yujiapu & Xiangluo Bay, a new biggest central business district under construction in Tianjin , has been expected to be China's Manhattan, now is reported as a Ghost city. The nation's slowing economy is putting the project into jeopardy. As usual links are below.
Jon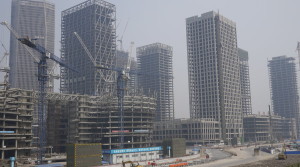 Dozens of skyscrapers under construction in the port city of Tianjin. In ten years, local officials hope the district of Yujiapu will be one of the world's largest financial centers. Parts of the city are replicas of landmarks in Manhattan, such as Rockefeller and Lincoln Centers. Local real estate analysts tell Marketplace that developers and investors are selling their investments in Yujiapu at a loss, nervous about the future of China's economy.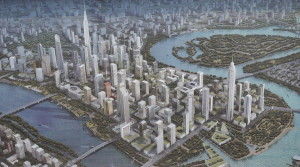 When completed, Yujiapu's geography will mirror Manhattan's, complete with a river on both sides of the financial district, as shown in this billboard. The district attracted funding with help from Zhang Gaoli, former mayor of Tianjin and current Vice Premier of China.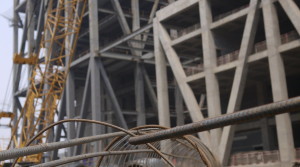 Downtown Yujiapu constitutes one of the largest construction sites on the planet. When built, planners expect up to four million people to move to the area, with 300,000 people working in the financial district. Economists question whether the city will ever finished being built before China's property bubble pops.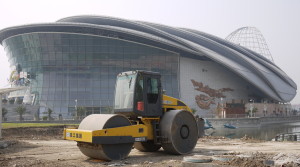 A steamroller puts the finishing touches on a road in front of the district's new aquarium.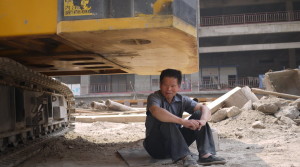 A migrant construction worker rests beneath one of the dozens of bulldozers that line a street under construction in Yujiapu. Five thousand people lost their land to the local government to build this district.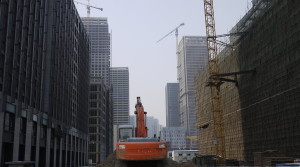 A bulldozer lays idle across the river from Yujiapu in Conch Bay, another development in Tianjin's Binhai district that aims to attract millions of new residents.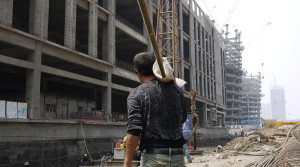 A construction worker in Yujiapu. Economists say the city is a symbol of bigger credit problems in China.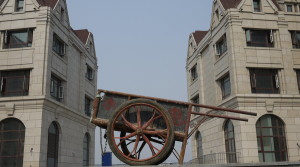 Half-built villas stand empty outside of Yujiapu, a district which aims to be one of the world's largest financial centers within ten years.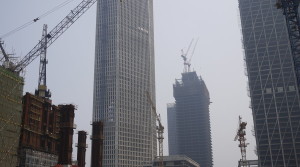 Local officials hope to build China's largest high-speed rail station here, a tunnel under the sea, and several subway lines underneath Yujiapu within the next ten years. Economists have serious doubts.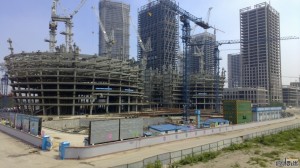 http://www.gettyimages.com/detail/news-photo/unfinished-buildings-and-vacant-streets-in-xiangluo-bay-news-photo/453891052
http://www.marketplace.org/topics/world/chinas-hangover/china-replica-manhattan-loses-its-luster