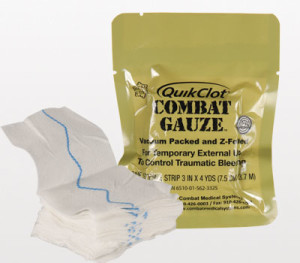 A good buddy of mine was hunting. While coming down a slope he slipped, fell, and a sharp stone punctured his thigh. While obviously not life threatening he quickly experienced profuse bleeding. It just so happened he had a product on his person that many troops overseas at the time were carrying. In this case it was QuikClot Combat Gauze. He told me that he pulled out the gauze, packed it in and around the wound with a bandana over top and the blood flow stopped in seconds. If I remember correctly he continued his hunt, though with a little more of a limp at that point. He said he didn't have any issues with blood flow or the wound reopening and later that day came in for stitches.
I've heard other stories in civilian settings from friends of mine. Most are veterans and carry a few medical aids when in the field. And while these particular gauze packets can be expensive it is an item worth considering adding to your bug out bag or home first aid kit. I have some information I pulled below from the actual QuikClot website below as I haven't researched or heard stories about other brands of product.
Jon
QuikClot hemostatic devices are different from standard surgical gauzes and other hemostatic agents. They stop bleeding significantly faster and are more effective than standard gauzes—and they are just as safe and intuitive to use.
Unlike other hemostatics, QuikClot devices are impregnated with kaolin, an inorganic mineral that accelerates the body's natural clotting ability and produces no exothermic reaction. You or your team can achieve hemostasis confidently—without worry of instigating an allergic response.
QuikClot devices do not contain:
Animal proteins
Human proteins
Shellfish
Botanicals
In 2008, after extensive testing, the CoTCCC chose QuikClot Combat Gauze as the only hemostatic dressing used by all branches of the US military for compressible hemorrhage not amenable to tourniquet use or as an adjunct to tourniquet removal if evacuation time is anticipated to be longer than 2 hours. Today, QuikClot Combat Gauze still remains the hemostatic device of choice by the CoTCCC. The Department of Defense is funding research to explore other applications of QuikClot products in bleeding associated with traumatic injuries. QuikClot dressings are credited with saving lives.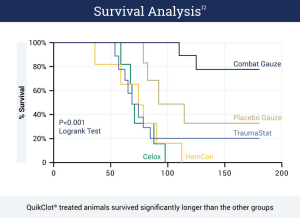 http://www.quikclot.com/About-QuikClot