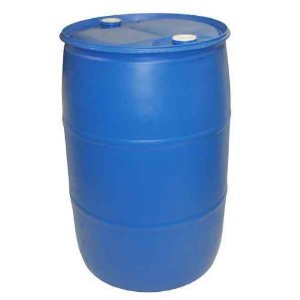 How much water you store will vary depending on your environment, activities, natural water availability, and a hundred other factors.  If you have a stream behind your house then a bucket of pool shock might be all you need for the apocalypse.  Taking a rough account of all factors including cooking, the average family member will require 1 gallon a day of clean water (which means digging cat holes and using wet wipes in lieu of the shower).
If, like me, you don't have a stream running behind your home then it is time to consider how long of a period you want to store water for; and any alternatives available.  While not preppers by any stretch of the imagination, my in-laws have a big 55 gallon water barrel that they refill every six months and keep as there emergency water storage.  For my family that's about 10 days of water storage.
So the other day we got spooked when the power went out.  I headed to the local Walmart for some glue for a project and my wife asked me to grab some more water for our storage.  I now have my first of several 55 gallon water barrels.  So here are some storage tips of water longevity:
At a minimum store 3 days of water (1 gallon per day per person and animal); preferably up to two weeks.
Before filling water storage containers:

Wash with dishwashing soap and rinse completely.
Sanitize the container with a solution of one cap bleach to quart water.
Make sure the solution touches all inside surface.
Empty the solution and let the container air dry, or rinse with clean water.

Replace the water in your container(s) every six months.
Store unscented chlorine bleach or pool shock (see article below) to disinfect water or for general cleaning and sanitizing.
Avoiding using storage containers that can't be sealed tightly, that can break (such as glass), that have ever been used to store toxic solids or liquids (to include bleach), or plastic or cardboard containers that have been used to store milk or juice.
Keeps tabs on the expiration date of stored water; or just keep your eyes out for floaties appearing over time in commercially sealed containers. As a side note, water doesn't expire, the storage containers do.
Store water containers in a place with a fairly constant cool temperature.
Do not store water containers in direct sunlight.
Do not store water containers near containers of toxic liquids such as pesticides or gasoline.
Label or mark your containers as potable (drinkable) water.
As a last thought, that big drum is going to weigh in at over 400 lbs, so think about how strong the storage area floor or surface is.
Jon