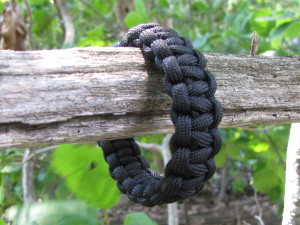 "oh no; little Mike is drowning…quick, give me 10 minutes to pick apart my bracelet that will give me 7 feet of survival life line…"
Seeing these grow in popularity has been a pet peeve of mine for some time.  Now I don't claim to know the history of these things, but that first ones I saw were made in combat zones in Iraq and Afghanistan out of 550 (para) cord.  The reality was, they served no purpose other than being a pseudo deployment badge of pride made for you by a battle buddy; for many military types these bracelets have sentimental value and that's it.  Honestly, they probably started because when soldiers are left to their own devices they will make anything and everything under the sun out of 550 cord.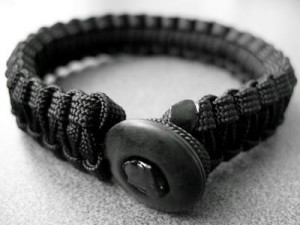 My thought on 550 cord is keep a hank of it in your car and another hank in your bugout bag.  If you are hiking in the woods you shouldn't go without a day bag anyway, so through a hank in a sandwich bag where it will stay clean and orderly in case of need.  Most of the usefulness for 550 cord are odds and ends like securing tarps or replacing shoe laces; not being a rescue hero.
I'm not going to say they serve no survival application; but they've become more of a trend than a practical tool…kind of like are for veterans on deployment.  I have seen some fancy ones with fishhooks and whistles and crap woven into them; but again, if I'm in the woods I have a day bag…it's that sort of thing prepared people do.
All that being said, here are the four main reasons I don't care for them as a survival tool (haters gonna hate):
Quality – if you are buying your paracord at the local "Mart" or even at a lot of surplus stores and outdoor stores, it's not typically up to snuff with the real stuff.  Genuine MIL-SPEC (MIL-C-5040 Type III Paracord) has 7 to 9 inner yarns each made up of 3 strands.  The US military specification for paracord gives strength and construction parameters to which the final product must conform.
Time Matters – in a real emergency time matters.  How long is it going to take you to unravel that cool little bracelet?  And I do realize there are quick release versions for tying a bracelet; but those are not the patterns commonly used.
Length – depending on pattern and wrist thickness you probably don't have much more than 7 feet.  That's not a lot of line; and I hope you're not relying on that minimal amount for bugging out.
Wrist Exposure – if you've been wearing this thing for the last few years it will not unravel into a nice smooth cord; and will likely be deteriorated from environmental exposure not to mention the sweat and salts from your own body.  My multiple deployment bracelet is nasty and would probably fall apart if I unraveled it.
Jon