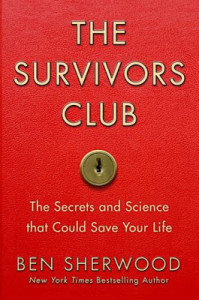 The Survivors Club: The Secrets and Science that Could Save Your Life by Ben Sherwood
I think my brother stumbled on this book while deployed in Iraq. He was blown away by the contents and had to share it with me when he got home.  My mind was also subsequently blown away, and now I have to share this phenomenal piece of literature.
The Amazon description of the book is:
Which is the safest seat on an airplane? Where is the best place to have a heart attack? Why does religious observance add years to your life? How can birthdays be hazardous to your health?
Each second of the day, someone in America faces a crisis, whether it's a car accident, violent crime, serious illness, or financial trouble. Given the inevitability of adversity, we all wonder: Who beats the odds and who surrenders? Why do some people bound back and others give up? How can I become the kind of person who survives and thrives?
The fascinating, hopeful answers to these questions are found in THE SURVIVORS CLUB. In the tradition of Freakonomics and The Tipping Point, this book reveals the hidden side of survival by combining astonishing true stories, gripping scientific research, and the author's adventures inside the U.S. military's elite survival schools and the government's airplane crash evacuation course.
With THE SURVIVORS CLUB, you can also discover your own Survivor IQ through a powerful Internet-based test called the Survivor Profiler. Developed exclusively for this book, the test analyzes your personality and generates a customized report on your top survivor strengths.
There is no escaping life's inevitable struggles. But THE SURVIVORS CLUB can give you an edge when adversity strikes.
If you've read many of my articles; especially the earlier ones, then you will have noticed that I drew quite a bit of information out of this book. You will find the cold hard facts of this book utterly mesmerizing, and if applied, might just save your life someday through physical and mental preparedness.
Editorial Reviews state:
From Publishers Weekly
Sherwood (The Man Who Ate the 747), a writer for the L.A. Times, travels worldwide to gain insight from people who have survived a slew of near fatal phenomena ranging from a mountain lion attack to a Holocaust concentration camp, and interviewing an array of experts to understand the psychology, genetics and jumble of other little things that determines whether we live or die. Readers curious about their own survivor profile can take an Internet test, which is explained in the books later pages. Sherwoods assertion that survival is a way of perceiving the world around you is enlightening, as are some of the facts he uncovers: you have 90 seconds to leave a plane crash before the cabin temperature becomes unbearable; luck has more to do with personal perspective than chance. But Sherwoods balance of self-help, scientific theories and first-rate reporting is diminished by occasionally overwrought prose as well as the countless survivors stories, which can run together in a touchy-feely stream of faith and optimism. (Jan.)
From Booklist
According to Sherwood, two questions are central to this book. What does it really take to survive a catastrophic event and what kind of survivor are you? You might be surprised at the answers. While there are tactics and strategies to surviving life tragedies, unforeseen accidents, and other catastrophes, many of these are instinctive (some, like exhibiting transitory superhuman strength, are manifested physiologically, without conscious planning). Some of us, Sherwood explains, are better survivors than others—in prisoner-of-war camps, for example, the people most likely to collapse are the eternal optimists who believe rescue is imminent and fail to come to terms with the possibility of long-term imprisonment. The book is a useful, insightful exploration of the nature of survival, the resilience of the human mind and body, and the ways in which we can all use our natural gifts to maximize our chances of coming through catastrophic situations. David Pitt
So next time you are on Amazon, or a similar sight, consider this book for a read, and then pass it along. Your friends and family will not be disappointed.  As usual, there is nothing in it for me by promoting this book or Amazon; but you do need to read this.
Jon