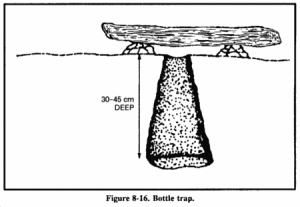 My brother told me about this cool little trap he gleaned while reading The Revenant, and I had to learn more.
A bottle trap is a simple trap for mice and voles (Figure 8-16). Dig a hole 30 to 45 centimeters deep that is wider at the bottom than at the top. Make the top of the hole as small as possible. Place a piece of bark or wood over the hole with small stones under it to hold it up 2.5 to 5 centimeters off the ground. Mice or voles will hide under the cover to escape danger and fall into the hole. They cannot climb out because of the wall's backward slope. Use caution when checking this trap; it is an excellent hiding place for snakes.
The book (mentioned above) actually describes using three stones with gaps between and a large flat stone over top. The pit in the book can also be used a little more aggressively by walking out from the trap and then walking a spiral that progressively closes in on the pit/bottle trap. In this way you are driving small game and critters towards the precieved "safety."
It might be worth while using a sharp stick to kill and/or fish out the critters you catch as you never know what you might drive out of the grass and bushes.
Jon