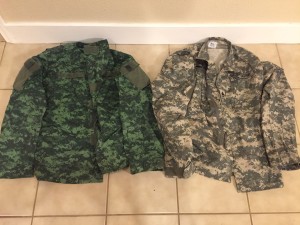 Most of us can agree that ACUs have limited practical applications; I've found they do okay in Iraq, some urban environments, are really good in sage brush, and that's about it.  I was looking for some ideas for getting value out of some old uniforms, and after reading about a few experiments in dying uniforms I thought I'd give it a shot.  I grabbed the cheapest green dye (Tulip Fabric Dye I think) available at Walmart and gave it a shot.
I'm was pretty impressed with how will the dye held up overall.  That being said, a little yellow mixed in with the green would have given it a more earthy natural color rather than the slight blueish tint it ended up with; but hell, it was just an experiment.  There are a few other examples of creative ACU dying on the internet worth giving a quick look.
Jon
Here's what a few other people pulled off.