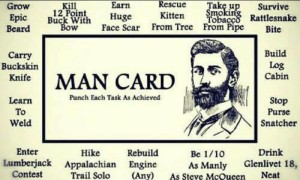 I'm a man, and I'm proud to be a man.  Unfortunately it is very politically incorrect to be a man these days; especially a white, Christian, straight, conservative gun owning man.  Television and the internet destroy what men are; reducing us to idiots and mediocracy.  They tell us our society needs to become more androgynous (partly male and partly female in appearance; of indeterminate sex).
That being said, I've thought long and hard about what makes a man after seeing this humorous man card.  But we'll never live up to all of our own expectations because none of us are perfect…or we wouldn't be men.  But we aspire to be as near perfection as Steve McQueen, General Patton, John Wayne, or Jesus were.  And guess what, there's nothing wrong with that!
So as you read below let me know what I missed.  What's on your man card?
Jon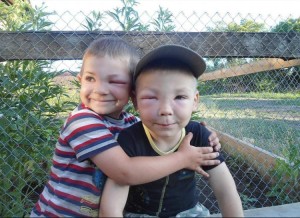 Men give each other flack.  The more we rip on each other the better our friendship probably is.
Men are competent with firearms and own at least two.
Sometimes men need to get away from civilization and decompress.
Men are physically active.  If we don't work a blue collar job we take the time to hit the gym and keep ourselves fit; but don't update our facebook accounts with pictures of their gym workouts and meals.  Unless you dropped a barbell on your nuts I don't care.
We all do it, listen to guilty pleasure music, i.e. pop, R&B, soft rock.  But as long as you change the station to "manly" music or turn it down when you roll in to town it's excusable.
Men can split wood.
Men either hunt big game, shoot varmints, hunt water fowl, or fish.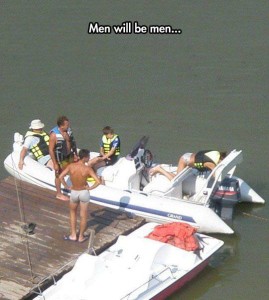 I'm proud of you if you can express your feelings with tears; however I don't, and there is nothing wrong with emotional constipation.  Crying is fine as long as you know when to cry; for example the birth of your first born son, the end of Saving Private Ryan, or when Old Yeller was shot.
A man does not wither at the thought of dancing. It is generally avoided, but he can give his woman a good evening out.
A man is comfortable being alone. Loves being alone, actually. He sleeps.
Men are patriots.  We love our country, our constitutional rights, and abhor those who challenge our freedoms.
Men don't aim for ease.  While we occasionally complain man to man, most of us keep our strains to ourselves.  We know that a strenuous life gives us the most satisfaction and helps us grow.  We take challenges head on.
Men don't have to talk about their problems.  Spending time with other men and not even bringing up your problems is as therapeutic for men as two women crying on each other's shoulders.
Men give men hugs…with a pat on the back.  One pat for friends, two pats for family and close friends.  Men also know how to give a firm dry handshake.
Men play at least one sport that involves physical activity, and follow at least one pro sport.
Men eat bacon and beef.
Men don't hit their women; unless she is practicing her MMA skills against you.  We don't vent our anger on innocent people.  It is, however, okay to spank her if she's been naughty.
Men own at least one piece of either hunting or military camouflage clothing.
Men are realists.  We see the world as it is, and make the most of it.
Men suck it up and drive on.
Men don't need to hold a grudge.  We can rough each other up a bit and be good to go.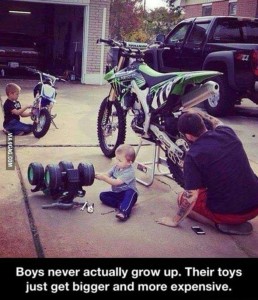 Men teach their kids how to fight and shoot guns and bows.  There is nothing wrong with a pink rifle for your daughters.
It's okay for men to swear, but we watch our language around ladies.
Men maintain their cars and can change the oil at a minimum.
As a man, the world is my urinal.
Men have honor.  Our word is our bond.
Men probably have at least one vice.  This is fine so long as that vice doesn't affect your ability to work and take care of your family.  Sorry ladies, but it's true.
Men don't offer excuses.  If we fail we admit it and drive on.
A man grasps his mistakes and he lays claim to who he is, and what he was, whether he likes them or not.  Some mistakes, though, he lets pass if no one notices…like dropping a steak in the dirt.
Man don't wear skinny jeans, unless they are ruggedly designed for physical labor, riding motorcycles, or horseback riding.
A man looks out for children. He will let them experience the growth of hard work; but he will always put himself between them and genuine danger.
Men rough up their kids.
Men never quit, we are stubborn SOB's.  Success is in perseverance and hard work.  We might lose battles, but we will win wars.  The exception might be an argument with your woman; in which case you are also a gentleman and have the fortitude to let her think she's won.
Men don't grow beards and wear hippie, faddish, or hipster clothing; as we know these styles of clothing render your beard moot.
Men admire facial hair and strive to be able to grow it with class.  We don't have to have a mustache or mutton chops, but if we did we would aspire to have one as glorious as Tom Selleck or Sam Elliot.
Men love driving alone most of all.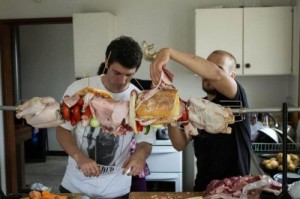 Men know when and when not to pity a person.  We take no sympathy towards those that won't help themselves; the lazy, cowardly, or week.  We instead show them how to reach their manhood through example and exposure to the purifying fires of hardship.
Men knows how to bust balls.
He may never have to, but a man has the confidence that he can knock someone on his ass.  If he himself gets knocked on the ass he will rise, compliment the blow dealt, and then return the favor.
Men get the door. Without thinking.
Men know proper card playing etiquette.
Men know their tools and which ones are for which job.  A man takes care of those tools and puts them away when he's done.
Men know when they're wrong, and can live with it.
Men are involved with politics but don't necessarily have to be obsessed with it.
Men know how to sneak a look at cleavage.  Sorry ladies, men are men.  It doesn't mean we are cheaters, just that we appreciate the beauty of the opposite sex.  On that note, a man is also loyal to his woman and will satisfy and take care of her.
Men can take care of their women in the bedroom.  If she can walk to the kitchen afterwards then you can make your own sandwich.
Men welcome the coming of age and the inclusive rites of passage. They free him. They allow him to assume the upper hand and teach him when to step aside.
Whether a man does or does not believe in God, he is not ashamed of it; he also has no need to wear his belief on his sleeve and keeps it to himself unless asked.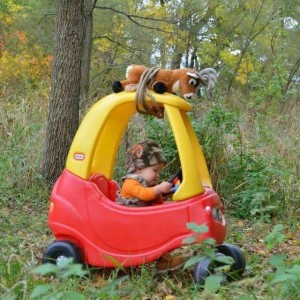 A man listens, and that's how he argues. He crafts opinions. He can pound the table, take the floor. It's not that he must. It's that he can.
Men keep their houses in order, from keeping it orderly and clean to the raising children that are respectful and do what they are told.
Men take care of their appearances.  We know how to dress nice when the occasion calls for it and how not to stink.  We also realize that there is pride in deservedly grubby work clothes after a hard day, and are not embarrassed of it.
Men don't grow up, they just get bigger toys.
Men make their own fortunes.  We do not settle for handouts or charity and feel a need to earn what we have.  We know that we most appreciate what we work hard for.
Men strive to be a role models.  A man that our boys will aspire to become, a man that will make your wife's friends jealous, and a man that your daughters will measure other boys up to.
Men don't gossip or back bite.  If we have an issue with you we say it to your face or shut the hell up.
Men are focused. We're all distracted, and the distractions keep piling up. It is easy to lose focus and find ourselves investing in things that are not really helping us build our futures or take care of our own. We all love to watch as much Breaking Bad as possible, and we all love sticking around for an extra drink or two. But the important thing is always to have a clear direction and make sure nothing gets in the way of our plans. Have that extra drink, but make sure you are at your desk killing it the next morning, or tending to whatever else needs tending.