A juniper berry is the female seed cone produced by the various species of junipers. It is not a true berry but a cone with unusually fleshy and merged scales, which give it a berry-like appearance. The cones from a handful of species, especially Juniperus communis, are used as a spice, particularly in European cuisine, and also give gin its distinctive flavor.
There are 13 species of Juniper in North America, two in Europe, some say 19 in North America and maybe 60 in the world. Of the many varieties you can read and learn about, most are used for flavoring as they can cause stomach irritation and other side effects.  The only Juniper with largely edible seeds is the Juniperus californica; see below.  For my part, I avoid Juniper Berries, but with correct amounts and familiarity with varieties it can be good knowledge to put under your belt.
All juniper species grow berries, but some are considered too bitter to eat. In addition to J. communis, other edible species include Juniperus drupacea, Juniperus phoenicea, Juniperus deppeana, and Juniperus californica. Some species, for example Juniperus sabina, are toxic and consumption is inadvisable.
Juniperus sabina (savin juniper or savin) is a species of juniper native to the mountains of central and southern Europe and western and central Asia, from Spain to eastern Siberia, typically growing at altitudes of 1,000-3,300 m ASL. All parts of the plant are poisonous due to several toxic compounds including ethereal oils.
Juniperus communis berries vary from four to twelve millimeters in diameter; other species are mostly similar in size, though some are larger, notably J. drupacea (20–28 mm). Unlike the separated and woody scales of a typical pine cone, those in a juniper berry remain fleshy and merge into a unified covering surrounding the seeds. The berries are green when young, and mature to a purple-black colour over about 18 months in most species, including J. communis (shorter, 8–10 months in a few species, and about 24 months in J. drupacea). The mature, dark berries are usually but not exclusively used in cuisine, while gin is flavoured with fully grown but immature green berries.
The flavor profile of young, green berries is dominated by pinene; as they mature this piney, resinous backdrop is joined by what Harold McGee describes as "green-fresh" and citrus notes. The outer scales of the berries are relatively flavourless, so the berries are almost always at least lightly crushed before being used as a spice. They are used both fresh and dried, but their flavour and odour are at their strongest immediately after harvest and decline during drying and storage.
Juniper berries are used in northern European and particularly Scandinavian cuisine to "impart a sharp, clear flavor" to meat dishes, especially wild birds (including thrush, blackbird, and woodcock) and game meats (including boar and venison). They also season pork, cabbage, and sauerkraut dishes. Traditional recipes for choucroute garnie, an Alsatian dish of sauerkraut and meats, universally include juniper berries. Besides Norwegian and Swedish dishes, juniper berries are also sometimes used in German, Austrian, Czech, Polish and Hungarian cuisine, often with roasts (such as German sauerbraten). Northern Italian cuisine, especially that of the South Tyrol, also incorporates juniper berries.
Juniper berry was first intended as a medication since juniper berries are a diuretic. They were also believed to be an appetite stimulant and a remedy for rheumatism and arthritis. Native Americans are reported to have used the juniper berry as an appetite suppressant in times of hunger. Juniper berry is being researched as a treatment for diet-controlled diabetes, as it releases insulin from the pancreas, hence alleviating hunger.
The whitish blush on the outside of juniper berries is wild yeast. You can make a sourdough starter by mixing a cup of flour, three or four berries and 1/4 cup water in a glass jar. Let sit in a warm place, loosely covered, until the mixture begins to form. Remove the berries and use the starter as you would any other sourdough starter. Some people have also brewed beer with the yeast from juniper berries. Whenever using wild yeasts, be wary of contamination by other bacteria. If you notice any discolored patches or growths in your starter, discard it immediately.
A few North American juniper species produce a seed cone with a sweeter, less resinous flavor than those typically used as a spice. For example, one field guide describes the flesh of the berries of Juniperus californica as "dry, mealy, and fibrous but sweet and without resin cells". Such species have been used not just as a seasoning but as a nutritive food by some Native Americans.
An essential oil extracted from juniper berries is used in aromatherapy and perfumery.
Juniperus californica was used as a traditional Native American medicinal plant, and as a food source, by the indigenous peoples of California, including the Cahuilla people, Kumeyaay people (Diegueno), and Ohlone people. They gathered the berries to eat fresh or dried and to grind into meal for baking.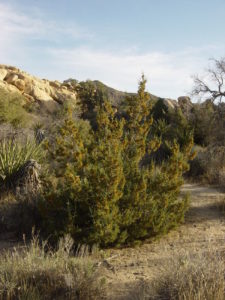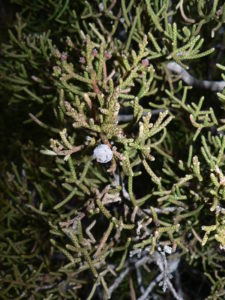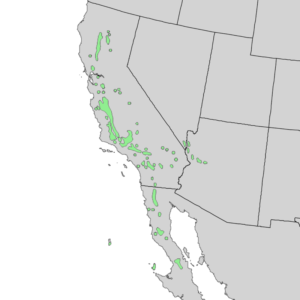 Do not use juniper berries from bushes that have been sprayed with pesticides. Avoid berries from bushes that border roads, since these may have been exposed to car exhaust and other toxins. Always wash the berries before using. Never exceed the amount of berries called for in your recipe. Keep the berries away from small children and pets.
http://www.eattheweeds.com/junipers/
https://en.wikipedia.org/wiki/Juniperus_californica
https://en.wikipedia.org/wiki/Juniper_berry
https://en.wikipedia.org/wiki/Juniperus_Sabina
http://www.livestrong.com/article/501804-are-the-berries-on-my-juniper-bush-edible/