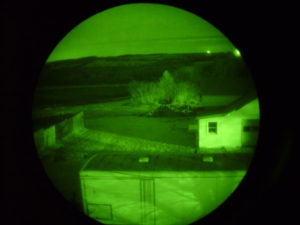 In my military career I've used several types of night vision and thermal sights and goggles; always with great satisfaction. I love night vision. I want night vision. The problem is my wife won't let me spend $2,500+ on a Gen 3 product. I've been looking at cheaper alternatives like digital night vision, and the pros and cons of Gen 1 and 2 to find an affordable substitute. I've even read a dozen articles on DIY night vision. But ultimately it comes down to higher quality generally shackled to higher prices.
Of the many articles I've read this is one of the best in explaining differences between Generations of night vision. The link to the original article is below; which has been shared below in its entirety. I'll share some information on digital night vision and infrared in another article.
FYI, I'm open to product reviews if any of you companies out there want to send me some free swag….or a free pair of NODs. Or maybe I'll start a go fund me campaign to by PVS-14 NVGs.
Jon
Difference Between Night Vision Generations
Q:What is the difference in the generations of night vision?
A:Most websites will answer this question with very technical information about ion barriers, micro channel plates, gallium arsenide, photocathodes, and a whole lot more technical gobbledy-gook that we bet you probably do not care much about. At Nightvision4less we believe that what customers really want to know is just what is the difference in actual night time performance; how far? how bright? how clear?. and just how long will these different generations last before they need to be replaced? You mean they don't last forever? Afraid not, but do not worry because below you will find the answers to your questions. As always feel free to call us for additional help and explanation 800-771-6845.

Gen 1:
Affordability sums up Gen 1. It gets you some night time capability and remember some night vision is always better than no night vision. Is it the latest and greatest? No, in fact Generation 1 technology dates back to the early 1960's. That's when a computer was the size of a small house and cell phones were not even invented yet. Anyway Gen 1 equipment can be fine for many applications however the following are some of it's limitations.
-maximum useful range is about 75 yards depending on the night. A good Gen 3 device is capable of several hundred yards even in lower light conditions.
-lower resolution images, more static/noise in the images, not as bright.
-inability to operate "passively" – Gen 1 relies on built-in IR illuminators that are always on, making the user very visible to anyone using another night vision device.
-smaller field of view due to distorted image on outer one third of the field of view.
-shorter battery life.
-more susceptible to "blooming" – which is image distortion caused by excessive light.
-Gen 1 monoculars don't have the versatility that higher generations do. Examples: adapting to rifle scopes, spotting scopes and weapon mounting capability.
-shorter life expectancy. Gen 1: about 1500 hours, Gen 2: about 5000 hours, Gen 3 over 10,000 hours.
In conclusion it's great to have Gen 1 equipment available for those who need to stay within that budget range and heck everyone's on a budget these days. You will be able to do quite a bit with it and we have a great selection of the best Gen 1 products. We have intentionally excluded the very low quality 1st Generation models that we just cannot feel good about selling so we choose not too. Click here to see all Gen 1 Night Vision.
Gen 2:
In a nutshell Gen 2 is a huge step up from 1st generation equipment. How big of a step? Well lets put it this way, in general a good Gen 2 device is a lot closer to Gen 3 performance than it is to Gen 1 performance. However, there are different quality levels of 2nd generation so make sure to educate yourself before buying. You can check out our "Generation Grade Levels" area or give us a call and we will help guide you. The major improvements over Gen 1 are as follows:
-much longer useful range, in the 200 yard area depending on model.
-better resolution, cleaner images, brighter.
-the ability to operate "passively" without the necessity of IR illumination.
-full field of view- no distorted image on outer one third of viewing area.
-longer battery life
-less susceptible to "blooming" or image distortion caused by light when compared to Gen 1.
-Gen 2 monoculars have greater versatility due to increased durability and adaptability.
-3 times longer life expectancy than Gen 1 and better reliability.
Basically if you can afford to make the step up to Generation 2, it is certainly worth it. The only problem will be deciding whether to go all the way to Gen 3 or sticking with Gen 2. Either way you will be playing in the night optics big leagues and you will not be disappointed. Click here to see all Gen 2 Night Vision.
Gen 3:
Generation 3 is the real deal. Gen 3 Autogated is what the US Military and Special Forces use and it is currently the gold standard in technology. There are several grades/levels of Gen 3, however they are all outstanding. Our Gen 3ST products are very good and will provide excellent performance at a budget 3rd Gen price. If you want the best our Gen 3P and Gen 3AG have autogated image tubes that provide far superior performance in lighted areas such as urban environments or anytime there are artificial lights present, such as vehicle lights, flashlights, houselights, etc.. See our "What is Autogated" for details about this advanced technology that is an option on Gen 3 equipment. The following are the Gen 3 advantages:
-longest ranges, in the 300 yard plus range depending on model and conditions.
-best resolution, cleanest and brightest images.
-some elite level HS (hand select) tubes are available, see "Gen 3 With HS:" in our Generation Grade Levels Explained.
-best low-light performance.
-even greater ability for completely "passive" operation – operating without the use of IR illumination/covert operation.
-autogated Gen 3 image tubes allow for operation in ALL light conditions. Significant reduction to "blooming".
-best versatility due to better performance when using with magnification lenses, scopes, camera adapters, and other night vision accessories.
-longest life expectancy of 10,000+ hours and best reliability/durability.
Gen 3 gives you incredible performance. An autogated tube option will give you state-of-the-art capability. With proper care it will last an extremely long time. Used by US Military and Special Forces – so you know it's the best! Simply put, if it doesn't "break the bank" get it, you won't be sorry. Click here to see all Gen 3 Night Vision.
Gen 4:
This is a tricky one as technically there is not really a Gen 4 classification, according to the US Army. When it was initially introduced the US Army recognized the Gen 4 technology classification. However, after testing reliability and life span of the Gen 4 the Army determined that this technology did not meet their strict requirements and thus recanted the Gen 4 definition. Now some companies use the 'Gen 4' Term as a marketing ploy to say its the best image. So what does this mean for someone looking for the best equipment they can get? There is new technology that is similar to the Gen 4, it is called 'Unfilmed' or 'Filmless Gen 3'. This is what the military is using alot of now, and is still classified as a Gen 3, but it has the same Filmless feature and better performance of the Gen 4, with the reliability of a Gen 3. For our money we use HS (hand selected) Gen 3 autogated models or the Gen 3 Unfilmed. We still also do list some Gen 4 Products, as that is what the manufactureres call it, but the real place to look is in the Gen 3 Hand Select or Gen 3 Unfilmed.
White Phosphor Technology (WPT):
White Phosphor Technology image tubes are now available in all Generations. These units have black and white images instead of traditional green and black. These images can appear more natural and provide better contrast in some situations. White Phosphor has just started to become more widely adopted by military and law enforcement as it is now available in the upper level Gen 3 Autogated as well as the Unfilmed. This is solid quality night technology that seems to be here to stay.
http://www.nightvision4less.com/education-center-night-vision-generations.aspx