I have to thank my mother for this third installment of wild berries of Idaho.
Jon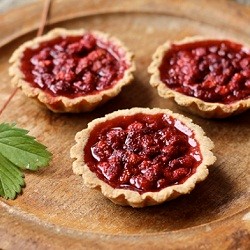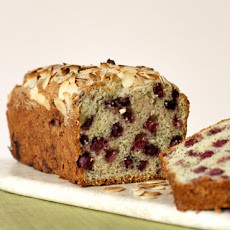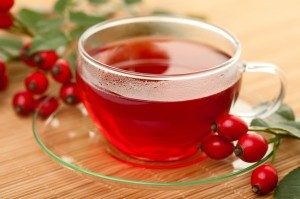 Wild Rose                                                              
(Rosa woodsii, ssp., Rosa Rogusa)
-Also known as Brier Hip, briar bush, Burr Rose, cabbage rose, Camellia Rose, Cherokee Rose, Chestnut Rose, Dog Rose, Gooseberry Rose, hip berry.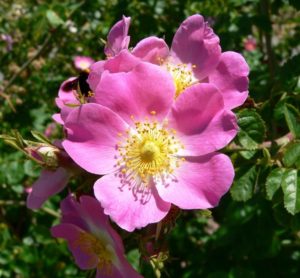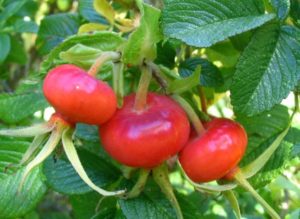 Rose-hips are the fruits that develop from the blossoms of the wild rose (Rosa Rogusa species). They contain very high levels of vitamin C, and vitamins A, B, E, and K. After the rose bush is done blooming and the flower petals have fallen off, the rose-hip is what is left hanging on the bush. Rose hips are easy to spot because of their lovely orange to red color. By late fall when nothing else is blooming and most other berries are long past harvest time, you can't miss the brightly colored rose-hips.
A rose-hip is unique because of the shape of its bottom. It basically looks like a large red berry with a few feathery wisps coming out the bottom. Rose-hips vary in size but average about 1" – 1 1/4″.  Rose-hips are a very adaptable plant. They will grow wild in the forest, along highways, and in the sand at beaches. They thrive with the dryness and heat of the woods, or with the wind and salty water of the sea.
Rose-hips are commonly used in soup, stew, tea, juice, jelly, sauce, syrup, puree, and oil. They have traditionally been used to treat and prevent respiratory infections, gallstones, and ulcers. They have also been used to treat inflammatory diseases, such as arthritis, and as a tonic for the stomach and the kidneys. When harvesting rose-hips, it is good to wear leather gloves. The wild rose bushes have small thorns on the branches but the hips are easily removed from the plant.
Rose-hips ripen after they are touched by the first fall frost, and this is when they are the sweetest. At the time of harvest, hips should be firm, not mushy, and red in color. Shriveled hips are no good; orange hips are not quite ripe, and deep red hips are overripe. Overripe hips are sweet, but have lost much of their vitamin C. If you are planning to cook your rose-hips, do not use aluminum pots, pans, or utensils, as it will break down the vitamin C and deplete it from the hips, and will alter the color of the rose-hips.
       Dried Rose-hips: Rose-hips can easily be dried by letting them sit out for a week or two. Cut the hips in half and remove all seeds and the dried leafy wisps at the bottoms. The dry inner seeds are not palatable and their sliver-like hairs can irritate the digestive tract and cause 'itchy bum'. Rose-hips have cyanide-like compounds in their seeds that are destroyed by drying or cooking. Place a dish towel on top of a metal cookie sheet, spread out the halved and cleaned rose hips, then set in an out-of-the-way place. When they are good and dry, place them in a jar with a lid and store them out of direct sunlight.
Rose-hip Powder:  Grind the dried rose-hips in a food processor or blender to a fine powder. Use the powder in recipes, or to sprinkle on yogurt or oatmeal.
Rose-hip Tea
Place dried rose hips in a pot with water. Bring the water to a bowl, then turn off and let sit for a few minutes. The amount of hips used depends on how strong you want the tea.
(Natural rose hip tea is very light colored – add red food coloring for a darker tea. Also, don't throw away the hips once you've used them for tea. They still have a lot of nutritional value. Add to soups or eat as a side at the supper table.)
Rose-hip Puree
Fresh fruit: Place fresh, ripe rose-hips in a pot with just enough water to cover them. Bring to a boil. Pound and mash the fruit, then push it through a sieve.
Dried fruit: Use about 1 ½ c water for every 1 cup of dried rose-hips. Put in a bowl, add the water, then cover the bowl with plastic and place in refrigerator overnight until the rose-hips have swollen and softened. Puree the softened rose-hips using a food mill or push it through a fine but sturdy sieve. Any seeds or other debris will be left behind in the sieve. Heat the puree until boiling to be on the safe side.
Unsweetened rose-hip puree has a rather strong, earthy flavor, which goes well with savory foods, like sauces served with meat and game birds. When used in sweet dishes, the puree is usually always sweetened. To sweeten the puree, add about 1 Tbsp. of sugar for every ½ cup of puree. Stir in the sugar, until it has dissolved. If the puree is too thick, you can add some more water.
Sweetened or unsweetened rose-hip puree is used in many desserts, sauces and beverages or eaten on toast, with porridges, pancakes, or yogurt. The puree keeps best frozen. It is practical to freeze the sauce in small portions, for example using ice cube trays. Let the puree thaw in the refrigerator before serving or adding to various desserts or dishes. If mixed with hot dishes, like sauces or a bowl of piping hot porridge, the sauce may be added frozen.
Rose-hip Crepes
2 ½ c milk
3 eggs
½ tsp Kosher salt
1 c flour
½ cube unsalted butter
½ c sweetened rose-hip puree a few drops of lemon juice
Traditionally, some crêpes are small, about 3–4 inches in diameter, and thin. Melt the butter and let it cool. Lightly whisk the eggs and the salt with the milk. Add the flour in a thin stream little at a time, whisking continually to avoid the forming of lumps.
Finally add the melted butter which helps to prevent the crêpes from sticking to the pan during frying. Cover the batter and let it stand for at least 1 hour before cooking to avoid the dough tasting too floury, and for the flour to absorb the liquid, thickening the batter suitably without the use of excess flour.
Use a good frying pan that heats evenly and has a non-stick coating. Heat the pan on med-high until hot. Butter the pan for the first crepe and pour some batter into the pan – tilt the pan around to spread the dough. Fry until the bubbles on the batter surface begin to set and flip the crêpes over with a spatula. Fry the crêpes until they are golden brown. Serve the crêpes piping hot, fresh from the pan, with vanilla ice cream. (Crêpes are usually served with jam or sugar, or as a dessert with fresh berries or fruit, whipped cream, ice cream, or a combination of these.)
[If you are not able to get rose-hip puree, replace 1 cup of the milk in the crêpe batter recipe with the same amount of cold rose-hip tea.]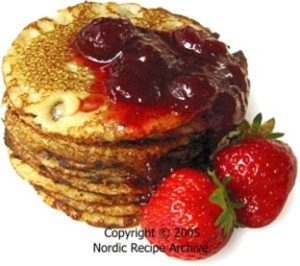 Rose-hip Apple Jam Yield: 6 to 7 pints.
4 cups halved and cleaned rose-hips
1 orange
Juice and zest of two lemons
1 large green apple, peeled, cored and chopped
5 cups sugar
1/2 cup prepared pectin
5 1/2 cups water
1/4 tsp. butter to reduce foaming
Leave the peel on the orange and slice and chop into ¼ inch wedges, removing seeds.  Add to an 8-quart pot, along with prepared rosehips, lemon zest and juice, and apple pieces.  Add water and pectin and bring to a boil.  Add butter to reduce foaming.  Boil hard for 30 minutes, until orange peels become translucent and jell stage has been reached.  Begin to test the jell at 20 minutes.  When jell stage is reached, remove from heat and pour into sterilized pint jars.  Wipe off the jar edges, put on the lids and tighten, and set upside down on a towel to seal.
Rose-hip Soup Makes 4 servings
 1 cup dried rose hips (also available in bulk at the supermarket)
Juice of 1/2 to 1 lemon
1/4 to 1/3 cup sugar
Unsweetened whipped cream
Place the rose hips in a pot and add water until it covers them by an inch. Bring to a boil, and then reduce to a simmer until the rose hips have completely softened, about 15 minutes.
To break down (and strain out any pits or sticks), run through a food mill, or puree in a blender and then pass through a sieve. Return to the pot and add lemon juice and sugar to taste, along with additional water, if needed, to yield a thick yet spoon able soup. Serve warm with whipped cream.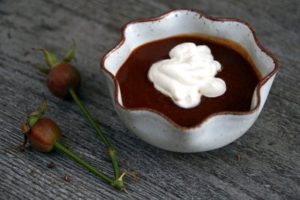 Rose-hip Jam
2 pounds fresh, cleaned rosehips
1 1/4 cups water
1 cup sugar, or more to taste
Cut rose-hips in half and remove the stems, seeds, and blossom ends. Bring water and rosehips to a boil, and then lower to a simmer, keeping it covered, for about 30 minutes or less, until the rose hips are very tender.
Add 1 cup of sugar for every pound of pulp, or to taste. Bring the sugared pulp to boil, stirring continuously, and boil for 10 minutes. Pour into hot jars, seal and cool.
Rose-hip and Rhubarb Jam
Use slightly under-ripe rose-hips. Cut in half and remove the stems, leafy wisps, and seeds with tip of knife.
Combine:
1 c cleaned rose-hips
1 c water
4 c diced rhubarb
½ tsp salt
Boil rapidly 2 minutes and add:
2 c sugar
1 Tbsp. grated lemon rind
Boil rapidly 2 minutes. Seal in sterilized jars. Process in hot water bath for 15 minutes.
Candied Rose-hips
Cut in half and remove stems, leaf wisps, and seeds. Cover with cold water in a sauce pan and bring to a boil. Reduce heat and simmer slowly for ten minutes. Drain well.
Cook to the boiling point 1 cup sugar, ½ cup water, and 1 or 2 pieces of crystallized ginger. Add 1 cup of the drained rose hip pieces. Cook slowly until the hips just begin to appear translucent. Using a skimmer, remove the hips from the syrup and spread them on a platter to cool. Continue, 1 cup at a time, until all hips have been cooked in the syrup.
When cool, roll the hips in sugar and spread thinly on waxed paper to dry. Store them in an airtight glass container.
Rose-hip Ripple Ice Cream
Syrup:
2 ½ c sugar
2 ½ c cleaned rose-hips
1 qt water
2 ½ c water
Remove the stems, leafy wisps and seeds from the hips. Chop the rose-hip halves into pieces. Bring the water to a boil. Add the hips to the boiling water. Bring to a boil again, then remove from the heat and leave to infuse for 30 minutes.
Line a colander with a tea towel and set it over a bowl. Strain the rosehip mixture through it, squeezing it to extract all the liquid. Set the boil aside. Return the rosehip pulp to the saucepan with the 2 ½ cups of water, bring to the boil, take off the heat, then leave to infuse for 30 minutes. Strain through the tea towel as before. Return all the reserved syrup to a saucepan. Bring to the boil and boil until the volume has decreased by half, stirring constantly. Remove from the heat. Stir in the sugar until dissolved, return to the heat and boil hard for 5 minutes, stirring constantly. Pour into sterilized jars.
Ice cream:
1 c whole milk
2 c extra heavy cream
½ to ⅓ c sugar
1 tsp vanilla extract
Put the milk and sugar into a bowl and stir with a whisk until all the sugar has dissolved. Stir in the cream and vanilla extract then cover the mixture and refrigerate for an hour. Turn on your ice cream maker and pour in the mixture. Churn until you have a soft ice cream. Pour into a tub then freeze for a few hours until it has firmed up slightly (if you try to ripple it when too soft the ripple will just blend in too much). When you have a firmer ice cream, drizzle rosehip syrup over the ice cream and stir through from side-to-side to create a ripple effect.
Rose-hip Graham Crackers 
1/2 cup unsalted butter, at room temperature
1/4 cup brown sugar
2 Tbsp. honey
1/2 cup white flour, plus more for rolling
1/2 cup whole wheat flour
1/4 cup dried rosehip powder
1/2 tsp salt
1/4 tsp baking soda
1/4 tsp ground vanilla bean powder (optional)
Beat together the butter, brown sugar, and honey until smooth and even. Sift remaining ingredients over the butter mixture, and beat until an even, thick dough has formed, and all ingredients are incorporated. Cover the dough with plastic wrap or waxed paper, and chill for at least 30 minutes. (At this point you may refrigerate it up to 2 days, or freeze it for a few weeks — but if doing so, wrap it more tightly and seal in a container with a lid.)
While the dough chills, preheat oven to 350° F. Line baking sheets with parchment paper; set aside. Lightly dust a flat work surface with flour, and dust a thin spatula and rolling pin.
Once the dough has chilled, roll out a third or half of it into an even, flat slab that's about 1/8″ thick (no less). Cut circles out of the dough with a cookie cutter or glass, or cut straight crackers with a knife. Transfer them with the floured spatula onto the parchment lined cookie sheets, leaving about 1/2″ between cookies. Re-roll scraps and repeat with remaining dough until all dough has been used, re-flouring surface and equipment as needed.
Pierce the cookies with the prongs a fork but don't push all the way through. Bake, one cookie sheet at a time, for about 8 minutes or until bottoms are toasty brown and tops look dry. Remove from oven and let cookies sit on warm cookie sheets for 10 minutes before attempting to move or eat.  If not eating right away, let them cool completely, then store them in a sealed container at room temperature.
Serviceberry                                                             
(Amelanchier alnifolia, A. utahensis, A. pumila)
-Also known as shadbush, shadwood, Saskatoon berry, Juneberry, sugar plum, sarvisberry, wild-plum, and chuckley pear.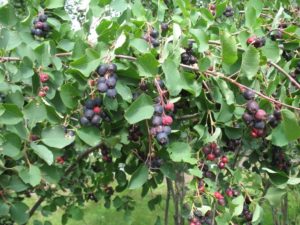 Amelanchier is a genus of about 20 species of deciduous-leaved shrubs and small trees in the Rose family (Rosaceae). The origin of the generic name Amelanchier is derived from the name of the European Amelanchier ovalis.  At least one species of serviceberry tree is native to every U.S. state except Hawaii and to every Canadian province & territory. The name serviceberry comes from the similarity of the fruit to the related European Sorbus.
Juneberry refers to the fruits of certain species becoming ripe in June. The name saskatoon originated from a Cree noun "misâskwatômina" for Amelanchier alnifolia. The city of Saskatoon, Saskatchewan is named after this plant. Shadberry refers to the shad runs in certain New England streams, which generally took place about when the trees bloomed.
The fruit of several species are excellent to eat raw, tasting somewhat like a blueberry, strongly accented by the almond-like flavor of the seeds. Serviceberries are a bit smaller and more tart, plus they have a little edible seed. Propagation is by seed, divisions, and grafting – serviceberries grafting very readily and successfully onto other genera. Amelanchier plants are preferred browse for deer and rabbits.  Caterpillars as well as various other herbivorous insects feed on Amelanchier.
Fruit is harvested locally for pies and jams. The serviceberry (Saskatoon berry) is harvested commercially. One version of the Native American food pemmican was flavored by serviceberry fruits in combination with minced dried meat and fat.
The wood is brown, hard, close-grained, and heavy. The heartwood is reddish-brown, and the sapwood is lighter in color. It can be used for tool handles and fishing rods. Native Americans used it for arrow shafts. Members of the Pit River Tribe would use the wood to create a sort of body armor, crafting it into a heavy robe or overcoat and corset armor worn during fighting.
Several species are very popular ornamental shrubs, grown for their flowers, bark, and fall color. All need similar conditions to grow well, requiring good drainage, air circulation (to discourage leaf diseases), watering during drought, and soil appropriate for the species. George Washington planted specimens of Amelanchier on the grounds of his estate, Mount Vernon, in Virginia.
Freezing Serviceberries
Sort the berries and remove any bad berries or berries with worm holes. Rinse them off in a colander under cold water. Shake off the excess water and lay them on a metal cookie sheet, not touching each other, and let them dry completely. Freeze for a few hours, then gather them in a container with a lid, and leave them in the freezer. They can be thawed to use in future recipes.
(If the berries dry and freeze as separate berries, they will be able to be taken out of the container as separate berries. Otherwise, they will freeze as a solid lump of berries.)
Serviceberry Juice
The best way to extract the juice is to put 2 pints of water for every gallon of stemmed fruit into a large pot.   (Stemmed means to remove the berries from the long stem the cluster hangs on.)   Simmer the fruit under a lid for 15 minutes, stirring occasionally. Cool the cooked mass, then pour it into a clean pillow case. Suspend the pillow case over a container to catch the liquid as it runs through. You can squeeze and twist the case, or leave it hanging overnight, to extract as much juice as possible from the pulp.
Fruited Breakfast Casserole
2 c flour
2 Tbsp. baking powder
3/4 c brown sugar
1 stick of butter
1 lg. egg
3/4 c milk
1 c Serviceberries (or other berries)
Mix all your dry ingredients in a large bowl.  Beat the egg before adding it. Melt the butter before adding it in. Then add your milk. It's fine clumpy.
Put half your batter in the bottom of a greased 8 x 12 casserole dish. Spread it evenly across the bottom.  Then add your layer of fruit.  Lastly, spoon the last half of the batter on top.  Make sure there is some batter in the corners so the fruit doesn't burn to the corners.
Bake for 32 minutes at 350°. The fruit will be very hot while it's cooling, so be careful.  (This can be made the night before, and then baked in the morning.)
Cold Berry Oats
glass 2 quart canning jar, or other container
rolled oats
vanilla yogurt
serviceberries, or other berries or fruit
milk
Fill your jar or container halfway full of oats. Next, pour enough milk in to just cover the oats.  Shake the mixture.  Make sure you shake it every time you add an ingredient, otherwise it will be so thick, you won't be able to shake it.
Next, pour yogurt into half of the remaining space in the jar.  Shake again. Lastly, place your fruit or berries in the remaining space.  Shake again one last time. This is best if you make it the night before you are going to serve it.
This portion feeds an entire family breakfast.  You can make this in a pint jar if you are only feeding one person, or a quart jar for just a couple of people.
Crock Pot Granola with Serviceberries
10 c rolled oats
½ c wheat flour (optional – use if you like the granola clumpy)
1 ½ c honey
¼ to ½ c oil or coconut oil
¼ c water
¼ c wheat germ (optional for more protein)
1 tsp-1 Tbsp. vanilla
1 tsp-1 Tbsp. cinnamon
dried serviceberries (use any dried fruits, dried coconut, or sliced almonds – if using peanuts, replace the oil with peanut butter.)
Fill your crock-pot with oats and flour. (For no clumps in the granola, don't use flour.  For clumpier, use more. There is no difference in the taste between wheat and white flour.) Stir all the ingredients together.
Put the honey, oil, water, and flavorings in a pot. Over LOW heat melt together – it doesn't take long.  This will all depend on your type of honey and oil. If using peanut butter, it will take a little longer
Pour it into your crock pot (it needn't be hot), and stir it all up.  Turn crock pot on low and place lid on it.  Stir it every 20-30 minutes so the bottom doesn't burn.  Do this for 2-3 hours, and when you feel it is done, pour it out onto flat pans to dry. Leave in the oven, or another dry place, overnight. Store in a gallon-sized bag.
Serviceberry Pie
2 uncooked 9-inch prepared pie crusts
1/2 c sugar
1/3 c flour
1/2 tsp nutmeg
4 c fresh serviceberries or wild blueberries
1 Tbsp. lemon juice
2 Tbsp. butter, cut into small pieces
Heat the oven to 400°. Press one of the pie crusts into a lightly greased 9-inch pie pan; set aside.
Combine the sugar, flour and nutmeg in a large bowl; stir in the berries. Spread the mixture into the pie pan; sprinkle with the lemon. Scatter butter pieces on top.
Cut ½" strips from the reserved second pie crust. Weave strips over filling for lattice crust, pressing ends of the strips into the bottom crust edge. Flute edges.
Bake 10 minutes; reduce heat to 350°. Bake until filling bubbles and crust begins to brown, adding foil around the edges if needed to keep it from burning, about 50 minutes.
Serviceberry and Poppy Seed Cake   makes 1 loaf 2 c serviceberries (or blueberries)
2 Tbsp. Black Currant syrup (or other fruit syrup)
3/4 c sugar
2 c all-purpose flour
2 tsp baking powder
2 Tbsp. poppy seeds
1/4 teaspoon salt
8 Tbsp. (1 stick) unsalted butter – at room temperature
1 tsp finely grated lemon zest
1 Tbsp. lemon juice
3 extra large eggs – at room temperature
1/3 cup sliced almonds
Preheat oven to 350°F. Butter a 9″ x 5″ x 3″ non-stick loaf pan, line it with wax paper and butter again.
Place the berries, syrup and 1/4 cup of the sugar in a medium bowl. Stir well and set aside.
Place the flour, 1/4 cup of the sugar, baking powder, poppy seeds and salt in a medium bowl. Stir well and set aside.
Place the soft butter, last 1/4 cup of sugar, lemon zest and lemon juice in the bowl. Beat at slow speed with an electric mixer until creamy. Add the eggs one at a time and beat at medium speed until well incorporated and smooth.
Add the flour mixture and gently fold in with a wooden spoon until barely incorporated. Add the berry mixture and fold until just moistened.
Spoon the batter into the prepared loaf pan. Garnish with the almond slices. Bake for 65 to 70 minutes until golden and toothpick inserted in center comes out clean. Remove from oven and let cool for 10 minutes before removing from pan. Loosen the cake by gently pulling up on the wax paper and then lift it from pan. Cool on racks until warm or room temperature, then peel off the wax paper. Serve on its own or with a little crème fraîche.
The cake will keep for 2 to 3 days in a cool place, but is better the day it's made.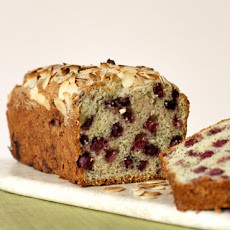 Easy Crème Fraîche
Whip 1 cup sour cream with a wire whisk to soften it. Whip 1 cup whipping cream with an electric hand mixer until stiff – do not flavor or sweeten. Fold the whipped cream into the sour cream. Serve on desserts for a tangy but tasty topping.
Wild Strawberry                                                             
(Rubus, Fragaria virginiana)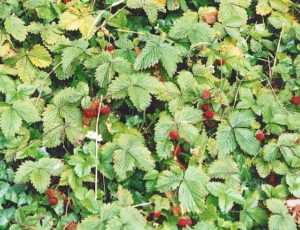 Wild strawberries are a common native plant found growing in open fields, woodlands and even our yards. Smaller than store-bought strawberries, which are a hybrid of the wild strawberry and a European species, the berries are a favorite treat to many birds and animals, as well as people. Though they're small in size, the berries are edible and tasty. [There is, however, a similar plant, called Indian mock strawberry, which has yellow flowers (rather than white), that produces berries with little to no flavor – berries that grow upward rather than hanging on the vine.]
Wild strawberries produce one or more clusters of flowers. The wild strawberry flower, which is white, normally begins blooming in late spring or early summer and lasts about one to two months. These wild strawberry flowers generally prefer full sun to partial shade. The blooms are followed by the familiar red berries. Wild strawberries will have a strong strawberry scent when crushed.
The plant grows easily and will eventually spread to cover the ground (about 6-12 inches high). It likes soil that is somewhat moist, though is tolerant of slightly dry conditions too. Wild strawberries spread by stolons (above ground runners) and rhizomes. As the runners grow, they send up new strawberry plants. Ripe berries can be harvested anytime during April through June. They are a good source of Vitamin C and can be used on cereal, in pancakes, fruit salad, sauces and more, much like regular strawberries.
The most common varieties include:
Virginia wild strawberry, Fragaria virginiana – It has light green leaves and small, tasty berries.
Beach or coast strawberry, Fragaria chiloensis – The leaves of this variety are dark green and shiny. While its berries are also edible, they're not as palatable.
Woodland strawberry, Fragaria vesca – This type enjoys moist, shady conditions, and is normally found in wooded areas. Both the flowers and leaves are larger than other species and its foliage is more bluish in color. The bigger berries are also quite delicious.
Freezing Wild Strawberries
Clean the berries by removing any stems or leaves. Lay them on a metal cookie sheet, not touching each other. Freeze for a few hours, then gather them in a container with a lid, and leave them in the freezer. They can be thawed to use in future recipes.
(If the berries dry and freeze as separate berries, they will be able to be taken out of the container as separate berries. Otherwise, they will freeze as a solid lump of berries.)
Wild Strawberry Jam
1 Tbsp. agar flakes
6 Tbsp. apple juice or other fruit juice
4 c wild strawberries, hulled and sliced
1 Tbsp. freshly grated lemon rind
⅓ c honey, or to taste
1 tsp liquid Stevia (optional)
⅛ tsp ground ginger
¼ tsp ground coriander
Bring the agar and apple juice to a boil over medium heat, stirring often. Reduce heat and simmer 5 minutes, or until the agar is dissolved.
Add remaining ingredients and bring to a boil over medium heat, stirring often. Reduce heat and simmer another 5 minutes, stirring often.
Test for firmness (agar's thickening effect varies according to its fineness) by putting a large metal spoon with a small amount of jam in the freezer for a couple of minutes until chilled. If the jam is the right thickness, your recipe is done. If it's too watery, stir in more agar, simmer another 5-10 minutes, and test again. If it's too thick, stir in some fruit juice or water and test again immediately.
Put into sterilized jars, seal, and process in a water bath 5-10 minutes.
Wild Strawberry Ice Cream
Ice cream:
1 c whole milk
2 c extra heavy cream
½ to ⅓ c sugar
2 tsp vanilla extract
2 tsp freshly grated orange zest
2 c fresh wild strawberries
Put the milk and sugar into a bowl and stir with a whisk until all the sugar has dissolved. Add 1 cup of strawberries and process in an electric blender until smooth. Stir in the cream, vanilla extract, and orange zest, then cover the mixture and refrigerate for an hour. Turn on your ice cream maker and pour in the mixture. Churn until you have a soft ice cream. Add the remaining strawberries and blend a few seconds on low speed until they are just chopped. Pour into a tub, then freeze for a few hours until it has firmed up.
Wild Strawberry Tarts
Dough
1 cup flour
6 Tbsp. unsalted butter
2 Tbsp. sugar
¼ teaspoon salt
cold water
Mix together the flour, sugar and salt. Rub the flour with the butter until you get a coarse sandy texture. Then add just enough cold water to make a smooth dough, about 2 – 3 tablespoons. Cover and chill for 30 minutes.
Ingredients
1 ½ cup wild strawberries
¼ cup sugar
Preheat the oven to 375°F. Cut the strawberries in half. Mix the strawberries and sugar in a bowl and let sit for 15 minutes, turning the mixture with a spoon once or twice. Roll out the dough on a floured surface to about 1/8″ thick. With a glass or cookie cutter, trim out 6 rounds that are larger than your molds. Line each buttered mold with the dough and pre-bake in the oven for 10 minutes. Trim out the edges of the dough and fill with the strawberry mixture. Bake in the oven for 20-25 minutes. Leave to cool at room temperature for 30 minutes.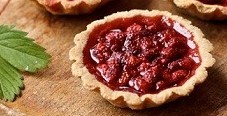 Strawberry Layer Cake with Crème Frâiche
1 yellow cake mix made into 3 cake layers
4 c sour cream
1 ½ c sugar
2 c whipping cream
¼ c roasted sliced almonds
½ lb fresh strawberries, sliced
Whip the whipping cream until stiff.  Blend the sugar into the sour cream with a wire whisk.  Fold in the whipped cream with the wire whisk.  Remove a third of the cream and save.  Stir half the almonds into the ⅔ cream.  Put the three cake layers together with the cream filling.  Put the reserved cream on top of the cake.  Sprinkle the rest of the almonds and the sliced strawberries onto the top of the cake.
Wild Strawberry Chiffon
1 lb fresh wild strawberries
(8 sheets)2 Tbsp powdered, unflavored gelatin
4 eggs
6 Tbsp sugar
6 Tbsp rhubarb or strawberry juice
4 ¼ c whipping cream
Separate the egg yolks from the egg whites.  Beat 2 of the egg whites until stiff.  Beat the whipped cream until thick.  Clean the strawberries, mash with a fork.
In a small sauce pan, sprinkle the unflavored gelatin into the juice.  Let stand 5-10 minutes.  Slowly heat up the juice, stirring constantly until the gelatin is dissolved.  (This is when no granules cling to the spoon when held up.)
With a wire whisk, beat the egg yolks and sugar together well.  Add the mashed strawberries.  While stirring with the wire whisk, add the lukewarm juice and dissolved gelatin in a thin stream.
With a spoon, gently stir in the beaten egg whites.  Stir in about 2/3 of the whipped cream.   Place in a glass serving bowl.  Top with the rest of the whipping cream.  Garnish with whole strawberries or strawberry slices.  Refrigerate until ready to serve.  This dessert freezes well.
Wild Strawberry Soufflé
1 lb wild strawberries
1 Tbsp sugar
1 ¼ c flour
7 Tbsp unsalted butter
1 ¼ c milk juice and zest of 1 orange
3 lg eggs
2 Tbsp powdered sugar
Wash the strawberries and spread in the bottom of a greased, glass casserole pan.  Melt the butter and whisk in the flour.  Add the milk as you whisk, simmer a few minutes, then turn off the heat and let it cool.  Preheat the oven to 375˚.
Beat the egg whites until stiff.  Add the egg yolks one at a time.  Add the sugar, juice, and zest.  Gently fold in the beaten egg whites with a spoon.  Pour over the strawberries.  Bake for 30 minutes.
Sprinkle with powdered sugar.  Serve immediately with whipped cream or softened vanilla ice cream.