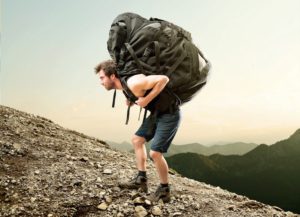 A bug out bag at its core is a mobile 72 hour kit. Everyone does and should take a personalized approach to how they put their bag together. The general intent of most people is to maintain a high degree of mobility while simultaneously providing the essentials of survival to get from point "A" to point "B." A bug out bag is not generally regarded as a long term solution nor should it contain the gear for a one man army looking for a fight.
So with these things in mind let's take a look at some things you could probably do without, and lighten your load.
Rope – if you are planning on scaling mountains or repelling you've probably chosen a bad bug out route. For basic necessities consider a hank of milspec 550 chord. It weighs next to nothing and will take care of most of your needs that you could want that rope for.
Fishing Pole – If you want to cook a fresh meal while bugging out; a few sinkers, a float, a few hooks, some bait, and a line will fit fine in a small pouch. I have an old M-16 cleaning kit pouch that holds my entire fishing kit. A simple willow stick worked for thousands of years before modern materials showed up on the scene.
Bladed Tools – By this I mean simplify what you're carrying. While convenient case by case, carrying a machete, combat folding knife, straight blade sheathed knife, E-tool, hatchet, multi tool, etc. is not recommended. I have seen some BOB layouts that have included more than 5 special purpose knives. Consider a single multi tool and either a small hatchet or E-tool. I have a multi tool and an E-tool, my wife has a multi tool and a small hatchet.
Tent – Tents generally take up to much room and can weight more than is convenient. My solution is a gortex liner around my sleeping bag that has kept me dry in both rain and melting snow. You can get surplus military woodland bivy covers at your local army navy surplus store. If these are too pricey, a plastic tarp will give you similar results although they don't breathe as well.
Canned Food – Canned food is heavy and not recommended for bugging out. Consider freeze dried or dehydrated food. Not only are they lighter, and take up less space; but have a much longer shelf life.
MREs – They, as with cans, are heavy and have a much shorter shelf life than freeze dried and dehydrated food has. If you do plan on using MREs, make sure you field strip them; meaning, get rid of all the plastic and cardboard packaging, prior to leaving.
Sleeping Bag – is some regions this is an option and a lightweight emergency blanket or survival will do just fine. A sleeping bag is a necessity where I live.
Bulk Ammunition – remember that bugging out is not about looking for a fight. If danger is present you will focus on evasion and discrepancy, firearms being a last resort. Ammo is heavy, minimize it; or even stash the majority of it at your bug out destination.
Fire Arms – As with knives, chose something that is multipurpose. While a pistol at each hip, and AR-15 on a sling, and a hunting rifle and shotgun in your back pack is cool and all; it is not practical. For most of us an AR-15, or similar style rifle, with two or three magazines will meet most of your needs.
Extra Clothes – Layer up if necessary, but don't bring double of anything aside from socks and underwear. You don't need to change your pants and jacket mid trek to smell good; you'll get dirty, but you'll survive.
Survival Books – Some information can be learned, some will have to be brought such as books about edible or medicinal plants, or topographical map books. Commit as much knowledge to your brain as possible, but if you have to carry literature, try to find light weight pocket editions. Experience and familiarity with the outdoors will mitigate the need to bring written material. Another option might be a digital library device if you have a simple solar or battery operated charger.
Eating Ware – Bring a spork and eat out of the package or with your hands. Don't bring a mess kit, and if you have to cook over a fire consider something small like a US military canteen cup….which will conveniently also serve as a bowl.
Toiletries – Stay to a minimum of camp soap or hand sanitizer and toothpaste. If feminine products are a necessity don't skimp. While the rest is not heavy independently, they add up quickly. Consider leaving things like shampoo, deodorant, mouthwash, lotion, etc. Stick with traveler's sized toiletries. Remember that living out of your back pack is not the long term goal for most people. One thing worth brining are wet wipes, as the long miles and a dirty butt will lead to bad chaffing.
Signal Devises – Unless you are on a raft in the ocean or a deserted island don't bring any pyrotechnic devises for signaling like flare guns, smoke grenades, or road flares; even if you think they can double as a fire starter; just bring a lighter or matches. This is situational dependent, and you may be trying to rally with others, so it does come down to your plan of action. If, for whatever reason, you need to signal, consider a signal mirror, whistles, or even a brightly colored tarp that can double as your sleeping area cover. Many signal tarps have a bright orange side and a natural earth tone on the reversed side so it can signal as well as conceal.
Small Light – Unless you're signaling, stick to small flashlights and avoid lanterns as they waste space; even if many are designed to be light weight. I like having two flashlights, one head lamp, and a small AA or AAA size LED light.
Bottled Water – This is dependent on your environment. Up here I have to carry some water. But in many regions all you need is a filter straw or backpacking filter, and a single canteen or small camel back. I've gone on hiking trips in some areas where we have water availability every mile or two. Water is an essential, but it is heavy; so if you can, minimize what you are hauling.
Backup Equipment – I love the acronym P.A.C.E. (primary, alternate, contingency, emergency) when it comes to prepping; however this doesn't always apply for bugging out over a few days. Some exceptions might be having a lighter, fire starter, and matches to start a fire. Or bringing a filtered drinking straw and also a few purifications tablets. But for the most part, one of each is adequate for bugging out.
Large First Aid Kits – For bugging out keep these relatively small and efficient. As with ammunition; it's worthwhile to have a larger kit stashed in your bug out location. Think about feet care, body pains, bug bites, small cuts, sprained ankles, chaffed butts, and other likely encounters in your chosen path. If you need a splint or tourniquet it is not difficult to improvise. You can't be equipped for every situations so stay expedient and focus on smaller likelier issues.
Heavy Tools – You're bugging out, not building a cabin or restoring a vehicle. Pre-stage large and/or heavy tools at your bug out destination or leave them at home. A multi tool will provide the basics such as knives, files, screw drivers, and even a can opener.
Additional Tips for Lightening Your Load:
Pack and Repack – Every time you repack you refine your bag down to the essentials.
Use your Bag – Go camping or hiking frequently with your bag. When you get back evaluate what you did and didn't need; or what you would have liked to have had but didn't think to bring.
Lighten Up – Prepping is a hobby and lifestyle; something you will refine and improve on for years. Slowly upgrade to better and lighter versions of what you already have. Maybe your first bug out bag kit is a surplus military rucksack and an old sleep bag. You've started and are already better prepared than many. Upgrade to equipment designed for outdoor sporting, hunting, or military activities slowly as opportunities arise. For most of us financial shortfalls or wives are the biggest hindrance to not having the latest and greatest; so consider Christmas and Birthday gifts.
Multi-Purpose Items – if you can, make sure all your equipment serves more than one purpose. I have a great little flashlight/radio combo that my mother in law gave me two years ago for Christmas. It has a flash light with several settings, does AM, FM, and can run off of batteries, solar, hand crank, or plug in. A bandana will keep the sun off your head but can double as a sling, splint tie, or tourniquet if necessary; which just removed three things from your first aid kit at little to no weight. Or maybe you have a riflescope that can also double in place of binoculars, etc.
Trim – Get creative and trim things down or conjoin them. I have duct tape rolled around a small pill bottle that holds a variety of medications and matches. Take things out of their packaging and put them in small Ziploc bags. Maybe even cut that handle off your spork and toothbrush. Okay, those last two were extreme; but you get the idea.
Get Fit – Get off your butt and go on walks, run, hike, squat, leg press, play a sport, or swim. Be physically active and you will be able carry more weight farther distances and at a faster pace.
Jon