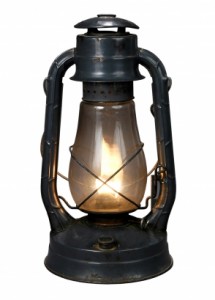 Some people are RV campers, others are cabin campers; and there is nothing wrong with either if that is where your heart lies.  Most of my youth camping was spent freezing my butt off in woefully inadequately insulated sleeping bags.
Last autumn I had the opportunity to go bear hunting with by brother and a military colleague.  This trip was one of the best camping experiences ever.  While we did not get a bear that weekend, after trampling over hills scarcely touched by man I almost did not want to come back.
Unless a man has been up in the mountains of the continental divide I don't think he can truly appreciate the barbarity of those mountains.  A man can wander off into those wooded hills and never be seen again if he so chooses.
We set up a large surplus army canvas tent.  We slept on cots and set up a wood burning stove to warm the tent and cook on.  To make the scene more complete we even relied on kerosene lamps to brighten the dim interior.
It's hard to describe the feeling of waking up to the sound and warmth of a fire in the stove, the smell of fresh coffee brewing, and scrambled eggs and bacon on the grill.  My brother even wore a red flannel shirt under his hunting camo.  The only downside was my inability to grow a proper Grizzly Adams beard….and the fact that I had to come back to work after three days of bliss.
Hunting is like fishing, if you catch or kill something that's a great perk; but those who live for it do it for the camaraderie and experience.
My mother shared an old expression used in Finland; "If you can hear your neighbors ax ring when he is chopping wood, then you are living to close to one another." I whole heartedly agree; the camping experience is about good friends and location.
Jon